Pick up a rental car in Reading to explore Berkshire County and beyond. Like many towns in England, Reading has experienced a number of ups and downs over the years, but today is a major commercial centre, ranked among the highest in terms of economic success.
It is where the River Thames meets the River Kennet along both the M4 motorway and Great Western Main Line railway. Reading is primarily a place of business, but its quaint cafes, retail shops and collection of inviting attractions, including the Forbury Gardens and Abbey ruins, will keep you well entertained. The Reading Festival (one of England's biggest music festivals) and local sporting events draw the masses every year.
The town's proximity to London, Oxford, Bath, Swindon, Bristol, Southampton and more makes road trips in your Reading car rental not just ideal but necessary. If you can only pick one, head to London with its neverending list of things to do.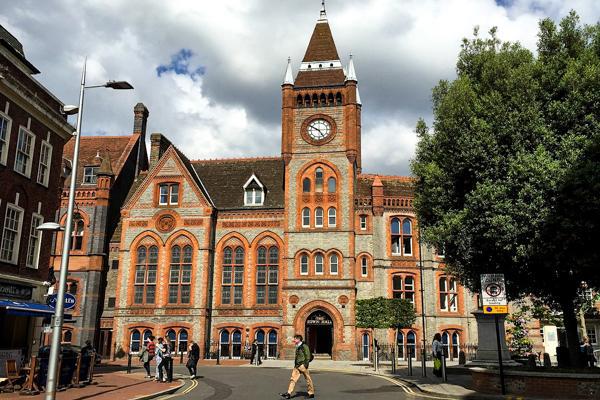 Image: Smuconlaw (Own work), CC-BY-SA-4.0, via Wikimedia Commons
Booking a Reading rental car
Secure a rental car for your trip to Reading with just a few strokes on the keyboard at AirportRentals.com. Compare a wide range of affordable vehicles across multiple car hire brands side by side on one user-friendly web page.
Start by selecting your travel dates and then watch as our powerful search tool generates a list of available rental vehicles in Reading. With the cheapest car hire at the top of the page, you can easily find the best deal and complete your booking. Or, if you are looking for something a little more specific, you can target your search to match personal requirements. Select filters for transmission type, vehicle size, preferred brand and more.
Once you've located the perfect car rental for your Reading trip, fill out a quick form and confirm your reservation online. Need a hand? Our customer service team is available 24/7 and ready to take your call.
A guide to Reading
Reading is located in the southern half of the United Kingdom, an hour west of London. While technically considered a town, with a population of over three hundred thousand residents, it is the largest town in England. A hub of commerce, Reading attracts visitors from the surrounding areas with their excellent shopping, The Oracle (a large shopping mall) being the main draw.
With a temperate climate, Reading weather averages around 20-22 degrees Celsius in the summer before dropping to just above freezing in the winter.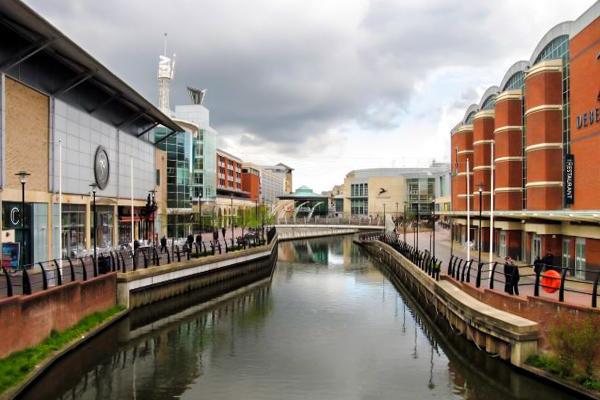 Image: Pam Brophy (Own work), CC-BY-SA-2.0, via Geograph.org.uk
Guide to driving in Reading
Use our driving and parking tips to make the most out of your Reading rental car.
Driving your car hire from the London Heathrow Airport to Reading city centre
The nearest airport to Reading, at 31 miles away, is London Heathrow Airport. Leaving the airport head onto the M25 from Southern Perimeter road. Next, take the M4 west with signs indicating toward Reading. Follow this route for just over 21 miles until exiting onto A329(M) to Reading (E). This road will lead you directly to the city centre.
Driving tips for your Reading rental car
United Kingdom car hire driving tips
There are many ways to stay safe on the road and fully enjoy your rental car experience. Preparing for the drive with these foreign road trip tips is one way. You can also maximise the fun by packing some road trip essentials. Here are some other tips to make your trip that much better:
● Driving is on the left-hand side of the road and overtaking is on the right.
● Speed limits are posted in miles per hour, and generally max out at 70mph on motorways and 30mph in the city.
● Take care if you break down, by pulling off of the road while flashing your hazard lights.
● The blood alcohol concentration limit is 0.08%. It is advised not to drive if drinking.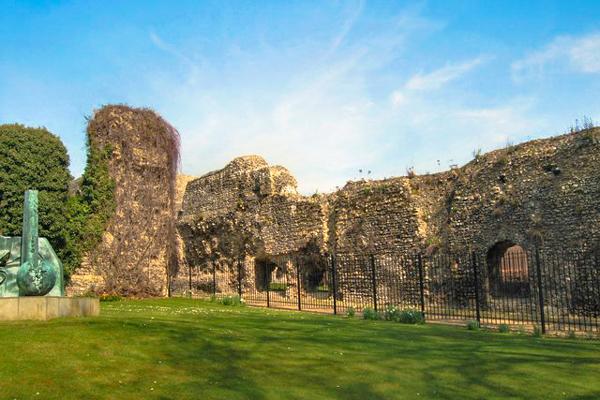 Image: Paul Gillett (Own work), CC-BY-SA-2.0, via Geograph.org.uk
Parking options in Reading city centre
Reading city centre has a limited number of 'Pay and Display' on-street parking spaces, but there are many carparks to choose from at affordable rates. Alternatively, if you are staying outside of the city centre, you can choose the 'Park and Ride' option for the day (parking on the outskirts of the city and catching a bus into town.