Stunning Victorian architecture, beautiful views of the ocean, and a fascinating history - the Northern Ireland city of Belfast is an incredible place to explore. It's one of the most visited cities in the United Kingdom, and it's easy to see why. Meander through the halls of galleries and museums, take an evening walk along the River Lagan, or wine and dine at one of the many incredible restaurants.
Home to the Titanic Studios, where the hit HBO series Game of Thrones is filmed, Belfast is a popular destination for fans of the show, as well as tourists wanting to experience the wonderful Irish culture.
With charming Northern Ireland towns nearby, the beautiful Lough Neagh freshwater lake, and the city of Londonderry just over an hour away, there's no better way to explore Northern Ireland than by hiring a car in Belfast.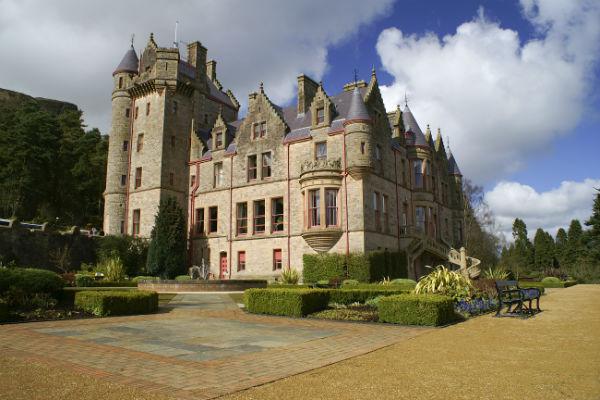 Start your Irish adventure by booking a rental car with Airport Rentals
At Airport Rentals we work with an extensive range of suppliers so you can find and compare all the cars available on your travel dates from a broad selection of brands, in one handy location.
Ranging from seven-seater family vans to handy compact cars, Airport Rentals delivers them all. Too many great options? Filter them down by car type, transmission, group size and car company to view only the types of vehicles you're after. All searches are sorted by lowest price first, so you can rest assured you're getting the best deal.
A quick guide to Belfast International Airport
Whether you're arriving or departing, the Belfast International Airport is a breeze to navigate. Fly in from major cities in England such as London, Liverpool, and Newcastle, or visit from as far abroad as Orlando and Las Vegas. Pause for a coffee and a cake in one of the cafes, check your emails with free WiFi, or get in a bit of last minute shopping before heading to the rental car company kiosks to pick up your keys. You can find the desks for Enterprise, Budget, Europcar and Hertz rental companies in the arrivals hall.
From the airport to the city
The Belfast International Airport is located 18 miles northwest of Belfast, from there taking around 30 minutes to drive to the centre of town. Head out of the airport onto the A57 then get onto the M2 from Junction 5. Alternatively, if you've arranged to pick up your car from the city, jump on the Airport Express 300 bus service, which runs regularly.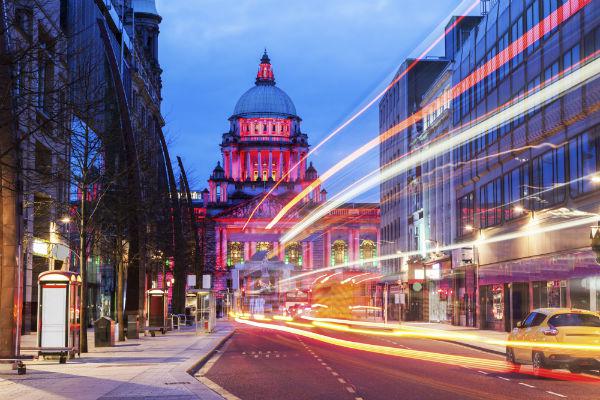 Handy tips for driving in Belfast
Driving in Belfast is pretty straightford, however it's good to be aware of the road rules before you get behind the wheel.
● Motorists in both Northern Ireland and the Republic of Ireland drive on the left hand side.
● It is illegal to use your mobile phone while driving.
● Be extra careful if you're travelling down one of the many narrow roads.
● Speed limits in urban areas are 40 mph and up to 70 mph on the motorway.
● If you drive your rental car to the Republic of Ireland, be aware that speed and distance measures change to kilometers.
Where to park at the airport and in the city
Belfast International Airport has several car parking options for passengers. For short stays, the Main Car Park is just 2-3 minutes walk from the terminal and begins at £2.50 for 30 minutes. For long-term parking, prices begin at £17.50 per day or save by booking online.
Within the city, there is a combination of free and paid parking. The council runs 31 car parks across the city, which vary in price, the lowest being just 30p per hour. As well as allocated car parking areas, street parking is on a 'pay and display' system. Always double check the regulations and time restrictions before parking your hired car.