Enjoy a holiday to Izmir, Turkey's third largest city, located on the dazzling blue Aegean Sea. Book your rental car today from Izmir International Airport to explore the city and coastline with the convenience of your own wheels.
While many tourists pass through Izmir en route to Ephesus, we recommend lingering in this fascinating city. As an ancient port on the Aegean Sea, the city's history runs deep and has been home to Greeks, Armenians, Jews and Turks over the centuries. Wander one of the coolest bazaars in the country, check out art museums and dine on exotic foods from a melting pot of worldly restaurants.
Continue along the Aegean Sea driving your Turkey car hire to Bodrum, cruise north to Istanbul or head east to Ankara.
Booking an Izmir rental car
Don't wait to find a cheap car hire for your holiday in Izmir. Choose Airport Rentals and get it done with one simple comparison site. Enter in your travel dates and pick-up location for instant deals from high-rated brands like Enterprise, and Europcar. Select from multiple car types using the preference filters on the left to narrow your options to the ideal vehicle for your trip.
Complete your booking on our secure site without the hassle of hidden booking fees and enjoy access to our customer service team available at any hour of the day. Plus, with Airport Rentals, you can secure extra benefits such as free cancellation and unlimited mileage.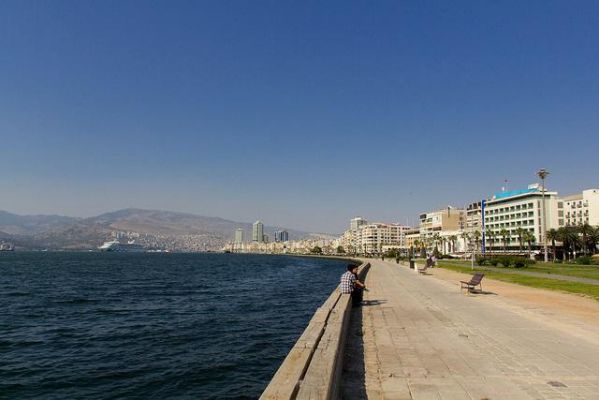 Image: t-mizo
Izmir Adnan Menderes Airport (ADB)
Touch down at Izmir Adnan Menderes Airport, located 18 kilometres southwest of the city. Each year, over 8 million passengers travel via Izmir International Airport making it the 5th busiest in the country. Both the domestic and international terminals are new and offer guest services such as WiFi, a range of dining options and all types of shops. When you're ready to collect your rental car keys, head to the arrivals hall near baggage claim to find your kiosk.
Picking up at a downtown Izmir location? Hop on the subway to the city, take a shuttle bus or hail a taxi to Izmir.
Guide to driving in Izmir
Use our guide on driving tips, directions and parking for Izmir.
Driving from the airport to downtown Izmir
Adnan Menderes Airport is located 18 kilometres south of Izmir. Depending on traffic conditions, the drive can take up to 40 minutes. For the quickest route, merge onto D550 from the airport and continue on this until taking 4047/1 Sk. Next, follow D300/D550 and exit toward Basmane to enter the city limits.
Driving tips for your Izmir rental car
Hit the coast for stunning views of the azure Aegean Sea. Keep your eyes on the curvy roads while driving your hired car and pull over for the photo-worthy views.
Turkey driving tips:
● Drive on the right-hand side of the road and always wear your seatbelt.
● Avoid driving at night as the roads are not well lit, especially on mountainous or coastal roads.
● Slow down in the city, pedestrians frequently step out in front of moving traffic.
● Check with your rental car provider to purchase an E-Z pass for tollways.
For more tips and rules of the road, check out the Turkey rental car page.
Parking options at the Airport and downtown Izmir
The Izmir International Airport offers parking at its 4-storey car park across from the international terminal. Pay 11 TL for the first hour, 15 TL for up to 3 hours and 36 TL for the day.
Find parking lots called "Otoparks" scattered across the city. Most hotels offer free parking for guests or, for a fee, allow tourists to park in the lot for the day.