Explore the capital of Turkey with a cheap Ankara rental car from Airport Rentals. Home to over 5 million residents, Ankara is brimming with cosmopolitan attractions, cultural delights and enchanting history.
At the country's performing arts center, you can book tickets to enjoy the State Opera and Ballet, Symphony Orchestra or theatre programs. Head to Anitkabir, a hilltop mausoleum offering fantastic views of the city. Enjoy an eclectic mix of delicious street eats and hip restaurants amongst ever-growing bazaars. Hop in your car hire to head to a number of archaeological sites and historic buildings.
After a few days exploring Ankara, make your way to other hotspots in Turkey. Drive northeast toward Trabzon on the Black Sea, south to Antalya on the Mediterranean Sea or north to every tourist's favourite: Istanbul.
Booking an Ankara rental car with Airport Rentals
Hire an affordable rental car with Airport Rentals in a few easy steps. Simply enter your travel dates into our optimal search engine and click 'search'. This will allow you to view a wide range of vehicles available from top brands such as Avis and Budget on one comparison page. Narrow your search with the preference filters to find exactly what you need for your holiday.
Ready to book? Finalise details on our secure site and receive instant confirmation. Never worry about booking fees and access 24-hour customer service should you need it. Plus, enjoy free benefits such as unlimited mileage and theft protection.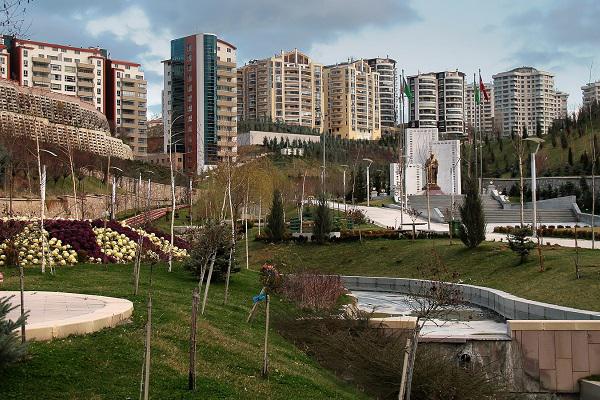 Image: Jorge Franganillo
Ankara Esenboga International Airport (ESB)
Land at Esenboga International Airport for a holiday in Turkey's capital city, where more than 11 million travellers pass through each year. Grab a souvenir or gift from one of the shops, and find eateries in both terminals of the arrivals and departure halls. WiFi is available, but there may be a fee to use it.
Pick up your hired car from the designated terminal in the arrivals hall. Alternatively, if you're heading to a downtown Ankara depot, hop on the city shuttle, local bus or taxi to make your way into town.
Guide to driving in Ankara
Use our guide for driving tips, directions and parking in Ankara.
Driving from the airport to downtown Ankara
The Ankara Airport is situated 30 minutes northeast of Ankara. For the quickest route, follow these directions: exit the airport to merge onto Esenboga Havaalani to D180. Next, keep left to stay on D140 and stay in the left lanes to continue onto Esenboga Kavsagi. Turn left onto Erbakan Boulevard, then left onto Irfan Bastug and continue straight to arrive in the city centre.
Driving tips for your Ankara rental car
Make sure to have a device with GPS, or hire one with your rental car to find your way around Ankora. For safe driving, follow these tips:
● Drive on the right-hand side of the road and always wear your seatbelt.
● Slow down in the city, pedestrians frequently step out in front of moving traffic.
● Stick to driving in the daylight when passing through the curvy mountain roads and coastal routes.
● Check with your rental car provider to purchase an electronic pass for tollways.
For more tips and rules of the road, check out the Turkey rental car page.
Parking options at the Airport and downtown Ankara
You can opt to park your hired car in the multi-storey lot or the open car park, both within walking distance to Ankara Airport. The closed car park is 11.5 TL for an hour and 41 TL for the day. Pay 10 TL in the open lot for an hour, or 33 TL for the day.
To locate car parks across Ankara, look for the "Otopark" signs. On-street parking is limited; be sure to abide by signs to avoid fines. Most hotels offer free parking for guests, inquire beforehand.