Hire a car and explore the lesser known city of Ubon Ratchathani, in Northern Thailand. Often overlooked by visitors, the city is situated on the Mun River in the Isaan region. With few tourists, it is the perfect place for a relaxing break.
The city is where you can first see the sunrise in Thailand. Close to both Laos and Cambodia, Ubon Ratchathani is part of the 'Emerald Triangle' where the three countries meet.
With a hired car, visit the top attractions in Ubon Ratchathani at your leisure. See ancient temples, forested Buddhist monasteries, museums and take a trip to the three national parks. Pha Taem, Kaeng Tana and Phu Chong Nayoi have impressive waterfalls, fauna and flora, prehistoric paintings and beautiful mountain scenery.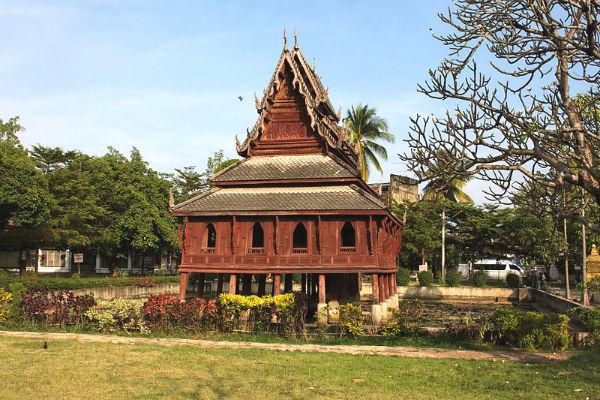 Image: Ddalbiez
Renting a car from Ubon Ratchathani Airport
Simply and easily make a reservation for a cheap car hire at Ubon Ratchathani airport with AirportRentals.com. Enter your travel details into the search box to easily compare both international and local rental brands. To further refine your search, use preference filters like car type, transmission type, number of people, price and more.
Select your preferred vehicle, add your details and securely book in just a few clicks. Receive instant confirmation without the worry of hidden fees and charges.
Manage your booking online or contact our customer service team, who are ready to help 24 hours a day, 7 days a week.
Ubon Ratchathani Airport
Ubon Ratchathani Airport was originally a military airport during the Vietnam War and is still used by the Royal Thai Air Force today. The airport opened to civilian operations in the late 1970s.
The airport once served both domestic and international cities but now only has domestic routes with a small selection of airlines. There are regular flights to Bangkok and Chiang Mai.
There is one terminal that has all the basic amenities of a small regional airport, including an information desk, ATMs and tourist police. There are a few food outlets and coffee bars and a variety of retail outlets. You will find the car rental customer service desks in the arrivals hall.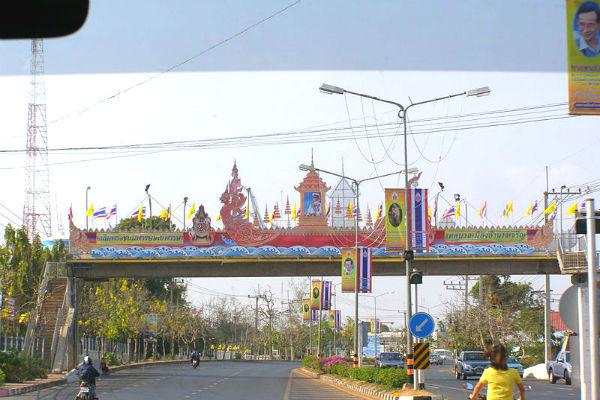 Image: JAMRAT
Driving your rental car in and around Ubon
Driving in Ubon is a lot more relaxed than in the bigger Thai cities. There is a good network of highways connecting the big four cities of the Isaan region, Sakon Nakhon, Udon Thani, Nakhon Ratchasima and Khon Kaen.
Driving from Ubon Ratchathani Airport to the city
Getting to and from Ubon Ratchathani airport is simple and quick as it conveniently located in the city. Once you exit the airport you will find yourself in Ubon Ratchathani.
Driving tips for Thailand car rental
• Drive on the left-hand side of the road.
• Be cautious of truck traffic as drivers have little respect for cars on the road.
• Flashing of headlights is used as a warning to other drivers.
• The drink driving limit is 0.05% and is considered a serious offence.
Parking at Ubon Ratchathani Airport and in the city
Ubon airport has both short- and long-term parking spaces available, close to the terminal.
On-street parking in the city is widely available and free. Avoid parking in restricted areas, which are clearly signed or indicated by red and white lines.