Discover northern Thailand in the driver's seat with a Phitsanulok rental car.
Phitsanulok is one of the oldest cities in the nation, dating back over 600 years. Home to over 80,000 locals, this beautiful region boasts waterfalls, sacred sites and caves, all easily accessible with a hired car.
The city hosts many ornate temples such as Phra Buddha Chinnarat and Phra Si Ratana. Visitors can enjoy a behind the scenes view of how Buddha images are bronzed at the Buranathai Foundry and meet native bird species at the neighbouring sanctuary. Phitsanulok is known for its daily Night Market, great for tasting northern Thailand cuisine. Those who are looking for outdoor adventures can head to Kaeng Sopha Waterfall and Phu Hin Rong Kla National Park or drive south to Thung Salaeng Luang National Park, great for hiking, cycling and camping.
Thanks to the city's central location in Thailand, it's easy to visit other top destinations with your Phitsanulok car rental. Continue north to Chiang Mai and Chiang Rai or drive south to bustling Bangkok to experience an urban jungle like no other.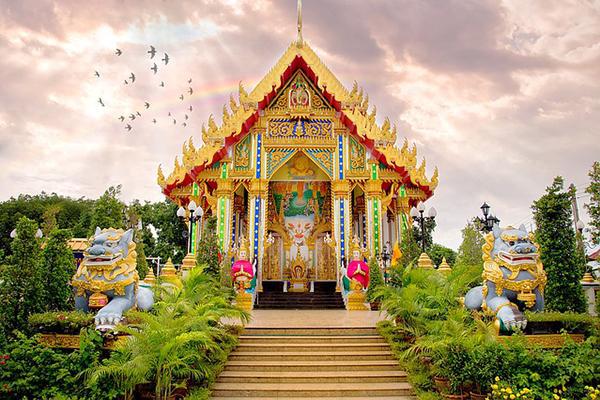 Hiring a Phitsanulok rental car
Secure a Phitsanulok rental car for your upcoming trip to Thailand with Airport Rentals. Find affordable deals with exclusive benefits thanks to our optimal comparison site. Simply select your travel dates for pick up at Phitsanulok Airport to generate an inventory of available vehicles, and then customise your car hire options using the preference filters. Choose from a variety of car styles across well-known brands such as Avis, Budget and Hertz.
Once you've made your vehicle selection, finalise your booking on our secure site to receive instant confirmation. You can update your booking at any time using the handy online reservation management system. Plus, our 24/7 customer support team is ready to answer any questions you may have.
Phitsanulok Airport (PHS)
Phitsanulok Airport is a small facility located south of the city. It hosts three airlines which fly only to and from Bangkok Don Mueang Airport. The airport offers basic amenities including a few cafes and gift shops. Pick up your rental car from the kiosks located in the main arrivals hall to start your Thailand adventure.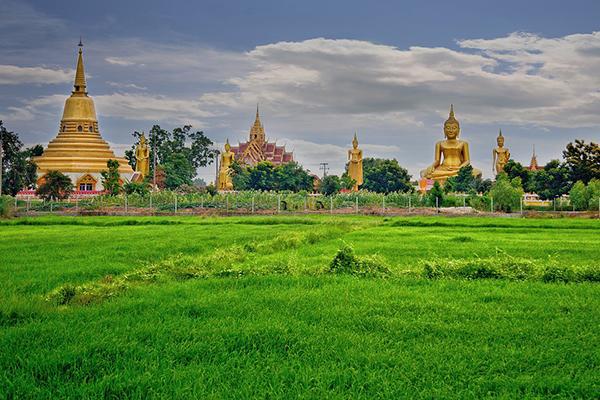 Guide to driving a rental car in Phitsanulok
Driving from Phitsanulok Airport to the city centre
Phitsanulok is a quick 20-minute drive from the airport in normal traffic conditions. Exit the airport heading northwest towards Route 1064. Merge onto the highway taking a slight right and follow this until you reach Ramesuan Road, then turn right and take an immediate left onto Thamma Bucha to arrive in the city.
Driving tips for your Phitsanulok rental car
While Phitsanulok is less congested than most cities in Thailand, it's best to use a GPS or smartphone app to navigate the busy Thai roads.
Thailand driving tips
● Drive on the left side of the road and overtake on the right.
● Always buckle up.
● Speed limits range between 50 and 60 kilometres per hour in built-up areas and 90 to 120 km/h on highways.
● Never leave valuables in your car hire.
● Flashing headlights mean "get out of the way" rather than "go ahead".
For more driving tips, scroll down to our Thailand road rules guide and read our top tips for driving in a foreign country.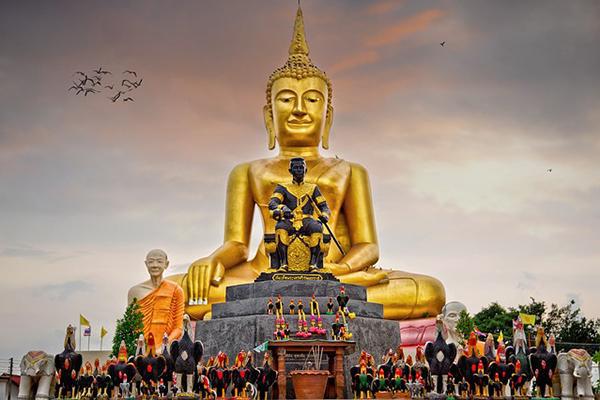 Parking options at Phitsanulok Airport and downtown Phitsanulok
Parking is free of charge at Phitsanulok Airport and situated directly across from the terminal.
You will find parking areas spread out throughout the city. Main attractions and temples typically offer parking spaces on-site, and most hotels provide guest parking. If you park on the street, be sure it's a safe area (and well-lit if at night) and never leave valuables in the vehicle.
Explore further
Travelling to other regions in Southeast Asia? Use Airport Rentals for all your car hire needs in Cambodia, Malaysia, and Laos.