Situated on the Indian Ocean along Algoa Bay is the sunny surf city of Port Elizabeth. Explore the city locals call PE and venture to surrounding nature reserves when you hire a cheap rental car.
Port Elizabeth is known as "the friendly city" thanks to the welcoming residents. This coastal hub offers 40 kilometres of beaches including Kings Beach and world-class Humewood Beach. Surf, fish, scuba, sail and snorkel in the area. Get your art fix at the Nelson Mandela Metropolitan Art Museum and enjoy South Africa's nature at the Donkin Reserve. Hit the Boardwalk Casino and Entertainment Complex for a bite to eat and a night out. Hop in your rental car to see elephants at the Addo National Park or head to Cape Recife to reach the southernmost point of the city. You'll love exploring this special South African coastal town.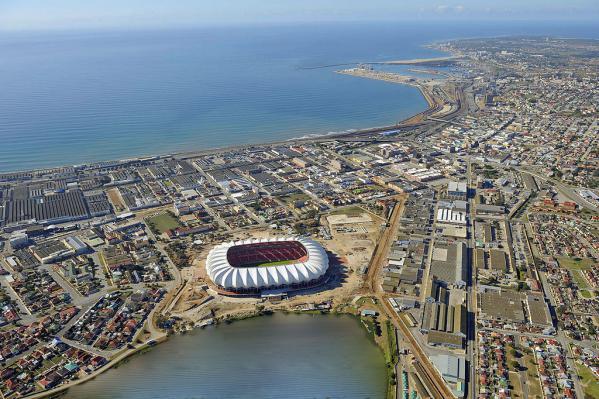 Image: Ngrund
If you're road tripping from Port Elizabeth, take the Garden Route towards Cape Town for a wild ride along the coastline. Exploring more of South Africa? Drive your rental car to exciting cities such as Durban, George and Johannesburg.
Hiring a rental car in Port Elizabeth
For a quick and secure car rental in Port Elizabeth, use Airport Rentals, the one-stop shop for car hire deals. Start by typing in your travel details and click search for instant access to rental deals from over 10 international and national brands. Next, use the handy filters to narrow your search. Finally, select the car that fits your travel needs and book online, confirming instantly with access to 24/7 customer service should you need it.
Enjoy special benefits and pay no additional fees when you book with Airport Rentals.
Port Elizabeth International Airport (PLZ)
Port Elizabeth Airport is known as the "10 minute airport" due to its convenient location to most major parts of the city, and serves over 1.5 million travellers each year. The airport has one terminal for both domestic and international travel. If you're feeling peckish upon landing, grab a bite to eat from PRIMI Caffe or a snack from the gift store or sweets shop.
Hop on the free WiFi (up to four hours) to search for your accommodation reservation or directions. If you're picking up a rental car, head to the counters near baggage claim or grab a taxi for a short ride to the city. Car hire is also available from downtown Port Elizabeth.
Guide to driving in Port Elizabeth
Hire a cheap rental car to explore the city and surrounding nature parks. Read on for directions, driving tips and parking options.
Driving from Port Elizabeth Airport to the city
Port Elizabeth Airport is only 10 minutes south of the CBD. From the airport, take the first exit at the roundabout onto Allister Miller Drive then onto 3rd Avenue. Next, turn right on Heugh Road/M9 then a left on 1st Avenue, a quick right on Webber Street followed by a left on Upper Valley Road. At the roundabout take the first exit onto Brickmakers Kloof Road then a right on Park Drive to arrive in Port Elizabeth Central.
To head straight to the coast from the airport, turn right on Allister Miller Drive to La Roche Drive and turn left on Beach Road.
Driving your rental car in Port Elizabeth
When you're driving around Port Elizabeth, slow down on city streets. The local taxi buses don't always follow traffic laws. Here are a few more tips for smart driving in South Africa:
● Drive defensively and stay alert.
● Keep an eye out for pedestrians, cyclists and animals on the road.
● Most road signs are in English, but you may encounter a few in Afrikaans or Zulu such as 'lughawe' (airport), Kaapstad (Cape Town) and robot (traffic light).
● Blood alcohol limit is .05g per 100ml. If you're keen to drink, take a taxi.
● Always lock your doors when driving and after parking.
● Avoid driving at night, picking up hitchhikers and stopping at accident scenes unless you're involved.
For more driving tips and national rules of the road, scroll to the bottom of the South Africa rentals page.
Parking at the airport and in the city
If you need to park at Port Elizabeth Airport, you will find parking spaces next to the terminal. Choose from short-term, long-term, covered and lock-up garages.
When parking downtown, choose from metered on-street parking, garages and parking lots. Make sure to abide by time limits to avoid fines. If you need to park for longer periods, locate a parking garage in the CBD. Heading to the beach? Find plenty of parking near along the coast.