Pietermaritzburg is a city of diverse cultures, rolling hills, rich history and breathtaking nature and wildlife. Rent a cheap car to explore this KwaZulu-Natal capital and get to know an important part of South Africa's history.
Walk in the footsteps of Mahatma Gandhi and Nelson Mandela, learn about their stories at the museum, and visit their monuments in town. Spend your days wandering by stunning historic buildings, exploring nature reserves, perusing museums and art galleries, and venturing out into the beautiful KwaZulu-Natal region.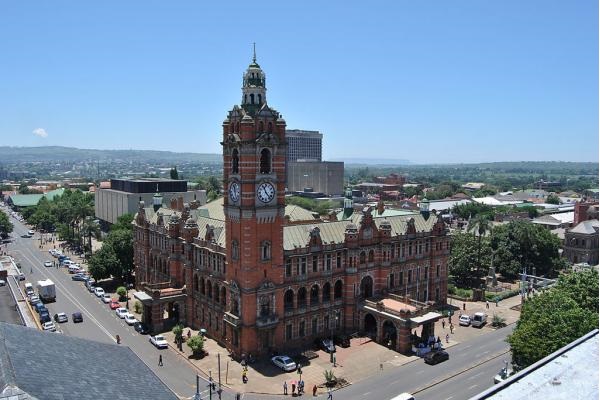 Image: Johan Pretorius
Secure a cheap rental car in Pietermaritzburg with Airport Rentals
It's easy to hire a cheap rental car at Pietermaritzburg Airport when you book with Airport Rentals. We work with an extensive network of suppliers to bring you a wide selection of cars across multiple brands, at the best prices.
Simply enter your travel dates and let our powerful search engine do the work for you. Filter your results by car type, transmission, style and more to narrow down your options and find exactly what you're looking for. Ready to book? Confirm securely online in just a few clicks, paying no additional service fees.
Our customer service team is available 24 hours a day, ready to take your call should you have any questions throughout the process.
An overview of Pietermaritzburg Airport
Formally known as Oribi, the Pietermaritzburg Airport has scheduled flights from Johannesburg, Cape Town and Durban, and is the main airport in the KwaZulu-Natal region. In 2013 the airport underwent a renovation, resulting in vast improvements in terminal services. Now you can enjoy a drink and a snack at the cafe and pop into one of the new retail shops. If you're feeling adventurous, Skydive Durban operates out of Pietermaritzburg Airport.
Pick up your rental car keys from your selected supplier kiosk located by the baggage claim.
Driving your car hire in Pietermaritzburg
Pietermaritzburg roads are well maintained and signposted clearly. The N3 highway runs through Pietermaritzburg, connecting up with Johannesburg, Pretoria and over to the harbour town of Durban.
Getting to and from Pietermaritzburg Airport
Pietermaritzburg Airport is located just 6km south of the city's CBD, with the drive to town taking about 10 minutes. From the airport, head onto Pharazyn Way, and take a right onto Oribi Road. A slight left onto Lindup Road will take you to Alexandra Road, where you can follow the signs straight into the city. Rather pick up your rental car from the city? Hail a taxi to take you into town.
Handy tips for driving your car hire in Pietermaritzburg
● Motorists in South Africa drive on the left, and give way to the right.
● Keep a safe distance between you and the car in front, as local drivers can be reckless.
● The blood-alcohol level is 0.05%.
● Carry your license at all times; police check frequently.
● Watch out for one-way streets in the CDB.
● If driving in the countryside, be aware of animals which may stray onto the road.
● Read more South Africa driving tips.
Where to park at Pietermaritzburg Airport and in town
There is a free passenger drop-off area outside the airport terminal, and both short and long-term parking is available just a short walk away. Monitored by cameras, the car park is open 24 hours, and runs on a ticket system, which you pay in the terminal before heading back to your hired car. Short-term parking rates range from R2 for 15 minutes to R10 - R24 for up to 24 hours. Long-term parking is R50 for 24 hours.
In the city, there is on-street parking available from R6 per hour, however during weekends it can get quite busy so finding a park may be a challenge. Attractions, museums and reserves all have car parking available.