Johannesburg is a thriving hub of activity in the heart of South Africa and the ideal place to rent a car and begin a cross-country road trip. As the country's largest city, Johannesburg is ever growing and changing, continuing to strive towards a better future in a post-apartheid society. As well as being the economic centre of South Africa, Joburg (as the locals call it) boasts some of the country's greatest museums, parks, and restaurants, drawing in tourists and locals alike with its architecture, theatre, art walks, and dynamic urban communities. Experience the rebirth of this spectacular city and greater South Africa by renting a cheap car hire at Lanseria International Airport.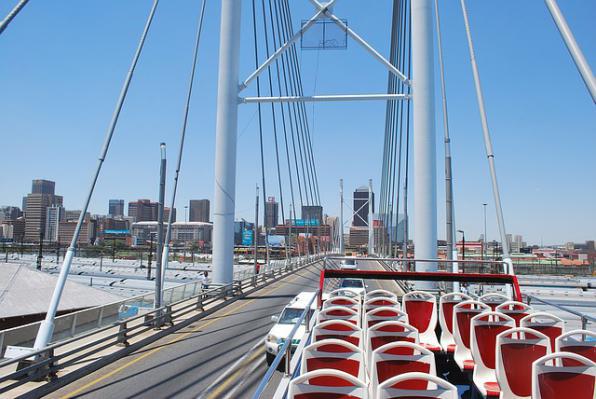 Image: Pixabay
Booking a cheap rental car in Lanseria with Airport Rentals
Pre-book a car hire in Lanseria with Airport Rentals for a fast, easy and convenient experience. With just a few clicks, you can find and compare car hire options across multiple brands in one handy place.
Pop in some basic travel details, and let our powerful search engine do the work for you. Compare important details such as style, size, and price, and choose from a great range of vehicles, including 4WDs, compact cars, and sleek SUVs. When you've made your final selection, confirm securely online, paying no additional booking fees. Need a hand? Our customer service team is just a call away and available 24/7.
Lanseria International Airport
Lanseria International Airport services South Africa, with daily flights and international connections from Durban and Cape Town. The facility is currently undergoing renovations to provide additional parking, both covered and uncovered, and a range of new retail stores, with project completion scheduled for late 2017. Lanseria Airport provides a comfortable welcome with dining options, free WiFi and plenty of relaxing seating areas. Rental car keys can be collected from the kiosks located next to the baggage claim.
A brief driving guide to Johannesburg
Driving in Johannesburg can be a bit challenging, but with our tips and a little practice, you'll soon get the hang of it.
Getting to and from the airport
Getting from the Lanseria International Airport to Johannesburg central takes about an hour, passing several toll roads so be sure to carry some cash to pay as you go through. From the airport, take Ashenti Road and merge onto Route 512. Follow this until taking a right onto the N1 Western Bypass. Head along the N1 until you take the exit onto the N17 where you will follow the signs to the CBD. If you'd prefer to pick up your rental car from the city, taxis are available just outside the terminal, or you can jump on the Airport shuttle to Sandton Gautrain Station.
Tips for driving your car hire in Johannesburg
Drivers in Johannesburg can be on the reckless side and there is the potential for crime. It's important to be vigilant on the road, keep a safe distance between you and other vehicles, and always have your doors locked. A few more imperative tips for driving in Johannesburg are as follows:
● Motorists drive on the left hand side, and give way to the right.
● The speed limit in urban areas is 60km/h, and up to 120km/h on the highways.
● Traffic lights are called 'robots'.
● Always take a GPS or a road map with you.
● Don't leave any valuables visible in the car.
● The Johannesburg Ring Road runs around the entire city, and is up to 12 lanes in some parts.
● We recommend avoiding driving at peak hour if possible.
● The roads change between asphalt and concrete in some places.
● Read more tips on driving in South Africa.
Where to park
Lanseria International Airport has several parking options. The Ring and Ride is a 1-hour free-of-charge wait zone, and short-term parking is free for 30 minutes, beginning at R18-00 thereafter. Long-term parking offers daily rates, starting at R125-00 for the first day. All zones are just a short walk away from the terminal.
Johannesburg was built with cars and public transport in mind, so you'll be able to find a carpark in most places. Most shopping malls have free designated secure carparks, as do most attractions. Street parking is available from around R8.50.