East London, located on the Eastern Cape, is your launching pad to South Africa's wild coastline. Book a cheap rental car to get your road trip started.
Home to over 250,000 residents, East London hosts the only river port in the country, connecting the Indian Ocean to the Buffalo River. You can hang out in the city visiting the local aquarium and museums, and then catch an epic sunset from the harbour. Explore nearby nature reserves on the coast and come face to face with lions at the Eastern London Lion Park only minutes from town. For an overnight safari adventure, head inland to Mpongo Game Reserve for your chance to see lions, elephants, rhinos, hyenas, and giraffes, and stay in a private safari lodge.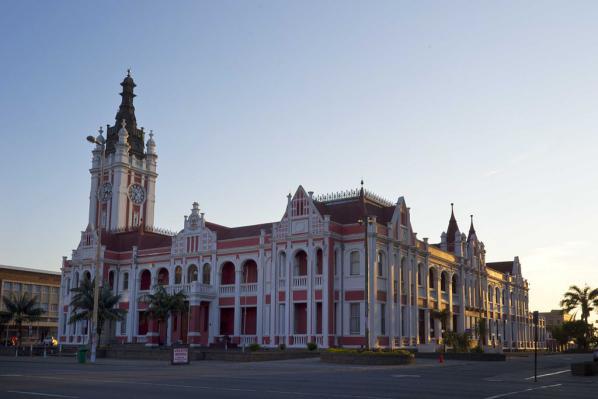 Image: Bfluff
South Africa's coastline is not to be missed. From East London, drive your rental west towards Port Elizabeth and travel the Garden Route for an action-packed road trip. Zipline, surf, swim with great white sharks or simply relax on paradise-like beaches. End your trip in Cape Town or explore the heartland of South Africa, visiting Bloemfontein and Johannesburg.
Hiring a cheap rental car in East London
For hassle-free car rental at East London Airport, use Airport Rentals for a quick and secure booking.
Compare car hire deals across multiple companies instantly upon entering your travel dates and pick-up location. Prefer an international brand? Try Avis or Hertz. National rental companies such as First Car and Bidvest are also available. What type of vehicle would you like? Select an economy car to save on petrol or a 4WD for those bumpy, off-road adventures. Enjoy special benefits from Airport Rentals such as 24hr roadside assistance, theft protection and unlimited mileage.
Complete your booking paying no additional fees, and with immediate access to 24/7 customer service should you need it.
East London Airport (ELS)
East London Airport plays a significant role in the Eastern Cape economy, bringing national and foreign tourists to the area. In 2016, the airport was voted the fastest growing airport in South Africa serving over 600,000 travellers. Once you land, grab a bite to eat at Wimpy Restaurant, Mugg & Bean or Mile High Pub. A Vodashop is available for mobile phone and SIM card purchases, and you can enjoy four free hours of WiFi. Shop for sportswear at Sneakers or pick up some road trip sweets at Cosmic Candy.
Multiple rental car companies are on-site, making your airport pick up quick and convenient. If you made a reservation in downtown East London, hop in a taxi to get to the depot.
Flying out of East London Airport? Pre-purchase a lounge pass (24 hours minimum) regardless the airline for Bidvest Premier Lounge. South African Airways also has a lounge in the terminal, but you must be a member to enter.
Guide to driving your car hire in East London
Planning to visit East London? Use our guide for directions, driving tips and parking advice for your airport rental car experience.
Driving from the East London Airport to the city
East London extends along the Buffalo River. Most visitors stay near the coast and harbour in Quigney Beach; a 20 minute drive from the airport. To get there, follow the R72 across Buffalo River to arrive at the beach.
Driving your rental car in East London
Stay cautious behind the wheel, always buckle up and do not use your mobile while driving. Here are a few more tips to keep you safe in your East London rental car:
● Always lock your doors when driving and after parking.
● Traffic lights are referred to as "robots."
● Petrol stations are serviced with attendants who will expect a tip for extra services such as cleaning the windshield.
● Carry change for road trips as toll fares vary on highways.
● Blood alcohol limit is .05g per 100ml. If you plan to drink, take a taxi.
● Animals are the biggest hazard on the road, avoid driving at night.
● Expect roadwork delays on long distance travel.
For more driving tips and national rules of the road, scroll to the bottom of the South Africa car rental page.
Parking at the airport and in the city
If you need to park at East London Airport, choose from shaded lots, open parking and lock-up garages. Lock-up is charged at a daily rate of R120. Drop-off and go is available and free for the first 15 minutes.
Choose from coin-operated street parking, car parks or multi-story garages in East London. Most tourist destinations include parking lots with security guards to "watch your car." Make sure the guard is wearing a company vest and supplies a ticket upon payment. If you have any concerns, speak with your accommodation provider to find the best places to park in the area.