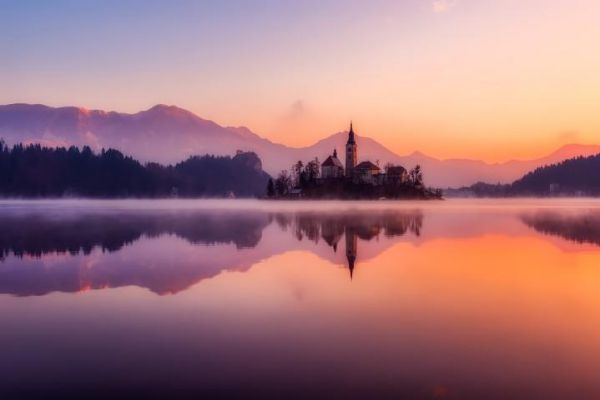 Image: Pixabay
Nestled away in Central Europe, Slovenia is a country of almost fairytale-like beauty. Its mountains, lakes, ski areas and castles are just waiting to be explored. Rent a cheap car to tour this picturesque nation on your own schedule.
Most of Slovenia is decorated with mountain ranges, and at least half the country is blanketed in forest. These and other natural attractions define this spectacular country, making it a fun travel challenge to see them all. Lake Bled is arguably the most famous of the lot, as this alpine lake is adorned with a small island in the middle, and on it a quaint castle. You can easily walk around the banks for views from all sides, or take the short ferry ride across to explore further.
The capital Ljubljana is also fabulously inviting, with plenty of green spaces, cafes, and old town charm. Don't miss the opportunity to explore below ground either, as Slovenia has some of the most incredible cave systems in Europe with spaces such as the Postojna Cave and Skocjan Caves Regional Park.
Slovenia may look small on a map, but there's plenty of ground to cover, and a car rental is one of the best ways to manage it all.
How to use AirportRentals.com to find the best deal on car hire in Slovenia
With Airport Rentals you can compare Slovenia rental car prices and benefits, across competing rental companies on one easy-to-read page. There are at least ten major suppliers operating in the country, so with one quick visit to our site you can save yourself heaps of time and money.
To generate a list of available rentals on your holiday, simply choose your desired location in Slovenia and your pick-up and drop-off dates. Your vehicle options will be presented lowest price first, and then you can toggle the filter options to suit your preferences for transmission type, car size, and more.
When you're ready to make your decision, go ahead and book securely online to reserve your vehicle. Should you still have any questions, reach out via email or phone at any time.
Top locations for car rental in Slovenia
Even though it's a fairly small country, there is a myriad of options for picking up your car rental when you arrive in Slovenia.
For those flying into the capital of Ljubljana, you can opt to pick your car at Ljubljana Airport, in the city itself, or you can run a search that includes all areas if you'd like to see all the options and compare prices. Maribor allows that same flexibility, where you can search the downtown area, Maribor Airport, or all areas at once. Hit the ground running as soon as you get to your respective airport, or spend a few days in the city before setting off to explore.
Other cities with rental depots include Bled in the northwest, Rogaska Slatina in the east, Novo Mesto in the southeast, and Koper on the coast in the southwest.
To make things even easier, you can pick up your Slovenia rental in one location and drop it off in another. To book a one-way rental, simply uncheck the 'return to the same location' box when running your search, and add a drop-off location for the end of your trip.
Top car rental suppliers in Slovenia
In Slovenia, you have a range of rental suppliers to choose from, including major international brands and smaller European ones.
Hertz is a popular option, with a perfect score of 100% from its reviews. Sixt follows not far behind, winning a 93% approval rating from happy customers who have rented vehicles with them in Slovenia. Sur Price Rentals, a small but growing company new to the market, also enjoys a 100% approval rating from its customers.
Other major brands such as Budget, Alamo, and Europcar also have rental desks around Slovenia, making it easy to go with a name you trust.
No matter which brand suits your travel plans, Airport Rentals offers free benefits with your booking and provides online reservation management so you can easily update details and make changes.
Road rules in Slovenia
● Slovenians drive on the right-hand side of the road.
● You must keep your lights on at all times.
● Children aged 12 and under must be seated in the back.
● The blood alcohol limit is just 0.05%, so it's best not to drink at all if you plan to drive. There are tolls on the major highways around Slovenia.
● You are only permitted to use mobile phones with a hands-free system.
Tips for driving your car hire in Slovenia
Slovenia offers fairly straight-forward driving so you shouldn't encounter any issues other than a bit of traffic at rush hour and the temptation to stop for photos every five minutes.
When parking, it can be easiest to find a secure lot or garage as the street parking system requires the purchase of vouchers which can be a little complicated and restrictive. A GPS unit will help you find your way around and you can pick one up with most car rental suppliers.