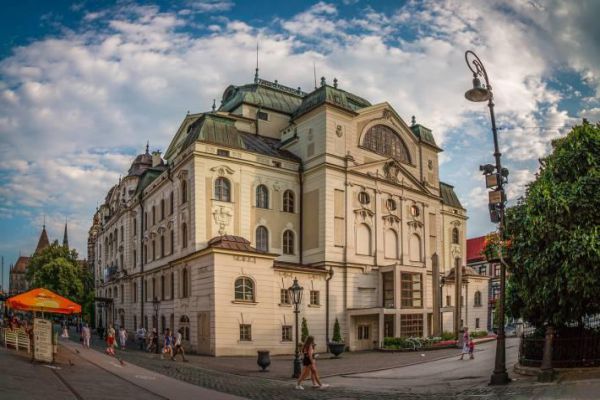 Image: Pixabay
Discover eastern Slovakia when you hire a cheap rental car from Kosice Airport.
Step back into Medieval times when you visit Kosice, the region's cultural hub. Don't miss the Lower Gate Underground Museum for your chance to see 13th century chambers, waterways and more, amongst winding medieval passages. Spend hours in Hlavna, the city plaza filled with gardens, fountains and cafes. Shop the city's best handcrafted goods in Hrnciarska, a cobbled lane that has barely changed in the past two centuries. After touring the city, hop in your rental car to explore Slovak Karst National Park or stop by the Andy Warhol Museum of Modern Art.
Extend your holiday in Slovakia with trips to Bratislava, and Zilina, and maybe even head across the border to nearby Hungary.
Hiring a cheap Kosice rental car with Airport Rentals
TrustPilot ranks Airport Rentals number one for car hire and for good reason! You can use our powerful search engine to find the best rates across multiple brands on one handy page. There's no need to scour dozens of websites for a Kosice car rental deal - we are your one-stop shop. Simply type in your travel dates to compare big-name brands like Budget, Sixt and even local favourites such as Mega Drive and Buchbinder. Finalise your booking in just a few clicks, and enjoy included benefits such as theft protection and breakdown assistance. Plus, no hidden fees.
Kosice International Airport (KSC)
Kosice International Airport is the country's second largest airport, hosting around 800,000 passengers each year. Travellers will find a collection of restaurants, cafes, snack bars and duty-free shops in the terminal. You will have the option to pay €19 to get into the airport lounge - the only place you can access WiFi in this airport.
Head to the Arrivals Hall to locate your designated rental car counter to begin your Slovakian holiday. Alternatively, if you are picking up a car hire in downtown Kosice, hail a taxi or take City Bus 23 for the 20-minute journey to the city centre.
Guide to driving a car hire in Kosice
Use our Kosice driving guide for tips, directions and parking information.
Driving from the Kosice International Airport to downtown Kosice
The city is a 15-minute drive north from Kosice International Airport. Exit the airport heading northeast on Route 3415, then turn right onto E571/E58. Next, use the right lane to merge onto E58 and take the Route 17 exit to turn left onto Juzna trieda. This road brings you directly into the city centre.
Driving tips for your Kosice rental car
A GPS is your best friend for navigating the roads around Kosice, and keeping a road map in the car can be helpful in case of a weak signal.
Slovakia car hire driving tips
● Drive on the right side of the road, overtake on the left.
● Headlights should be kept on at all times.
● Always wear your seatbelt and only use hands-free mobile devices.
● Avoid driving at night when possible as roads are not well lit, and loitering livestock can pose a danger.
● In case of an accident or breakdown, keep a road kit in the car including a warning triangle, first aid kit and reflective jacket.
● Visiting in winter? Be sure to check out our winter driving guide.
Parking options at the Airport and downtown Kosice
Choose from three parking options at Kosice Airport:
1) Enjoy 10 complimentary minutes in P2, perfect for picking up or dropping off.
2) Park for a minimum of 1.5 hours in P1 directly across from the terminal for €2 per hour.
3) Use P3 for a minimum of 8 hours, paying €12 for the day.
Kosice has both on-street parking and parking lots. Look for the blue signs with the letter 'P'. On weekends and evenings many street spaces are free, just make sure to abide by signs to avoid fines. Find parking lots near Osloboditel'ov Square and Kasarenske Square in the city centre.