Eastern Europe is a treasure trove of fascinating history, beautiful landscapes and colourful culture. With a Belgrade airport rental car, you can choose your own adventure and experience this incredible region at your leisure.
In Serbia's capital, you'll find a city which wears its past proudly and simultaneously looks toward the future. The site of multiple empires over several centuries, present-day Belgrade is a mosaic of successive rulings, from the Romans to the Ottomans to the Habsburgs to many others.
It's where the Sava River meets the mighty Danube, and where old world wounds meet forward-looking optimism. A walk along Knez Mihailova to the Kalemegdan Citadel is a feast for the senses, while a visit to the Savamala quarter and the city's museums will provide contextual insight to all you see in the 'White City'.
Once you've experienced Belgrade to the fullest, you can hop in your rental car to enjoy other cities in Serbia, such as Nis, Novi Sad and Prishtina. A cross-border adventure is also possible with Romania, Hungary, Croatia and others in proximity.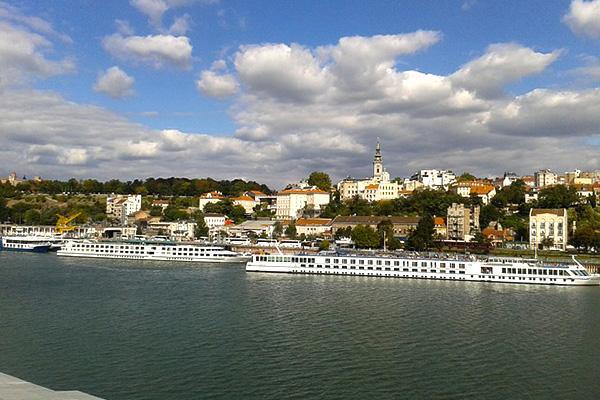 Booking a Belgrade rental car with Airport Rentals
Secure a Belgrade car hire in just a few clicks with Airport Rentals. Our sophisticated booking engine allows for easy comparison of car rental deals across multiples brands with one easy search.
Simply type in your travel details to generate a comprehensive list of options available at Belgrade Airport, choose your ideal vehicle, and confirm your reservation. Every aspect of your secure booking can be organised online, or you can speak to one of our 24/7 customer service agents for fast and efficient service.
About Belgrade Nikola Tesla Airport (BEG)
With modern facilities, Belgrade Nikola Tesla Airport (BEG) consists of two terminals that handle domestic and international flights respectively. The airport serves as a hub for local airlines Serbia Air and the low-cost Wizz Air, and also receives flights from a host of European and Middle Eastern-based airlines.
The airport offers an extensive array of amenities, including babycare facilities designed specifically for families travelling with children. There are many shops and restaurants (located before and after passport control) to cater for all your shopping needs. Free WiFi is available for 60 minutes in all areas of the airport.
The car rental kiosks are located on the ground floor adjacent to the baggage claim area.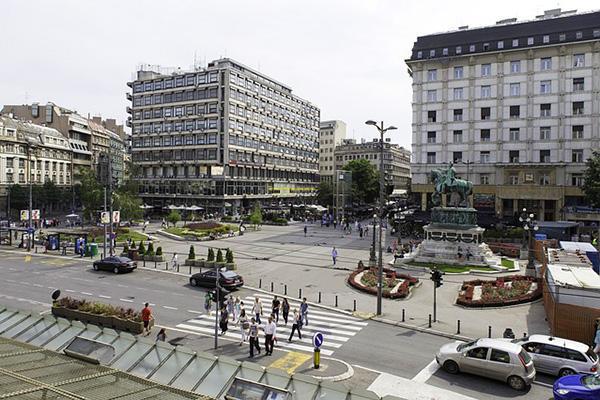 Guide to driving in Belgrade
Driving from the Belgrade Nikola Tesla Airport to Belgrade city centre
Navigating between the airport and city centre in Belgrade is very simple and efficient. Departing the airport heading north on 266, take your first right onto E70 towards Bulevar vojvode Putnika. Continue onto E75 from E70, and this route will take you directly into the heart of the city centre.
Driving tips for your Belgrade car hire
A city of over a million people, Belgrade tends to have heavy traffic. Be aware of roads without guide railings.
Serbia driving tips
● Traffic flows on the right side of the road.
● Seat belt use is mandatory.
● There are a number of toll roads in Serbia, with varying fees depending on vehicle size and point of vehicle registration.
● You must keep proof of driver's license, registration and insurance with you at all times.
● Mobile phone use is not permitted unless you have a hands free system.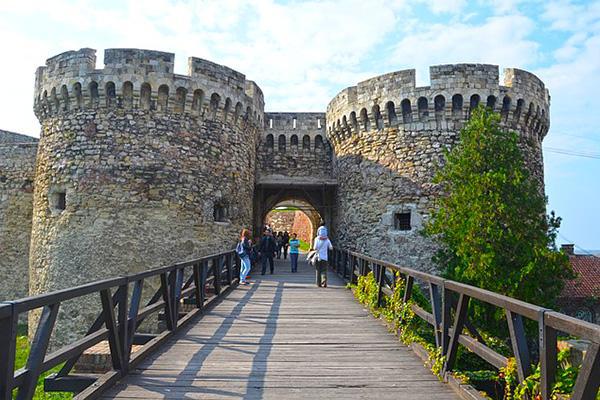 Parking options at the Belgrade Nikola Tesla Airport and Belgrade city centre
There is plenty of parking availability at the airport with one parking garage and two outdoor lots which offer short-term and long-term options. Additionally, there is a petrol station adjacent to the airport for convenience when returning your car hire.
Parking in the city centre is effortless with a variety of options including on-street, open lot, and parking garages. On-street parking is always paid and governed by zones. You can denote the maximum time limit by colour or zone number with Zone 1 (Red) available to park up to 1 hour, Zone 2 (Yellow) up to two hours, Zone 3 (Green) up to three hours, and the Blue Zone which is unlimited. Payment is made via SMS or through a nearby kiosk or attendant.