Arguably one of the most beautiful cities in Portugal, the island city Funchal is full of fantastic attractions and cultural activities ready to delight every kind of traveller. The capital of the Madeira Region in the Atlantic Ocean, Funchal is best explored by rental car.
Enjoy the spectacular food and wine, head out on a whale watching tour, wander along the waterfront, meander through the colourful markets, or venture out onto the Portuguese island for a road trip. This gorgeous city will not disappoint.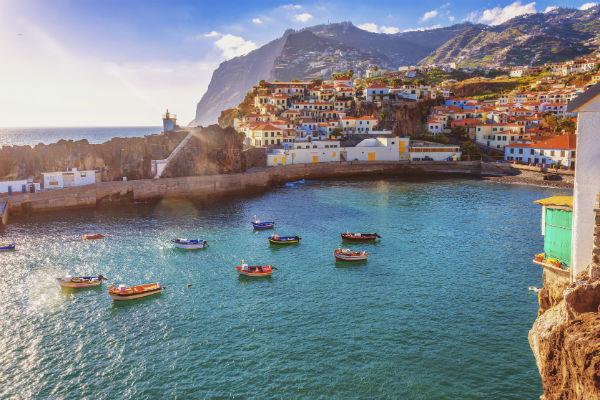 Hire a cheap car rental in Funchal with Airport Rentals
Book your rental car in Funchal with Airport Rentals and save money and time. By working with an extensive range of suppliers, we are able to bring you the best vehicle hire deals across the board.
Simply select your travel dates, hit 'search', and view the list of vehicles available to you, presented lowest price first. Not quite what you're after? Our handy filters allow you to favour vehicles by car type, transmission, brand, group size and more, to find the car you really want. Enjoy instant online confirmation, no booking fees, and a customer service team ready for your call 24/7, should you need it.
A brief overview of Funchal Airport
Officially called the Cristiano Ronaldo International Airport (and sometimes referred to as the Madeira Airport), Funchal Airport is the main airport in the Madeira region. Arrive on a flight from Lisbon, Porto or Faro, or internationally from London, among many other cities. Throughout the terminal, enjoy free WiFi, retail shops, and several food options. When you're ready to be on your way, pick up your rental car keys from the kiosks located by the baggage claim.
Image: David Stanley
Driving your car hire in Funchal
Driving to and from Funchal Airport
Funchal Airport is located 20km east of the city, and is an easy 20-minute drive in your hired car. Head out onto the VR1 and follow the road along the coast until you get to Exit 11. Take the exit towards the right, and you'll be in the CBD in no time.
If you made arrangements to pick up your rental car from the city, there is a public bus stop and a taxi stand just outside the terminal to take you where you need to go.
Tips for driving around Funchal
● Keep to the right hand side of the road.
● Give way to traffic coming from your right, and only overtake on the left.
● Speed in Portugal is measured in kilometers, and generally urban areas have a limit of 50km/h, and up to 120km/h on the motorways.
● Be aware of taxis in the city, as they tend to speed past other motorists.
● Always carry your licence with you.
Where to park your rental car
Parking at the Funchal Airport is available for both short and long-term stays. There are several car parks available, with varying costs:
● Park 0 and Park 1 - Express: €0.70 per 15-minute period, daily maximum of €18.00
● Park 5 and Park 6 - Long stay: €0.40 per 15-minutes, daily maximum of €5.00
● Park 7 - Low Cost: €0.50 per 15-minutes, daily maximum of €6.00
In Funchal, on-street parking is limited, however there are several large parking buildings in the city. Note that these are usually shut on Sundays. Most malls and attractions will have parks available also.