Welcome to Noumea, New Caledonia where French elegance meets tropical paradise. As New Caledonia's capital city, Noumea offers a unique island experience. Start your day sipping coffee in the gardens at Place des Cocotiers, lounge on Anse Vata Beach all afternoon and stroll through European-influenced streets in the evening. Noumea has something for everyone. Don't miss a thing; hire a Noumea airport rental to explore this dazzling city.
Flying domestic? Pick up/drop off your rental at Noumea Magenta Airport.
Stopping by other Pacific Islands? Hire a car in Tahiti, Nadi, Port Vila or Apia.
Driving your rental car in Noumea
When arriving at La Tontouta International Airport, there are a few ways to travel to Noumea. Taxis are available for the 44-kilometre drive, but expect a pricey fare. Shared or private transfers are great for groups or you can take the bus with tickets available for purchase from the depot. For the most convenient way, pre-book a car rental from one of six highly-recommended brands located at the airport and head into town on your own schedule.
Driving Tips:
● Driving laws are the same as France - drive on the right-hand side.
● Avoid morning/early evening rush hour if possible.
● Be prepared for tolls on the highways. During the day, use the cash lane and pay the operator.
● If you plan on driving at night, ask your rental company to provide an electronic pass or take smaller highways to avoid tolls.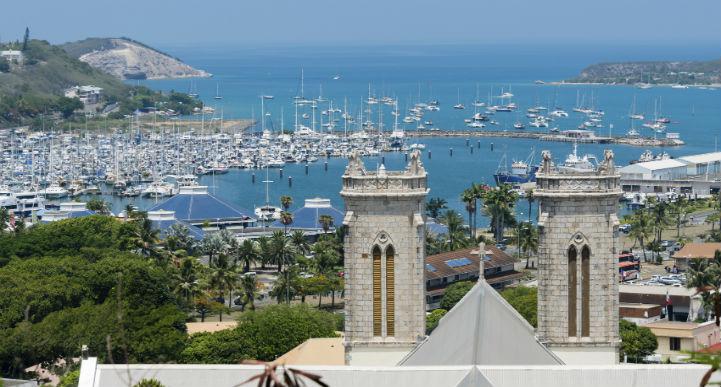 Getting around New Caledonia can be expensive and buses and taxis are a hassle if you don't speak French. Save money and frustration by booking ahead with Airport Rentals. Choose from a wide range of vehicles and compare top-rated rental brands with the simple click of a button. Use the filters to select preferences for transmission type, vehicle size, rental brand and more. Enjoy secure online confirmation and no booking fees when you book with us.
Airport Details
La Tontouta International is 52-kilometres northwest of Noumea in Paita. Parking is free for the first 20 minutes then charged by the hour. Short-term rates are available. The airport has a selection of duty-free shops and eateries and offers free WiFi in the terminal.