What started as a small village in the early 1900s has grown into one of the largest cities in the Netherlands thanks in large part to the electronics company, Philips. But the city of Eindhoven is much more than an old business hub. Even after the company upped and moved to Amsterdam, Eindhoven had grown into its own, now with a population of over 400,000 and hosting thousands of tourists every year. Visitors enjoy the laid back lifestyle, fascinating museums, interesting monuments and beautiful old churches.
Hire a car rental in Eindhoven to explore this beautiful Dutch city before heading out to explore the countryside of Holland.
Secure a cheap Eindhoven car hire with Airport Rentals
Find the perfect rental car in Eindhoven by comparing rental companies and vehicle options through Airport Rentals. We're able to bring you the best deals across an extensive range of brands and suppliers, and charge no extra fees for the convenience.
Begin your search by entering a few basic travel details in our powerful search engine to generate a list of available vehicles from Eindhoven. Use the handy filters to narrow down your results further by transmission, group size, and car type to find the ideal car for your travels.
Found what you're looking for? Book securely online with instant confirmation, and make use of our 24/7 customer service if you need a hand.
A brief look at the city of Eindhoven
With the ring road wrapping around the city, Eindhoven's CBD is easily accessible and navigation is made simple. Attend festivals throughout the year, visit museums and galleries, or hit the road and explore the region. Upload all your holiday snaps straight to social media with the city-wide free WiFi network as an added bonus.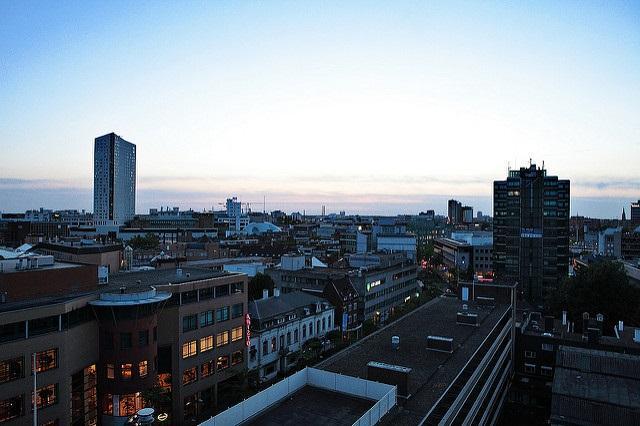 Image: Jerry Lai
Driving your car hire in Eindhoven
The city's ring road system makes Eindhoven easy to get around, with quick access to the surrounding countryside.
Getting to and from Eindhoven Airport
Located just 9km northwest of the city centre, Eindhoven Airport is only 12 minutes drive from downtown. Leaving the airport, drive onto the Flight Forum and follow it onto Anthony Fokkerweg. When you reach Achtseweg Zuid, take a right and follow the signs into Eindhoven. If you've made plans to pick up your rental car from the Eindhoven Airport, there are a variety of suppliers onsite.
Tips for driving your car hire in Eindhoven
● In the Netherlands, motorists drive on the right hand side.
● Give way to traffic coming from your right.
● The speed limit in the city is 50km/h, and up to 100km/h on the motorways.
● Cycle paths are prevalent in the city; always keep an eye out for bikes.
● The driving age in the Netherlands is 18, however you must be 19 to hire a car.
Thinking of a road trip? Visit our Europe driving distances guide to help plan a route.
Where to park your rental car in Eindhoven
There are several parking options at Eindhoven Airport. Short- and long-term parking is available in all zones, however P8 is a short shuttle ride away from the terminal. Zones P1, P3, P4 and P5 all range between €10 - €17 per day. It's best to book your car park in advance.
There are several car parking buildings within the city, all of which start at around €1 for 30 minutes. On-street parking is available in the CBD, usually costing €2 per hour, and on the edges of the city you'll find free car parks.