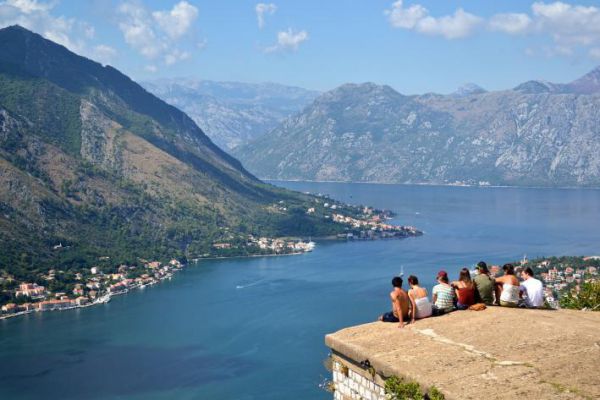 Image: Pixabay
Montenegro is a historic nation found next to the Adriatic Sea in southeast Europe. It's a small country with a population of fewer than a million people, but a land of fascinating culture and beauty all the same. Rent a cheap car hire in Montenegro to tour the sights on your own schedule.
The country's attractions are a mix of raw natural scenery, awe-inspiring architecture, and charming old towns scattered throughout the nation. The Tara Canyon in the Durmitor National Park is an iconic sight, as this river is part of one of the deepest canyons in the world (the Grand Canyon is just 200m deeper), and you can either leisurely enjoy the view from above or get up close and personal with a thrilling raft ride.
Another unbelievable sight is that of the Ostrog Monastery, which has been skillfully built on a steep cliff face 900 metres above the Zeta Valley. Roughly a million orthodox Christian pilgrims travel to this important location every year, and note that you'll need to wear either pants or a long skirt, cover your shoulders, and ideally cover your hair when you visit.
The Kotor Old City, Lipa Cave, and Lovcen National Park all add to the list of not-to-be-missed attractions during your visit to Montenegro.
Exploring more of Eastern Europe? Bosnia and Herzegovina, Serbia, Kosovo and Albania are all within reach.
Use AirportRentals.com to find the best deals on Montenegro car hire
Airport Rentals offers the quickest and easiest way of finding car hire options in Montenegro. It takes information from the leading car rental brands in the country, and pulls it together so you can compare all the options at once.
Simply enter your desired location and travel dates, and the site will generate a list of car rentals available from leading hire companies. You'll instantly have the cheapest rentals at your fingertips, and you can scroll through the options or narrow down your results with a filter to find something specific. The results page also shows car features, review scores, and rental benefits, making it easy to get the full picture rather than just the upfront cost.
Get in touch using our 24/7 phone and email assistance if you have any questions during your search, or go ahead and book securely online without paying any additional fees.
Top car rental locations in Montenegro
Whether you're flying in or arriving at one of the major cities by rail or car, you will have multiple options for car hire in Montenegro.
At the capital of Podgorica, you can either pick up your vehicle when you land at Podgorica Airport, or you can start your trip from the downtown area of the city. You've got a similar option if you're starting out from the coastal town of Tivat, where you can also pick up your rental at the Tivat Airport or in the city itself.
Other rental locations in Montenegro include:
● Budva (central coast)
● Bar (south coast)
● Herceg Novi (north coast)
If it suits your travel plans, you can can pick up in one city and drop off in another. Simply select this option when you complete your reservation.
Car rental companies in Montenegro
You'll find all the major international car rental brands operating in Montenegro.
Companies such as Budget are known for their deals on rentals, while Sixt's focus is on offering a range of premium vehicles at economy prices. Alamo works to provide a hassle-free experience, Avis aims to offer a wide selection, and Sur Price is a newer rental company that's quickly growing a loyal customer base.
Between them, you'll have no problem finding the right vehicle for the right price. If you already know which brand you prefer, select it as a filter option when you run your search to only view cars from that supplier. Get instant confirmation and free benefits when you book on our secure site.
Road rules in Montenegro
● Drive on the right-hand side of the road.
● Mobile phone use while driving is prohibited unless you have a hands-free kit.
● You must have your headlights switched on at all times.
● You are required to use the horn to give notice when you plan to pass someone.
● Children must be aged over 12 years to sit in the front seat.
● The maximum blood alcohol level is just 0.05%.
Driving tips for Montenegro car rental
● Most roads in Montenegro are just two lanes and many are mountainous, so driving can be a little slower than you might be used to.
● Be sure to pick up a GPS unit when you rent your car to help you get from A to B.
● Consider hiring a 4x4 if you're heading away from the cities, as the roads can be on the rugged side with potholes and other hazards.
● To be extra safe, avoid driving at night if possible.