Tucked away on the Bahia de Banderas on the west coast of Mexico is a slice of paradise called Puerto Vallarta. Reserve your airport rental car to start your holiday as soon as you get off the plane.
Puerto Vallarta is a small, resort town famous for its dazzling beaches and lively night scene. Tourists love partaking in a number of water sports such as scuba diving, boat trips, parasailing and more. Spend your days lounging on the beach, followed by a stunning Pacific Ocean sunset, and your nights partying in the open-air clubs. Drive down to Yelapa for a secluded, quiet beach and stop by Jardin Botanico de Vallarta on the way to view a beautiful array of Mexico's flora.
Heading to other destinations in Mexico? Cruise over to Mexico City, Guadalajara, or down to Acapulco.
Hiring a car in Puerto Vallarta
Pre-book a cheap Puerto Vallarta rental car to explore Mexico as you choose. Airport Rentals makes it easy with our top-notch search engine bringing the best car rental deals from competitors across the globe on one page. Simply type in your travel details to access a list of car types from local and international brands, which often include additional benefits. To help narrow your search, use the handy preference filters to select the ideal car and finish your booking in minutes to receive instant confirmation. Never worry about hidden fees, and enjoy access to 24/7 customer service.
Licenciado Gustavo Díaz Ordaz International Airport (PVR)
Also known as Puerto Vallarta Airport, Licenciado Gustavo Díaz Ordaz International Airport is named after the former President and welcomes around 4 million travellers every year. Find a mix of shopping, bars, fast food joints and cafes spread across the terminal. Hop on free WiFi for up to 15 minutes to locate reservations or map out your route. When you're ready to hit the beach, grab your hired car from the international arrivals hall near baggage claim (Budget is in the domestic hall).
If you are picking up your car hire in Puerto Vallarta, it's best to take a taxi from either the domestic or international arrival halls.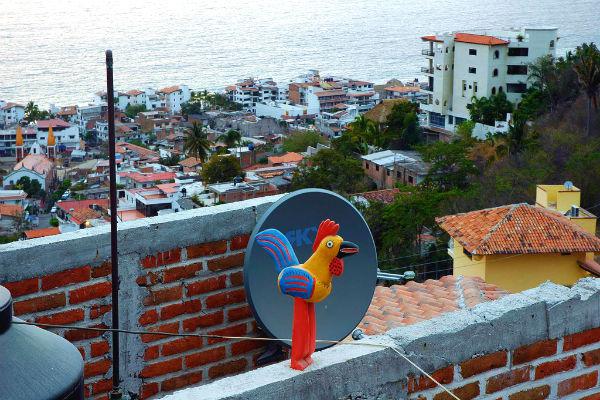 Image: Wonderlane
Guide to driving a rental car in Puerto Vallarta
Use our guide for help on driving tips, navigating and parking for Puerto Vallarta.
Driving your car hire from the airport to Puerto Vallarta
The airport is located just 5 kilometres north of the city and takes around 15 minutes to make the drive. Exit the airport and merge onto Avendia Francisco Medina Ascencio, keep left to head towards Puerto Vallarta on Mexico 200 to arrive in the downtown area and into the 'hotel zone.'
Driving tips for your rental car in Puerto Vallarta
Having a rental car in Puerto Vallarta puts you ahead of the curve and gives you the chance to see more of Mexico's breathtaking western coast. Enjoy your drive and remember these tips:
• Drive on the right side of the road and be prepared for slower drivers to pull over to the shoulder lane to allow you to pass.
• Hazard lights are often used to let other cars know they are about to do an illegal maneuver, such as running a red light.
• When another car flicks their lights at you, it usually means road construction ahead. Slow down just in case.
• Watch out for topes (speed bumps), they are everywhere!
• Always book insurance with your car hire.
For more Mexico driving tips, scroll to the bottom of the Mexico car rental page.
Parking at Puerto Vallarta International Airport and downtown Puerto Vallarta
Parking is available across from the terminal building at PVR Airport. Choose from short-term and long-term in the same parking structure with rate of MXN$26 per hour, MXN$290 for the day and around MXN$120 for each extra day.
If you plan to park in central Puerto Vallarta, use one of the parking garages in the area or try your luck at on-street parking. Fair warning, these spots are harder to find. Alternatively, park at your accommodation and take local transport; or walk around the city.