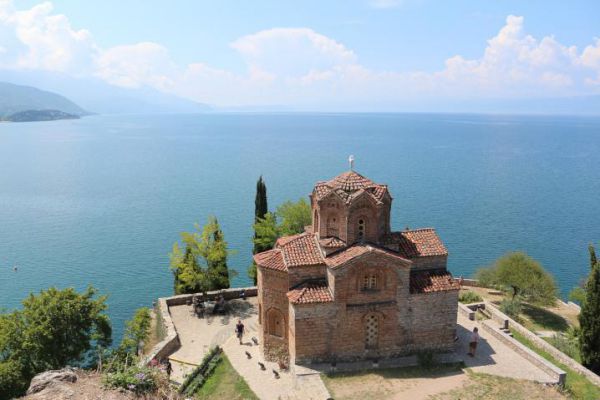 Image: Pixabay
Macedonia is a landlocked Balkan country with fascinating history and stunning scenery. There is myriad architectural, historic and natural attractions dotted all over the country ready to be explored by a cheap rental car.
The nation as we know it today declared independence from Yugoslavia in 1991, but the charming capital of Skopje is said to be up to 7,000 years old. Just over 2 million people live in this Slavic country and it grows more popular as a tourist destination with every passing year.
Discover the ancient beauty and attraction of Macedonia and then explore more of Eastern Europe in your hired car. Kosovo, Serbia, Albania, Greece and Bulgaria are all nearby neighbours with plenty to offer the intrepid traveller.
Find the best deal on car hire in Macedonia with AirportRentals.com
There are at least 10 major car rental companies operating in Macedonia, so the easiest way to compare deals and benefits is to use Airport Rentals.
All you need to do is enter your location and travel dates into the search function to generate a full list of car rentals available during your stay. The options are automatically presented with the lowest prices at the top, and you can easily toggle the filters to view vehicles to match your specific preferences.
Once you've made a decision, you can book securely online in just a few clicks. Save yourself time and money using Airport Rentals for all of your car hire needs.
Top car rental locations in Macedonia
Pick up your rental as soon as you arrive in Macedonia thanks to the country's excellent network of car hire locations.
Skopje Airport - Macedonia's capital is the point of arrival for many visitors. You can collect your keys immediately upon touch down or spend a few days in Skopje first and pick up from the city centre. Let yourself get swept away by the delights of the capital as you wander through the pretty streets and dine on delicious cuisine. A top outdoor attraction is the nearby Matka Canyon - 5000 acres of incredible landscape where jagged sheer cliffs dive into the waters below. Dotted up and down the canyon lie monasteries, churches and the remains of a medieval fortress, plus there are natural caves and caverns along the way.
Ohrid Airport - The country's other international terminal can be found at Ohrid and once again you have the option to pick up a vehicle upon landing at the airport or in Ohrid itself. The small town is Macedonia's only UNESCO World Heritage Site, and you'll instantly fall for the charm of the cobblestone streets, old churches and cafes decorating the centre. Lake Ohrid is another of the country's most beautiful sights, and one of Europe's most ancient at an estimated 3 million years old.
Alternatively, you can book your car rental for Bitola in the south of the country, or start out in the north at Tetovo.
You may prefer to take your car on a one-way trip. To avoid having to make a round-trip to return your vehicle back to the same depot, you can easily arrange to drop off your car in another city - or even a different country. Simply uncheck the 'return to same location' box when searching on Airport Rentals and enter your prefered drop off point.
Top car rental suppliers in Macedonia
Many of the car rental companies in Macedonia are household names. Budget, Europcar, and Hertz are all known worldwide for their range of vehicles, great prices, and helpful, friendly service.
You'll also find smaller, up and coming brands here such as Sur Price, Enterprise, and Inter Rent, all of which help add to the competition to give you more options and even better deals.
If you have a preferred car rental company, you can use a filter to remove other brands from your search and simplify the process. Complete your booking on our secure site to receive instant confirmation and free benefits.
Road rules in Macedonia
● Drive on the right-hand side of the road.
● Keep your headlights switched on at all times.
● Seatbelts are mandatory.
● Using a mobile phone while driving is not permitted.
● Children under the age of 12 are not allowed to sit in the front seat.
● Anyone under the influence of alcohol is not allowed to sit in the front passenger seat.
● It's illegal to carry any kind of radar detection for speed traps.
Do note that your vehicle must be fitted with winter tyres between November 15 and March 15. Your rental company should ensure your vehicle is road legal when you pick it up, but it won't hurt to double check.
Driving tips for Macedonia car hire
● Keep local petty change on hand as there are a number of toll roads around Macedonia and you'll need to pay in cash. The exact amount will depend on the road and your vehicle.
● Use your horn outside of the cities to warn other drivers you are intending to overtake them (a local practice), but don't use a horn in built-up city areas unless there is an emergency.
● A GPS unit can be a huge help in finding your way around, but don't forget to turn off the radar function if it has one.