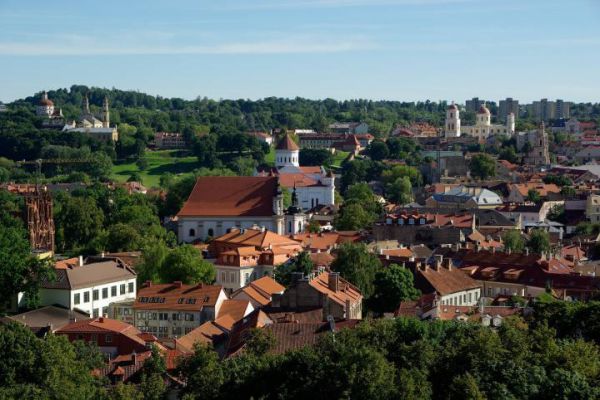 Image: Pixabay
Lithuania is one of Europe's best kept secrets, but it is steadily growing in popularity so don't delay your visit. Separating from the Soviet Union in 1990, the small country located on the eastern Baltic Sea has a surprising number of things to see and do, and the best way to explore them all is with a cheap rental car.
Known as the land of gently rolling hills and streams, Lithuania offers amazing natural scenery. Charming port cities, swathes of lush forest, and unspoilt black sand beaches all add to the appeal, while the country's diverse history and culture make a lasting impression.
Whether your itinerary includes a relaxing seaside escape, getting back to nature, or exploring the historic buildings and UNESCO sites, you can do it all when you pick up a hired car in Lithuania.
Extend your European road trip with a visit to nearby Belarus, Poland or Latvia.
Renting a cheap car hire in Lithuania with Airport Rentals
Finding a cheap rental car for your Lithuanian holiday is fast and easy when you use AirportRentals.com. No need to spend hours searching through multiple websites trying to find a car for your trip, all the hard work is done for you. Simply pop in your desired destination and travel dates to generate a list of the best rental deals in the country.
All the big name rental companies are represented throughout Lithuania, and with instant confirmation, easy comparison tools and 24/7 customer service, you'll be booked and ready to go in just a few clicks.
Top Destinations in Lithuania
Explore some of the top destinations to rent a car hire in Lithuania.
● Vilnius is the capital city of Lithuania located in the south of the country. This charming city boasts a variety of attractions including the UNESCO listed city centre, architecturally-stunning cathedrals and fascinating museums.
● Druskininkai is a resort town in the south of the country and, with its many mineral salt spas and mud baths, is the perfect place to relax and rejuvenate. Druskininkai also offers the Snow Arena, where visitors can ski and snowboard all year round.
● Kaunas is located in central Lithuania. Home to many important historical buildings and monuments, visitors can discover the Kaunas Castle and explore captivating museums.
● Klaipeda is a charming port city that seamlessly combines old and new. Lithuania's third-largest city is known for its cobblestone old town and annual celebrations during the Sea Festival.
● Palanga is a city on the Baltic coast and is one of the most popular destinations to experience Lithuania's unspoilt beaches. In summer the town comes to life with its vibrant party scene.
● Siauliai is a city in the north of the country best known for its Hill of Crosses, where visitors can discover a mountain of symbolic hand-carved crosses.
Car rental suppliers in Lithuania
In Lithuania, you have access to all the well-known and trusted car rental suppliers. Choose from top international brands including Alamo, Budget, Sixt, Avis, and Europcar, and book with us to receive instant confirmation and free benefits. Our strong trading relationships with these companies allow us to secure incredible savings and pass them on to you.
Lithuania road rules
Get to know the road rules before you start your travels in Lithuania.
● Drive on the right side of the road.
● You will need to hold a valid driver's license and have photo identification, such as a passport.
● It is compulsory to drive with headlights on, even during daylight hours.
● The general speed limits, unless otherwise signed, are 50 km/hr in urban areas and 70-90km/hr on rural roads. The highway speed limits are 130 km/hr, but reduced to 110 km/hr during winter months (November to March).
● During the winter months it is mandatory to use winter tyres.
● The legal blood alcohol limit is 0.04%
Driving tips for Lithuania car hire
With significant improvements to the country's road networks in recent years, driving is safer and more pleasant. These tips will help you on your way:
● Lithuania's main roads and highways are in good condition. There is a network of four-lane highways linking the main cities of Vilnius, Kaunas, and Klaipeda.
● Take extra care when driving in winter, especially if you are not used to snowy conditions. Be aware there may be ice on the roads.
● Keep a look out for lanes marked with an "A," which may only be used by public transport, bicycles and mopeds.
● "TASKI" indicates taxis only and "4+" indicates cars with at least 4 passengers.
● Obey all local road rules as police can issue on-the-spot fines and may request immediate payment.