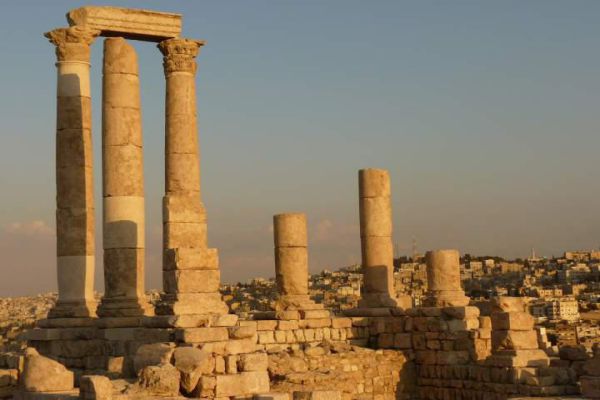 Image: Pixabay
Amman is a city of fascinating history and culture, where the traditional east meets the modern west. Rent a car from Queen Alia International Airport to explore this Jordanian gem in all its glory.
With colourful markets, delicious street food, annual events and a bustling nightlife, a holiday to the capital of Jordan is sure to impress. Home to some of the world's most incredible archaeological findings (including the Dead Sea Scrolls), Amman is a one-of-a-kind travel experience.
Leave time to explore more of Jordan in your rental car with a trip to the Dead Sea, Irbid and the King Hussein Bridge.
Book a cheap rental car in Amman with Airport Rentals
Renting a cheap car hire in Amman is easy when you book with Airport Rentals. Our powerful search engine allows you to compare multiple rental deals on one handy page, saving you time and money. Big name brands like Avis, Budget, Europcar and Hertz are all available for hire in Amman.
To get started, pop in your travel dates and hit 'search'. A comprehensive list of vehicles will be presented for easy comparison. Narrow down your options using the handy filters, and sort by transmission, group size, car style and more. Choose your favourite vehicle and complete your reservation in just a few clicks.
If you find you need a hand with your booking, our customer service team is available 24/7.
A quick overview of Queen Alia International Airport
Queen Alia International Airport was revamped in 2016, raising the airport's passenger capacity to 12 million per annum. The sleek new terminal offers a variety of passenger services, including plentiful dining options, gift stores, a pharmacy, a children's play area and the Bloom Dead Sea Relax spa.
Collect your rental car keys from the kiosks located on Level 1. Alternatively, if you wish to pick up your rental car from town, there are taxis, shuttles and an airport bus available for easy transport.
Driving a car hire in Amman
Getting from the Queen Alia International Airport to Amman
Driving from the Amman Airport to the city will take 30 minutes. Head out onto Airport Road and then turn right onto Route 15, following for 4.5 kilometres. Take the al-Quds Street exit, and follow the signs into the city centre.
Handy tips for driving your car hire in Amman
● Motorists in Jordan drive on the right.
● Speed and distance are measured in kilometers.
● The speed limit in the city is 50km/hr, and up to 100km/hr on open roads.
● If you're travelling on rural roads, you must give way to camels and other wildlife.
● Avoid driving at night if you can, as roads are narrow, often steep, and poorly lit.
● In the rainy season between December and March, the roads may become hazardous. Always drive to the conditions.
Thinking of an Amman road trip? Read up on our tips for driving in foreign countries.
Where to park your rental car
The airport offers three different parking zones. The drop-off zone is free for the first 10 minutes, rising to JD 26 an hour. Short-term parking is available for 3 hours, with a rate of JD 2.25 per hour. Long-term parking begins at JD 1 per hour, with an overnight charge of JD 11.
In the city of Amman, on-street parking is available on most side streets. There are also several larger car parks in the city, which cost around JD 1 per hour. Free parking is available at most attractions.
Amman Airport Terminal Map
Queen Alia International airport (Amman, Jordan) consists of one main terminal. All inbound arrivals are on level two while all departures are on level three. Carriers operating at Queen Alia International Airport include Royal Jordanian and British Airways.