Impressive stone walls surround the quaint and often overlooked city of Treviso, Italy. Rent a car to get to know this beautiful urban centre and its surrounding countryside.
A much quieter version of its well-known neighbour Venice, Treviso holds its own with pretty canals, arcaded cobblestone streets, and magnificent architecture. Discover the charm and beauty of this medieval city as you walk through Old Town, exploring frescoed buildings, stunning museums, and tiny cafes. Keep your rental here for a while as you unwind with the calming sights and sounds of this lovely little city.
Explore further on a cross-country adventure through breathtaking Italy. Head south through Bologna to picturesque Tuscany and visit the region's "Chocolate Valley" which will take you all the way to Pisa on the coast. For a winter adventure, travel west through Milan to one of Europe's top ski resorts in Cervinia.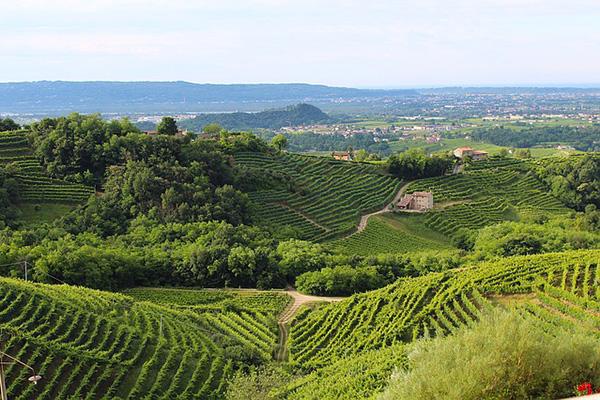 Hiring a car in Treviso with Airport Rentals
Reserve your Treviso car hire with Airport Rentals to save time, money, and stress. Airport Rentals have simplified the car hire process so you can spend more time planning your holiday and less time scouring the web for the best rental deal. Simply enter your travel dates, and our powerful search engine will generate a list of cars and rates available for comparison on one user-friendly page. Deals are sorted with the cheapest options at the top, and filters like car type, rental company, and transmission allow you to narrow search results even further. With such a vast range of car types to choose from - including luxury, economy, and mini - you can rest assured knowing you'll find the perfect rental to suit your Treviso travel plans. Once you've finalised your decision, secure your rental in a few simple steps to receive instant booking confirmation.
Should you have any questions along the way, our dedicated customer care team is available 24 hours a day, seven days a week.
International Airport Treviso A. Canova (TSF)
International Airport Treviso A. Canova, commonly known as Treviso Airport, is located 3 kilometres east of Treviso and 31 kilometres from Venice. Affordable flights to major domestic and international cities like Naples, Brussels, and Dublin are easily found at this low-cost carrier airport. Outfitted with several retail and dining options, Treviso Airport boasts a large open-concept departure hall. Car hire companies are conveniently located in the arrivals hall on the ground floor with rental car parking only a few steps away outside the terminal building.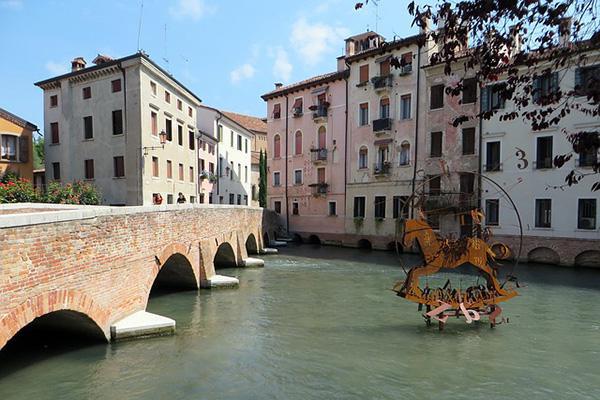 Guide to driving a rental car in Treviso
Driving from Treviso Airport to downtown Treviso
The drive to Treviso's central business district takes about 13 minutes depending on traffic conditions. From the airport, travel south to Via Noalese/SR515 and continue through the roundabout before merging onto Via Carlo Cattaneo. Turn right onto SS13 and merge onto Via Roma to access the city centre.
Italy driving tips for your Treviso rental car
● Drive on the right side of the road.
● Making a right turn at a red light is illegal.
● Speed limit signs are displayed in kilometres per hour. A speed limit sign with a red circle indicates the maximum speed, while a blue speed limit sign indicates the minimum speed.
● Be prepared to pay road toll fees when using the motorways.
● There are many one-way streets in the city's Old Town, so to avoid confusion, hire a GPS and purchase a paper road map of the area as a backup.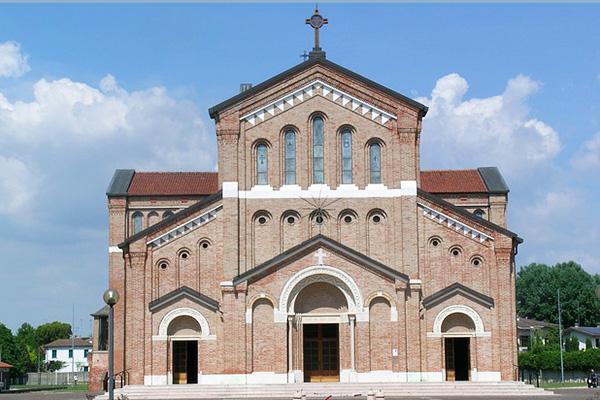 Parking at Treviso Airport and in Treviso
Four parking lots provide ample space for both short and long-term stays at Treviso Airport. Pay inside the terminal by cash or credit card, credit card at the exit barrier, or Telepass in Park A & D. For added convenience, you can reserve your parking space in advance.
There are a number of public car parks throughout the city with varying time limits and rates. On-street parking is also available but be sure to watch the time limits to avoid being ticketed. If you venture outside the city walls, there are a few parking lots that offer free parking.