A blip on the "heel" of boot-shaped mainland Italy, Brindisi offers a relaxed and sunny place to begin an Italian road trip. It's a gateway to the beautiful and warm Puglia region, but the city itself is certainly worth a visit too. There is a fascinating history to discover - of Italy's connection to Greece and the Middle East - and the wide tree-lined boulevards invite leisurely strolling and al fresco dining. Castles and churches offer architectural interest, and there are sandy beaches not far from downtown.
Depart Brindisi in your car hire, and multiple beautiful Southern Italian destinations are waiting. Just in the region of Puglia, you will find Bari, Lecce, Taranto and a host of coastal towns. Head half a day west to find yourself in Naples, or veer south again into the toe of the shoe and visit Crotone. Rome's not far away either - you could even head cross-country.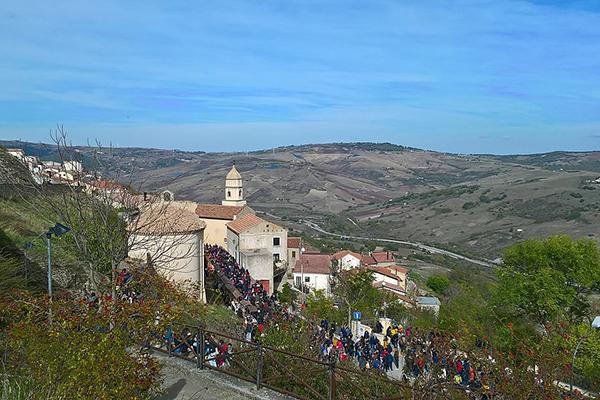 Image: By Asia (Own work), CC BY-SA 4.0, via Wikimedia Commons
Booking a Brindisi car hire
There's no better way to start planning your road trip in laidback, breezy Brindisi than with Airport Rentals. The many rental companies have varied vehicles and rates, but our site and easy-to-use search engine mean you can see them all together on one page. Arranged in one list with all the pertinent information displayed, you can easily compare the results so that you can pinpoint the perfect rental car.
Filters make it even simpler, narrowing down the available options to a shortlist. Prefer a particular transmission type or rental brand? No problem, we can find the right car. Once you have spotted the ideal wheels, book them on our secure site and start dreaming of the Adriatic.
Brindisi Airport (BDS)
Brindisi Airport (you may hear it referred to as "Aeroporto del Salento") serves a range of airlines flying all around Europe, many offering seasonal flights during the summer high season. The single terminal has plentiful shops and eateries along with an ATM and an information desk to keep travellers comfortable and organised, and there are several hire companies with counters located inside. There is also free WiFi available.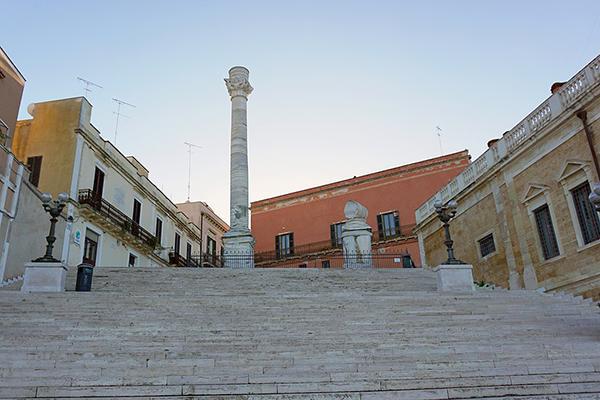 Image: Fiurl11 (Own work), CC BY-SA 4.0, via Wikimedia Commons
Guide to driving in Brindisi
Driving from Brindisi Airport to the city centre
The distance from Brindisi Airport to central Brindisi is around six kilometres and should take fifteen minutes. Leave the terminal behind on Strada Comunale 10, and circle the roundabout to turn left and head towards Brindisi on Via Maestri del Lavoro d'Italia. Continue on Via Ruggero de Simone and through another roundabout to get on the Via Ettore Ciciriello which skirts the harbour. At a roundabout near the shipyard, take the second exit onto Via Provinciale S. Vito, and turn right into Via de Carpentieri then Via Bastioni S. Giorgio to reach downtown Brindisi.
Driving tips for your Brindisi rental car
The Old Town of Brindisi has many one-way streets, so pay careful attention when you make a turn.
Italy driving tips
● Italy is commonly called "God's Racetrack," for the scenic, winding roads and also for the speedy local drivers. Drive defensively!
● There are many tolled highways in Italy.
● Most cars in Italy have manual transmissions, so if you are more comfortable with an automatic, specify when choosing your rental.
● 130 kilometres per hour is usually the top limit on highways, but some can be set at 150 kph if they meet certain conditions. Rain may cause limits to be lowered.
● On most Sundays, heavy trucks are prohibited from driving on Italy's highway network. For nervous drivers, this makes Sunday a great day for travelling.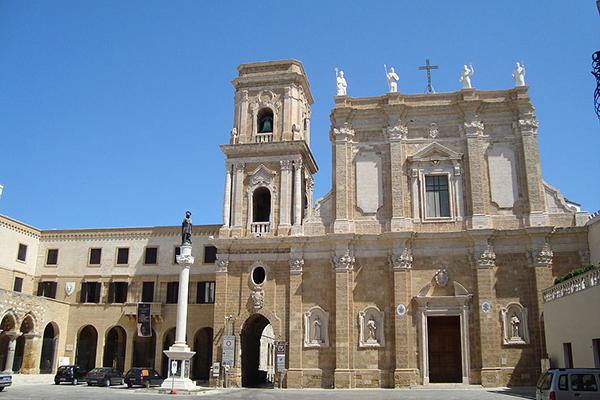 Image: LPLT (must be credited) (Own work), GFDL, or CC BY-SA 4.0-3.0-2.5-2.0-1.0, via Wikimedia Commons
Parking options at Brindisi Airport and in Brindisi city centre
The short-stay parking at Brindisi Airport is called P1, and it is free for several hours and €2 for every 30 minutes after that. P2 is a medium-term option and costs €4 for less than two hours, or €7 for two to six hours. P3 is long-stay parking, and it has similar charges to P2 but with discounts for long-term stays.
In the Old Town area, paid on-street parking is available in bays with blue lines at €1 per hour. White lines indicate free parking. However, don't expect to park right in the historic centre, as this is a limited traffic zone where driving and parking is allowed only by permit holders. The central area has several parking buildings which cost around €2 per hour.