Explore one of Italy's lesser known cities when you hire a car in Bologna.
Home to the world's oldest university, Bologna is teeming with historic sites, medieval buildings and terracotta porticos. Westerners may recognise the city's name from its famous italian dish, bolognese where the cuisine originated from. Enjoy fine dining and regal theatres in the Po valley side and head to Bolshie where piazzas are embellished with graffiti and bustling with students.
Bologna is conveniently located in central Italy, close to Florence, Venice, Rome and many other must-visit destinations. Extend your Bologna holiday into a multi-day road trip around the bellissimo country.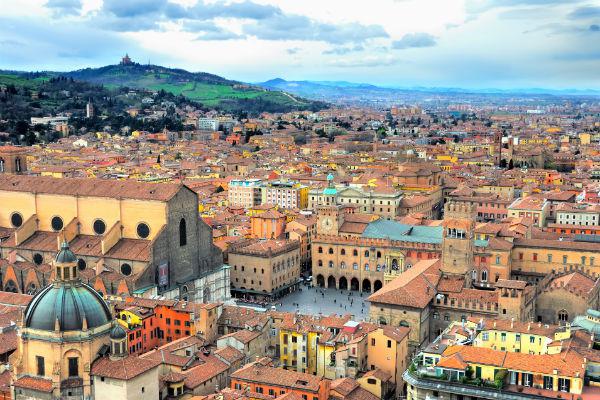 Booking a Bologna rental car
Hiring a cheap rental car from Bologna Airport is only a few clicks away with Airport Rentals. Simply type in your travel details to instantly compare a large inventory of local and international brands on one page. Use preference filters to narrow your options down to the perfect vehicle for your holiday.
Confirm your reservation on our secure site without worry of hidden fees, and enjoy access to 24/7 customer service, should you need it.
Bologna Guglielmo Marconi Airport (BLQ)
Over 7.5 million travellers pass through Bologna Airport each year. The recent terminal expansion has allowed for more flights and added shopping areas. Find international retail brands plus reading and travel accessory shops. Grab a bite to eat at one of the many cafes and restaurants before heading to the rental car kiosks in the arrivals hall on the ground floor.
Grab your keys and head to the city or pick up your hired car in downtown Bologna via taxi or take a bus to the train station for a short ride to the city.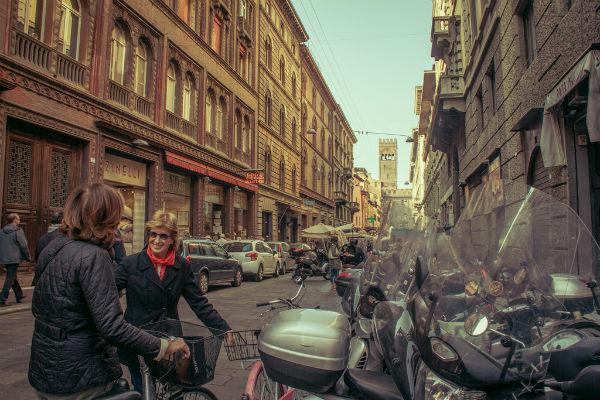 Image: Janssem Cardoso
Guide to driving in Bologna
Use our guide on driving tips, directions and parking for Bologna.
Driving from the airport to downtown Bologna
The drive from Bologna Airport to the city centre takes around 20 minutes, although due to ZTL zoning the city centre is restricted to local traffic. To get near the city center, follow these directions: merge onto A14 Autostrada Adriatica/Tangenziale nord di Bologna and use the right lane to take the ramp to Bologna Centro where you will take Viale Palmiro Togliatti at the roundabout. Continue straight as the road turns to Viale M.K. Gandi, then changes to Via Sabotino, which will bring you to the outer edge of the ZTL zone.
Driving tips for your Bologna rental car
Bologna's city centre is a Zona Traffico Limitato, which means don't drive into the city centre between 7am to 8pm. The area is supervised by capture cameras and you will be fined.
Italy driving tips
● Drive on the right side of the road, overtake on the left side.
● Italians are known to forgo rules of the road. Stay alert and be prepared for tailgaters and speedsters.
● Carry change for the toll roads.
● Bring a paper map in case your GPS signal fails.
Check out more tips for driving in foreign countries.
Parking options at the Airport and downtown Bologna
Choose from five different parking areas at Bologna Airport. Park premium at the Express lot adjacent to the terminal for 10 minutes free, €3.5 per hour and €30 for the day. Park in P1 or P2 for the same hourly rates, but pay only €14 per day. Save at P5 paying only €9 per day with a 10-minute walk to the terminal.
Park outside the Zone Traffico Limitato at hotels, garages or underground parking areas and travel via bus or walking to the city centre. For more help with parking, ask your accommodation provider for suggestions.
Discover Italy's "Chocolate Valley" with your Bologna rental car.