Tel Aviv is one of Israel's hottest tourist destinations with stunning coastlines, an exciting nightlife and a dazzling cityscape. Secure a Tel Aviv airport rental car to see the best sights of this Mediterranean metropolis.
The second largest city in the country, Tel Aviv is Israel's financial and technology hub and home to almost half a million residents. Travellers can visit the beaches to enjoy warm Mediterranean waters, and hang out in hip bars, restaurants and cafes along the coast. You can stroll through Old Jaffa, the historical center with charming alleyways and extensive flea markets. Head to the Carmel Market for the best street food in Tel Aviv and dance all night long at one of the popular clubs or beach parties.
After exploring Tel Aviv in your car hire, road trip through Israel to discover more incredible history and culture with stops at Jerusalem, Haifa and Nazareth.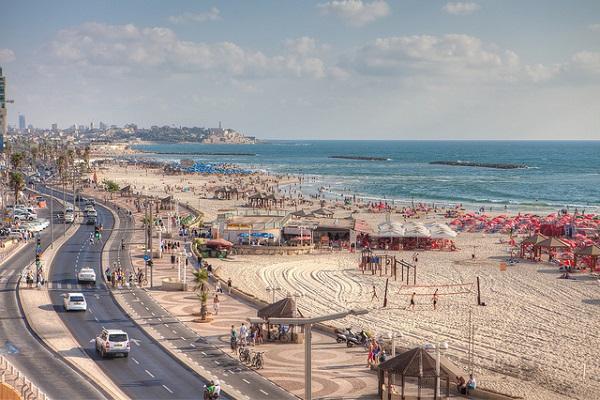 Image: israeltourism
Hiring a Tel Aviv rental car
Travel around Israel with a cheap rental car when you pre-book with Airport Rentals. Complete your car hire in just a few clicks on our secure site. Simply enter in your travel details for Tel Aviv Airport, click 'search' and sit back as the deals roll in on one user-friendly page.
Select your desired car type or favourite rental company using the preference filters to quicken your search. Once you've made your final selection, receive instant confirmation plus free benefits such as theft protection and unlimited mileage. With Airport Rentals you never have to worry about hidden fees and can access 24/7 customer service should you need it.
Tel Aviv Ben Gurion Airport (TLV)
Ben Gurion International Airport is Israel's busiest transport hub, serving over 17 million travellers each year. Often referred to as Natbag Airport, it welcomes guests with a plethora of duty-free shops, VIP lounges, cafes and bars. Access free WiFi to look up any last minute travel details before heading to the Arrivals Hall on the first floor to pick up your rental car.
If you are collecting your car hire from downtown Tel Aviv, take an inter-city bus, hail a taxi or head to the lower level in Terminal 3 to board the city train.
Guide to driving in Tel Aviv
Use our guide for driving tips, directions and parking in Tel Aviv.
Driving from the airport to downtown Tel Aviv
Ben Gurion Airport is located 26 kilometres southeast of Tel Aviv. To get to the city, exit the airport and merge onto Route 1 to Tel Aviv-Yafo. Next, merge onto Route 20 and follow signs toward HaShalom Road then turn left onto Giv'at HaTachmoshet Street. Then turn right onto Shlomo Ibn Gabirol Street to arrive in the city centre. The journey takes around 25 minutes.
Driving tips for your Tel Aviv rental car
Avoid the Ayalon Highway in Tel Aviv during rush hours (Sunday to Thursday) from 7-10am and 3:30-6:30pm, it turns into a parking lot at these times.
Israel driving tips
● The speed limit is 50 km/hr in urban areas and 90 km/hr on highways.
● Seatbelts must be worn at all times.
● Headlights must be switched on at all times from November through April.
● Turning right on red is illegal unless there is a designated lane for right turns.
● If you aren't familiar with Hebrew, we recommend hiring a GPS to get around the city as street signs can be confusing.
Parking options at the Airport and in Tel Aviv
Ben Gurion Airport offers both short-term and long-term parking. Use the short-term lot for up to 24 hours and pay 18 ILS for the first hour and 4 ILS for each additional 15 minutes. The daily rate is 90 NIS. The long-term lot offers a free shuttle bus to the airport and charges 40 ILS per day.
If you are parking in the city, avoid parking on red and white zones. Look for blue and white zones for paid parking and grey zones for free parking. The time limit is typically up to four hours and costs 6 ILS an hour. Numerous parking garages are located in the city and charge around 12 ILS per hour with discounted evening and night rates.
Insider tip: Park at Reading north of Tel Aviv for free and hop on a bus to the city.