A holiday to Iceland won't be complete without a trip to the country's second largest city located at the base of Eyjafjörður Fjord in the northern part of the country. Book your rental car from Akureyri Airport to explore the best of this region and its jaw-dropping scenery.
Take time to relax and hang out in this city of 18,000 people at hip cafes, local art galleries and the Akureyri Art Museum, then get ready for an incredible tour of Iceland's best features. Go whale watching, whitewater rafting and take a once-in-lifetime chance to see the majestic Northern Lights. Hike around the Eyjafjörður Fjord, the nation's longest fjord where breathtaking snow-capped peaks stand tall in the distance. Visitors will be delighted at any time of year; you can go skiing in the winter and enjoy blooming fields of flowers in the summer.
Access all the nearby nature spots in your airport rental car and then continue your Icelandic journey with trips to Hofn and Reykjavik, with the option to drop off your car hire in each location.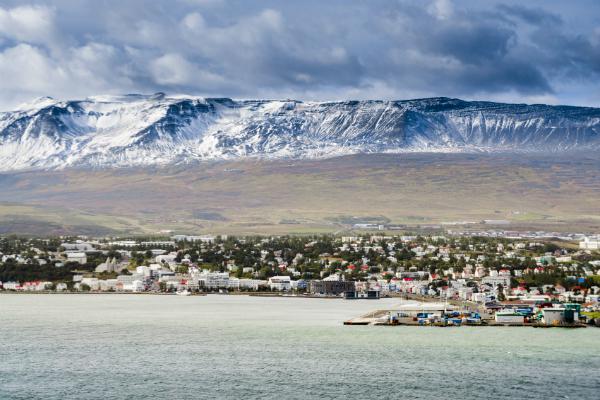 Booking an Akureyri Airport rental car
Don't wait to book your cheap rental car for your holiday in Iceland. With Airport Rentals, finding the ideal car hire takes only minutes and allows you to compare hundreds of vehicles across international and national brands. What is your preferred ride? Choose from economy cars, SUVs, luxury vehicles and more. Compare deals from Hertz, Avis, Europcar and Thrifty at Akureyri Airport.
After choosing your ideal rental car, complete your booking on our secure site and never worry about hidden fees. Plus, you can access 24/7 customer service should you need it.
Akureyri International Airport (AEY)
Land at Akureyri International Airport, the single international airport in North Iceland. Servicing only around 150,000 travelers each year, this small airport has basic amenities. Grab last minute gifts from the duty-free shops or enjoy a bite to eat at the bistro before heading to pick up your rental car. Locate your designated kiosk near baggage claim in the arrivals area. Do note that WiFi is currently unavailable at Akureyri Airport.
If you arranged to pick up a car hire from one of the downtown Akureyri depots, hail a taxi for a quick 5-minute ride into the city centre. If you have the time and don't mind a walk, you can opt to take the pedestrian path for a 30-minute stroll to town.
Guide to driving in Akureyri
Use our guide to driving tips, directions and parking in Akureyri.
Driving from Akureyri International Airport to Akureyri
Access downtown Akureyri in your airport rental car in just 8 minutes. Simply exit the airport heading north along the coast on Drottningarbraut/821, which will take you right into the city centre.
Driving tips for your Akureyri rental car
It's easy to get distracted by the beauty surrounding Akureyri. Keep your eyes on the road and pull over for photo ops.
Alt text: Iceland's roads cut through spectacular scenery
Iceland driving tips
● Drive on the right side of the road and overtake on the left.
● Be extra cautious if you're driving in winter.
● Keep your petrol tank full if you are planning side trips.
● Avoid driving in the dark, the roads are poorly lit and often narrow with just 2 lanes and no shoulders.
For more tips and rules of the road, check out the Iceland rental car page.
Parking options at Akureyri International Airport and in downtown Akureyri
If you need to pick up a passenger or park at Akureyri International Airport, use the free lot next to the terminal. Long-term parking is currently not available.
Park for free in Akureyri's town center, but make sure to use a clock-card to mark down your arrival time, as parking areas have a maximum time limit. You can grab clock-cards from banks, info-centers, hotels, petrol stations and shops around town.
Is this your first time renting a car in a foreign country? Check out our tips on planning a successful road trip.