Situated between the Atlantic Ocean and the Caribbean Sea is the unique island nation of Haiti. This is a country a bit rough around the edges, but its natural wonders will surprise you. Hire a rental car from Port au Prince Airport to uncover tropical beaches, ancient ruins and fascinating culture in this french-speaking colony.
Port au Prince, the nation's capital, will introduce the authentic side of Haiti. The city is still in ruins from an earthquake, but if you enjoy chaotic, energetic cities, then hire a local tour guide and stick around to explore. Check out Grand Rue artists, try the locally-made spirit at the Barbancourt Rum Distillery, plus visit historic parks, forts and museums.
Next, hop in your airport car hire and make your way to other hotspots on the island such as Cap Haitien, Labadee and Jacmel.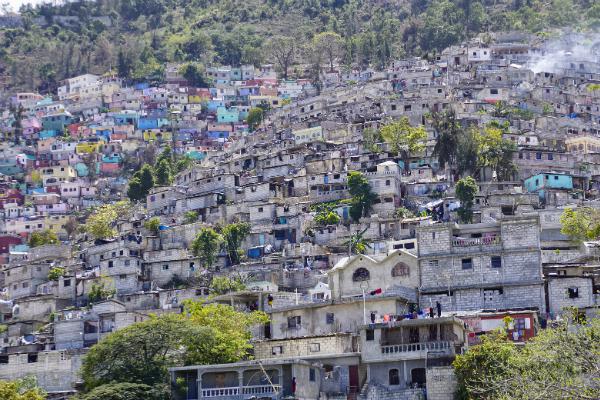 Booking a cheap Port au Prince rental car with Airport Rentals
Arrange your rental car for Port au Prince Airport ahead of time with Airport Rentals. Our easy-to-use comparison site allows you to customise your search for a specific car type and brand and compare offers from multiple companies all on one page. Just type in your travel details and we'll do the work to find the best rates in the industry.
Once you've selected the right car for your Haitian road trip, complete your booking on our secure site and never worry about hidden fees. Enjoy free benefits such as unlimited mileage and theft protection, plus access to our 24-hour customer service team should you need it.
Port au Prince Airport/Toussaint Louverture International Airport (PAP)
Touch down at the busiest (slightly chaotic) airport in Haiti, which offers basic amenities such as duty free shops, souvenir stores and eateries. Cafes and restaurants can be found on both sides of security lines. Jump on the free WiFi to pull up reservations or directions then head to the Arrivals Hall on the first floor to collect your rental car.
Picking up in downtown Port au Prince? Head to town via shared minibus, hotel shuttle or taxi.
Guide to driving in Port au Prince
Use our guide to driving tips, directions and parking in Port au Prince.
Driving from the airport to downtown Port au Prince
Port au Prince is located just 15 minutes from the airport. Take Boulevard Toussaint Louverture to the second roundabout and take the first exit onto Boulevard des Industries. Take a right on RN1 then turn left at the next intersection to arrive in the city centre.
Driving tips for your Port au Prince rental car
Haitian roads are quite chaotic. Keep your eyes peeled to the road, as local drivers often don't follow the rules. Here are a few more tips for driving in Port au Prince:
● Drive on the right side of the road, but beware of drivers swerving onto the left side to avoid potholes and obstructions.
● The urban speed limit is 50 km/h although locals drive as they please.
● Avoid driving at night as the risk of criminal activity rises.
● Always use a GPS or ask your accommodation provider for directions as certain areas of the city are unsafe.
For more tips and rules of the road, check out the Haiti rental car page.
Parking options at the Airport and in Port au Prince
Port au Prince Airport provides parking directly across from the terminal.
When visiting Port au Prince, it's best to park your rental car at a hotel or secured garage. Most accommodation providers offer free parking for guests, make sure to call ahead to check.