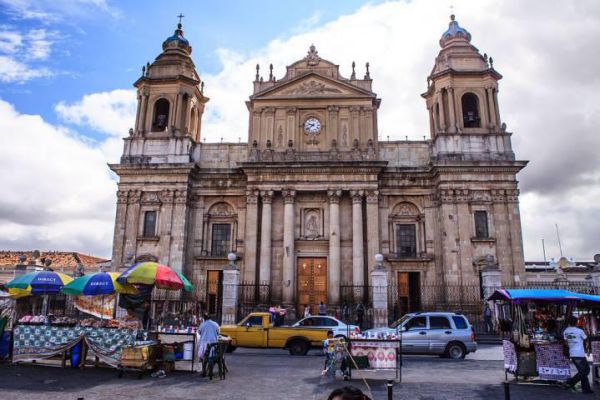 Image: Murray Foubister
Explore the fascinating history and culture of Guatemala when you hire a cheap rental car in Guatemala City. The capital city, known as 'Guate' to the locals, is famous for its Mayan history, stunning volcanoes and colourful handicrafts and textiles. The sprawling city offers visitors the chance to explore impressive colonial architecture, fascinating museums, historical churches, and ancient Mayan ruins.
An hour's drive from the city, visitors can take a trip to the UNESCO listed Antigua, one of the most popular destinations in the country.
Booking a cheap Guatemala city rental car with Airport Rentals
Book your Guatemala rental car in just a few clicks with AirportRentals.com. Simply input your travel dates to instantly compare great deals from international brands including Avis, Budget, and Alamo. Use the handy preference filters to narrow your search with options such as manual or automatic transmission, car size and more.
To finalise your reservation and receive immediate booking confirmation, simply fill out the quick form and select any extra items you may require, such as a booster seat. Enjoy peace of mind with no hidden fees and 24/7 access to our helpful customer service team when you book with Airport Rentals.
La Aurora International Airport
The La Aurora International Airport is located 6 kilometres south of the city centre and is Guatemala's major airport. Regular flights are available to South, Central and North American destinations, including Mexico City, San Salvador, and Los Angeles. Upgraded in 2007, the airport has a clean and modern terminal. Passenger services include a variety of retail and food outlets, an ATM, currency exchange, a tourist information desk, and free WiFi.
You will find the car rental service desks in the arrivals hall. Should you require a city centre vehicle pick up, take a taxi or bus into town.
Guide to driving a car hire in Guatemala
Use our driving and parking advice toward a safe and pleasant driving experience in Guatemala.
Driving from the La Aurora International Airport to Guatemala city centre
The drive from the La Aurora Airport to Guatemala will take 20 minutes. Exit the airport and take Boulevard Liberación all the way to the city centre.
Driving tips for your Guatemala city rental car
Driving in Guatemala can be daunting with its narrow streets, heavy traffic congestion and local drivers who tend to ignore the road rules. Stay safe and drive defensively in the city centre.
Guatemala rental car driving tips
● Drive on the right side of the road, overtake on the left side.
● Drive with caution as local drivers often disregard the road rules and drive aggressively.
● If possible, avoid driving at night when traffic increases and the roads become more hazardous.
●Take care when driving on rural roads as there is often little or no street lighting.
Parking options at the La Aurora International Airport
The parking facilities at La Aurora airport are plentiful and located opposite the terminal. Both short-term and long-term parking is available.
Parking options in Guatemala City
Most hotels offer parking facilities to their guests. Other parking options in Guatemala City include metered on-street parking and attended parking lots. Be sure not to leave valuables in your car when parking in Guatemala.