Mykonos is one of Greece's most popular island destinations. Famous for its exciting nightlife, cosmopolitan feel, and golden sandy beaches, Mykonos is a well known tourist hot spot. Secure a cheap rental car and get lost in the wonder and allure of this breathtaking island.
Spend a day taking in the charm of the iconic Greek architecture lining the shores of the Aegean Sea and be sure to stay long enough to witness one of the world's most gorgeous sunsets in the island's most romantic neighbourhood, Little Venice. Soak in the sun and fun visiting the island's many beaches as you explore the island in its entirety with the freedom of your rental car.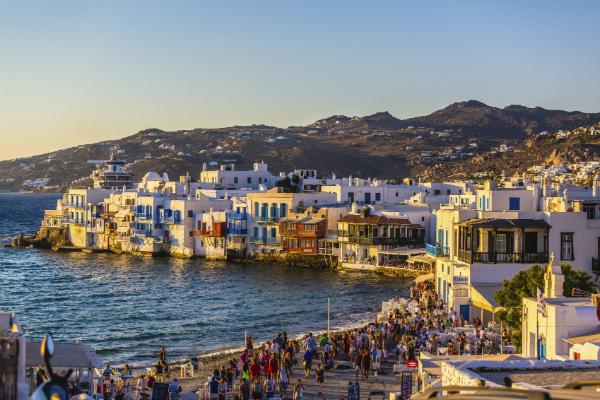 Hiring a car in Mykonos
Securing a cheap rental car from Mykonos Airport is easy with AirportRentals.com. Simply type in the location of hire and your travel details to generate a list of potential rental options. Easily compare cars and refine your search by using our handy preference filters, such as transmission type and group size. Choose from a variety of economy cars, luxury cars and everything in between.
Once you've selected your ideal vehicle, take a minute to review the extra items page and ensure there isn't something your travel plans may require such as a GPS or booster seat. You're almost done at the rental details page where you'll review your purchase and type in your payment information. Instantly confirm your rental and you are set to go! With Airport Rentals there are no hidden fees and you have access to 24/7 customer service should you require assistance at any time.
Mykonos Airport (JMK)
Located approximately 3.5 km southeast from the town of Mykonos (also known as Chora), Mykonos Airport serves over 350,000 passengers per year. During the busier summer months, Mykonos Airport receives international and charter flights from cities such as Rome and Venice and a limited number of domestic flights during the winter months (Athens and Thessaloniki). Due to the increase in travelers throughout the busy season, Fraport-Greece - an organization created in 2015 responsible for maintaining, operating, managing, and upgrading 14 airports located in Greece over the next 40 years - has made plans to expand the terminal by 50% providing more check-in counters, departure gates, and security-check lanes.
After you've grabbed a snack from the cafeteria, exchanged money at the ATM, and visited the Hellenic Duty Free Shop, pick up your car hire from the appropriate car hire kiosk, confirm your rental details and set off to begin your adventure on Mykonos island!
Guide to driving on Mykonos island
Use the guide provided below for directions, tips for driving on the island and parking information.
Driving from the airport to Mykonos (Chora)
Mykonos Airport is located inland and approximately 3.5 kilometres from the city of Mykonos (Chora). Exit the airport and continue on Mykonos provincial road for approximately 10 minutes until you've arrived at Mykonos city. The towns of Ornos, Psarou, Platis Gialos are also located approximately 3.5 kilometres from the airport.
Driving tips for your Mykonos rental car
Cars are not permitted in the town of Mykonos and therefore must be left on the outskirts of the city.
Tips for driving on Mykonos island
● Drive on the right side of the road, over take on the left side.
● Road signs are clearly marked in Greek and English.
● Roads are narrow and winding, and drivers tend to drive in the middle of the road. Stay alert and keep to the right especially around corners.
● Traffic is heavier during the busier summer months. Follow the rules of the road and let other drivers pass.
● Hire a GPS for your rental car and carry an up-to-date road map of the area in the event your GPS fails.
Parking at Mykonos Airport and Mykonos island
Long-term and short-term parking is available just outside the terminal. Follow instructions from your car hire agency on where to park the vehicle at the end of your holiday.
Cars are not permitted in the town of Mykonos and therefore must be left on the outskirts of town. Parking spots fill up quickly during the busy summer months. Park your vehicle safely and obey the parking laws.