Considered a part of both Central and Northern Greece, Ioannina is a gorgeous place that offers visitors an experience of the country far from the typical whitewashed town on an island cliff. It does, however, have an island of its own: the islet of Pamvotis lake, also referred to as Ioannina Island. This is just one of the attractions of the city, others including a fortress castle, beautiful mosques and churches, the Cave of Perama, the archaeological site of Dodona, and many more. Wandering the atmospheric Old Quarter or strolling along the lakefront before you head out to explore in your Ioannina car hire will give you a feel for the unique beauty of this Greek gem.
Pick up your rental vehicle from Ioannina Airport, take a look at the city and then hit the highways for a Grecian adventure. To the east lie Thessaloniki and Kavala, to the west is the coast with ferries to Corfu. To the south are many delightful destinations, including of course the ancient Athens. Pack up your road trip essentials, download a few handy driving apps, and you're ready for a journey to remember.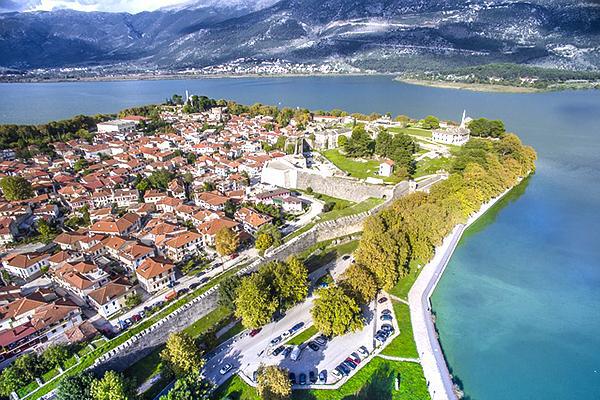 Book the best Ioannina Airport car rental
You'll find all kinds of car hire here at Airport Rentals, without spending hours searching across different sites and tabs. A range of brands and suppliers, luxury cars and SUVs, cheap rentals and economical sedans, short and long-term rentals: they are all available here with just a few clicks. Enter your dates to see a list of results, and filter them down to pinpoint the perfect rental at Ioannina Airport.
We can offer not only convenience in your search for a car hire but also great rates, thanks to our negotiation for low everyday prices and frequent special deals and offers. Once you have found the set of wheels that suits, book it in on our secure site and start dreaming of your road trip in beautiful Greece. Help is available around the clock, thanks to our team of friendly and experienced rental consultants who provide customer support for any part of the process, 24/7.
Ioannina Airport (IOA)
Ioannina National Airport - King Pyrrhus is the full name of the air facility outside the city, and it offers scheduled flights to Athens and Larnaca, with seasonal charters available to other cities in Europe. The passenger terminal has basic facilities: bathrooms and a snack bar. There are several rental companies with counters on site.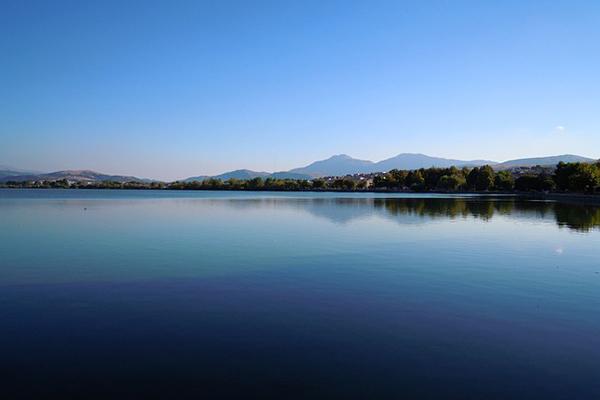 Guide to driving in Ioannina
Get the best from your Ioannina rental car with our tips and tricks.
Driving from Ioannina Airport to central Ioannina
The trip from the airport into the city is less than five kilometres, and should take no longer than fifteen minutes with favourable traffic conditions. Depart the airport and turn left onto the E92 towards Ioannina. Continue straight on Iot Merarchias, then veer right on Voriou Ipirou. Turn left on Ioannou Vilara and keep going straight until you reach the central city, near the famous clock landmark.
Greece driving tips
● In Greece, traffic drives on the right-hand side of the road, with overtaking to the left, but on a three-lane highway, the middle lane is for passing.
● Keep cash on hand to pay tolls. Many of the long-distance motorways, which are very useful for long journeys, are tolled.
● You may encounter snow if you head into Northern Greece! If your plans include visiting the mountains during the colder months, read our winter driving tips.
● Roundabouts are common in Greece. They operate differently to those in some other countries: traffic on the roundabout has to give way to traffic entering it.
● The use of seatbelts is compulsory for all occupants of a vehicle on Greek roads.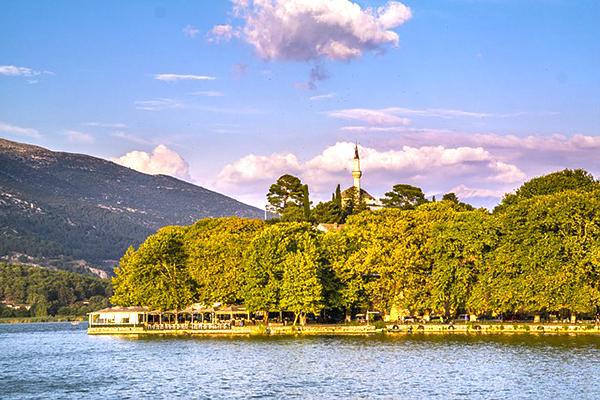 Parking at the airport and around Ioannina
There is a small car park at Ioannina Airport.
In the city, there are several parking lots where you can leave your car and continue to explore on foot. There is free parking near the castle, from where you can walk into the Old Quarter. Finding a spot in which to leave your car should not be an issue in Ioannina.