Situated on the Rhine River in western Germany is the 2,000 year old city of Cologne. Pre-book a cheap airport rental car for a road trip through Germany's fourth largest city.
Cologne is dripping with historical sites and eye-catching gothic architecture. The twin-spired Cologne Cathedral (Kölner Dom) is a must-see, as well as a visit to Museum Ludwig and Roman monuments. Wander around picturesque Old Town through cobble-stoned alleys and enjoy a traditional Kolsch beer at a local Brauhaus (brewery).
Take your rental car to other cities in Germany, such as Berlin, Frankfurt, Munich and more.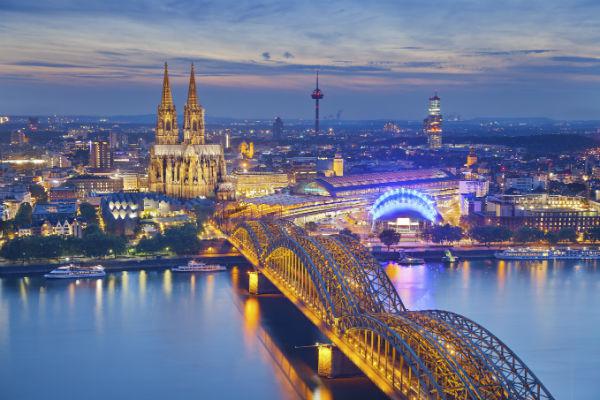 Booking a Cologne rental car
Booking a rental car from Cologne Airport is only a few clicks away with Airport Rentals. Simply type in your desired pick-up location and travel dates to instantly compare a wide variety of cars from over 15 local and international brands on one page. Use preference filters to narrow your options down to the perfect vehicle for your holiday.
Confirm your reservation on our secure site and take advantage of included extras. Plus, never worry about additional booking fees and enjoy access to 24/7 customer service, should you need it.
Cologne Bonn Airport (CGN)
Cologne Bonn Airport serves over 11 million passengers each year. The 24-hour transport facility welcomes travellers with shops, cafes, restaurants, business lounges and complimentary WiFi. Head to the observation deck in Terminal 1 for front row seats to watch the planes land and take off. If you are picking up a hired car, head to Terminal 2 in the arrivals area to locate your designated rental kiosk.
If you've pre-booked your car hire from a downtown Cologne location, hop on the local bus or train for a quick trip to the city. Taxis and car sharing services are available as well.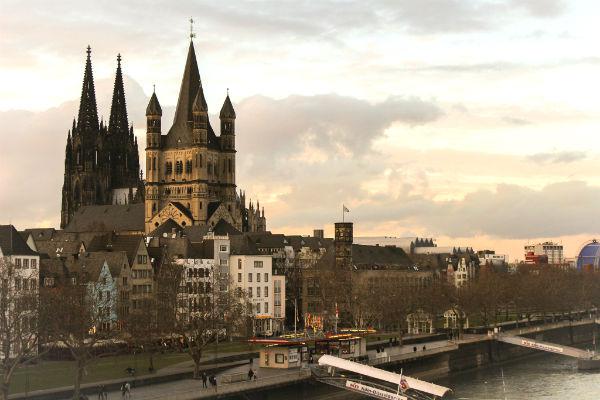 Guide to driving in Cologne
Use our guide on driving tips, directions and parking for Cologne.
Driving from the airport to downtown Cologne
Cologne Bonn Airport is located 15 kilometres southeast of the city. For the fastest route, merge onto A59 from Kennedystraße towards Köln/Düsseldorf. Keep left at the fork to stay on A559 and continue onto Östliche Zubringerstraße/L124. Follow it as it changes to Oplander Street then turn left on Mindener Street, crossing the bridge that brings you into downtown Cologne.
Driving tips for your Cologne rental car
Cologne is a busy city with many one-way roads and narrow streets. Use a GPS to navigate the city and keep a road map in the car for extra assurance. Here are a few more driving tips worth noting:
● Drive on the right side of the road, overtake on the left side.
● The autobahn is the quickest and easiest way to get around the city.
● Speed limits are as follows: 50 km/h in urban areas, 100 km/h on open roads and 130 km/h on the autobahn.
● Germans are known for driving fast; stick to the speed limits and read up on German driving tips (scroll to the bottom of the page).
● Always use your turn signals, wear your seatbelt and stay off your mobile phone.
Check out more tips for driving in foreign countries.
Parking options at the Airport and downtown Cologne
With over 12,500 spaces at Cologne Bonn Airport, never worry about finding a space. Park in front of the terminals in short-term parking for €1.50 per 15 minutes and €30 for the day. Car park 3 and "Nord" are the cheapest option, charging €3 per half hour and €24 for the day.
On-street parking is available in the city and meters are enforced between 9am to 11pm Monday to Sunday, charging around €3 per hour. For multi-hour parking, use car parks in the city centre; or for stress-free parking, use the 'Park & Ride' system to save time and money. These lots are located near the city's railway stations.
Thinking about visiting Cologne over the holidays? See why it's the perfect Christmas destination.