Tbilisi, the bright and bustling capital of Georgia, is a unique city that has its own chaotic rhythms and systems, and half the fun of visiting this historic town is discovering the beauty amongst the madness. Pick up a car hire at Tbilisi Airport to get your trip off to a good start.
Tbilisi is a place where east meets west, and with such a hap-dash array of cultures and ruling empires inhabiting the city over the centuries, there are more than enough attractions to keep you enthralled. Visit tea houses, churches and cathedrals, and the 'Kala', the historical and gorgeous old town, to get started.
The capital is also the perfect starting point if you're looking to take a road trip through Georgia. It's just 3.5 hours to Kutaisi, where you can see the city's medieval architecture and the petrified waterfalls of the Prometheus Cave. Or you can drive all the way to the coast to see Batumi by the Black Sea in six hours.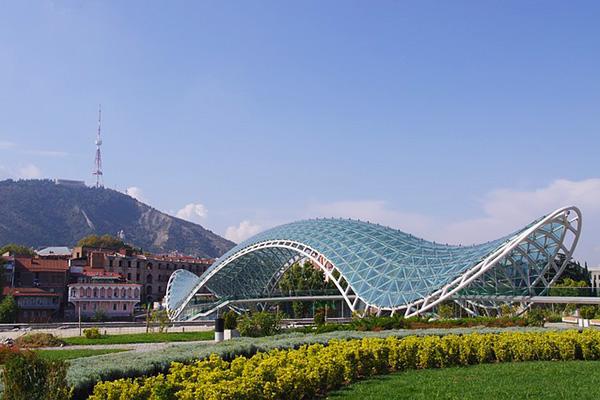 Find the best deals on car hire at Tbilisi Airport with AirportRentals.com
Finding the cheapest car hire at Tbilisi Airport doesn't have to be a chore. When you use Airport Rentals to compare deals on vehicle hire, you'll view available cars from leading rental companies in one place, making it quick and easy to find your perfect rental.
Simply enter your Tbilisi travel dates to search available rentals, then scroll through the options to view the features and benefits of each car. The cheapest are listed at the top for a quick selection on the best deal, or you can use the filter options to narrow down your search by transmission type, car size, or rental company.
As soon as you've picked out your favourite, book with Airport Rentals at no extra cost to access benefits such as online reservation management and 24/7 assistance should you have any issues.
Introducing Tbilisi Airport
The Shota Rustaveli Tbilisi International Airport (TBS) is Georgia's main transport hub and sees more than 2 million passengers come and go every year. There is a long list of destinations around the world and within Georgia that connect to Tbilisi Airport, including places such as Munich, Batumi, Athens, and Istanbul.
Facilities at the Tbilisi Airport are modern and complete, so you'll have a range of restaurants, cafes and bars to choose from, as well as shops, ATMs, postal services, and free WiFi throughout the terminal. The car hire area is on the first floor in the arrivals area so you can pick up your car hire as soon as you arrive in Tbilisi.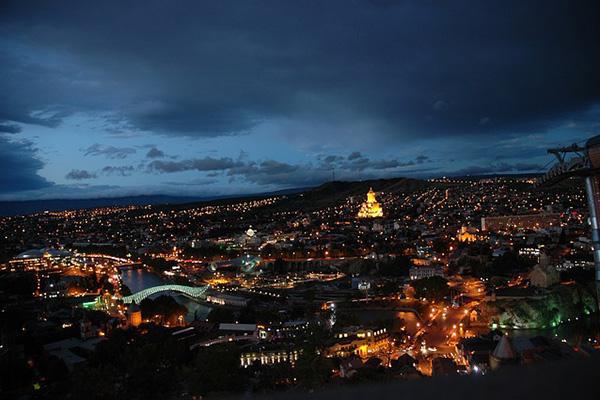 A guide to driving in Tbilisi
Driving from Tbilisi to the CBD
It's roughly 30 minutes from the airport to journey the 20 kilometres to the city centre. Leaving the terminal, you'll turn left onto Europe Street, then left again onto the Kakheti Highway, which takes you straight into the city.
Tips for driving in Tbilisi
Driving in Georgia will be a new experience for many, so prepare for your trip to Tbilisi by reading our driving tips before you arrive:
● You will drive on the right-hand side of the road in Georgia.
● Consider renting a 4WD vehicle if you're looking at travelling to remote places where the roads may be rougher.
● Some local drivers can be aggressive, so be ready to give way if they turn in front of you, even if you have the right of way.
● You are permitted to turn right at a red light unless signage states otherwise.
● Winter in Georgia leads to snowy roads, so avoid driving in extreme conditions and be extra careful around snow and ice.
● Rent a GPS with your car hire, but consider taking a real map if you are straying far from the cities where you may not be able to access a signal.
● Maximum speeds limits are usually 70mph on interstates.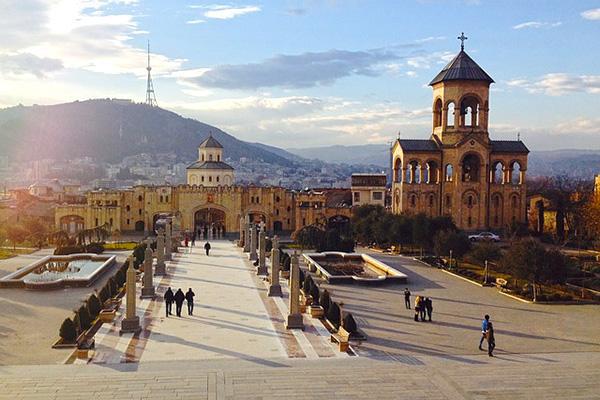 Parking at Tbilisi Airport
The parking area at Tbilisi Airport offers space for 658 vehicles. The first hour costs 3.50 Lari, and it costs 13 Lari for a 24-hour period. You will pay for parking at one of the two payment stations as you exit the parking lot.
Parking in Tbilisi
There are city council parking spaces throughout Tbilisi city. To park in one, purchase a pass from the city council for 4 Lari for a week. You can buy your permit online ahead of time here.