Although home to more than a third of Gabon's population, Libreville can hardly be described as bustling; it is a relaxed and unhurried place, with a wide boulevard that rolls along the coastline and beautiful beaches within a short drive of the city centre. The average temperature in this equatorial nation remains close to thirty degrees Celsius all year round, so it's no wonder the pace is a little more laid-back than you might find elsewhere in Africa.
Pick up a rental car deal in Libreville, and you are ready for a unique adventure in Gabon. It might be a coastal road trip south to Port Gentil and beyond to the amazing Loango National Park - or you could head north towards the border with Equatorial Guinea, or inland towards the border with Congo, visit the small towns and perhaps join a safari. Gabon has forests covering much of the land and a very small human population, the perfect place to experience Africa's wildlife. Pack up your road trip essentials and prepare for a journey to remember!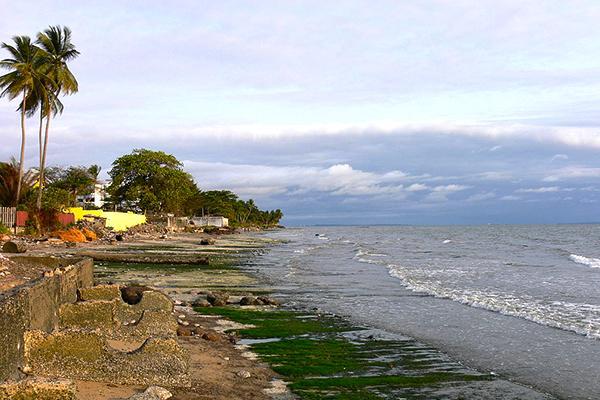 Image (modified): Manuel Dohmen GFDL or CC BY-SA 3.0, from Wikimedia Commons
Booking the best Libreville Airport car hire bargain
Economical car or luxury vehicle, short or long term hire, and a range of rental brands: you can see all the options and pick out the perfect rental for your Gabon adventures when you use Airport Rentals' simple search engine. Don't waste time in the search. See a variety of choices right here, all in one place and arranged into a list, so it's easy to peruse, compare and find the right rental car.
Our handy filters allow you to narrow it down to a shortlist of options, according to your preference for features such as transmission, passenger capacity, vehicle type and rental brand. You can also rest assured you're getting a great price, as we negotiate low rates from our suppliers to bring you the best car hire deals. What's more, you don't have to go it alone: friendly customer support is available from our team on the phones 24/7.
Libreville Airport (LBV)
The official name of Libreville's airport is Léon-Mba International Airport, and it is the primary international air hub for Gabon, with flights between Libreville and destinations around Africa and as far as Paris Charles de Gaulle. The terminal offers banking services and currency exchange, airline and VIP lounges, WiFi, tourist information, a handful of shops including a duty-free outlet, cafes, restaurants and a coffee stand.
Car rental counters can be found on the main floor of the airport, so head there to pick up the keys for your Libreville car hire.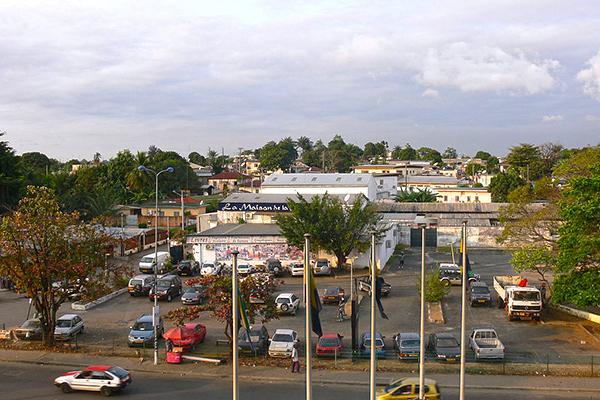 Image (modified): Manuel Dohmen GFDL or CC BY-SA 3.0, from Wikimedia Commons
Guide to driving in Libreville
Read our tips and have a safe and enjoyable journey!
Getting from Libreville Airport into central Libreville
It's a trip of around nine kilometres and ten minutes (with no traffic) to get into Libreville from the airport. Turn left at the roundabout upon leaving the terminal and head south on the L101. Veer left at the major junction to continue to Libreville's inland centre or continue along the coast on the L101 for the seaside parts of the city and the coastal end of the Boulevard Triomphale.
Gabon driving tips
● Traffic moves on the right-hand side of the road.
● It's recommended that tourists avoid driving at night in Gabon.
● Roads in the more remote parts of Gabon are not always well-maintained. A 4WD vehicle is a good option if you are planning to venture beyond Libreville with your rental car.
● Read our tips for rental breakdowns and be prepared!
● The default speed limits are 120 kilometres per hour in rural areas and 60 kilometres per hour in built-up areas.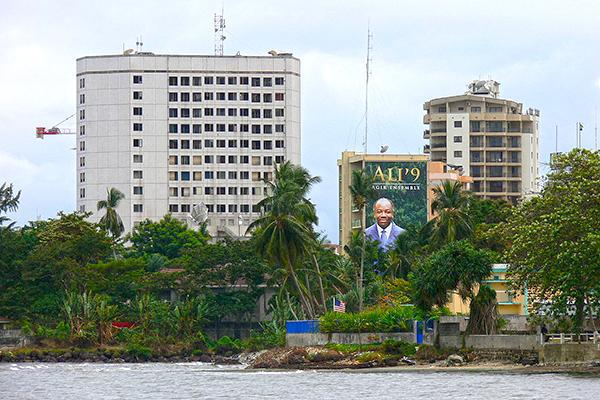 Image (modified): Manuel Dohmen GFDL or CC BY-SA 3.0, from Wikimedia Commons
Parking at Libreville Airport and around Libreville
There are two paying car parks at the terminal, P1 and P2, and a free car park which is a little more distant, called P3. Parking costs at P1 and P2 are FCFA 1,000 per hour up to eight hours, and FCFA 500 per hour thereafter.
It is a good idea to park your car in a secure parking building while in Libreville, so be prepared to pay. When booking a hotel in the city, ensure it comes with a parking space included for your rental car.