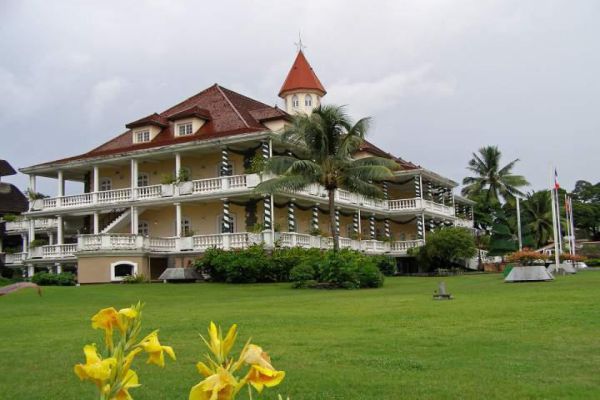 Image: Pixabay
Stunning turquoise waters, white sand beaches and swaying palm trees are just some of the dreamlike features you have to look forward to when you book a holiday on the French Polynesian island of Tahiti. Rent a cheap hire car in Pape'ete to make the most of your tropical getaway.
Spend your days meandering along beaches, visiting market stalls and sampling fresh, local cuisine. This will be a holiday you will never forget.
Will you visit other Pacific islands on your tropical vacation? Secure car hire in Fiji and the Cook Islands at the same time.
Secure a cheap car rental deal in Pape'ete with Airport Rentals
Save time, energy and money when you book your rental car in Pape'ete through Airport Rentals. Cars from Avis, Hertz, and Europcar are all available at Fa'a'ā International Airport, and we bring you all the best deals in one spot so you can compare them side by side without any hassle.
To get started, enter travel dates for your upcoming trip to Pape'ete and hit 'search'. Sort the results by price, group size, style or transmission preference until you narrow your choices down to one preferred vehicle. Instant confirmation is just a few clicks away.
With no additional booking costs, free benefits and 24/7 customer service, Airport Rentals is the one-stop shop for all of your car rental needs.
An overview of Fa'a'ā International Airport
Fa'a'ā International Airport in Pape'ete offers basic passenger amenities, including eateries, souvenir outlets and duty free shops. You can enjoy 15 minutes of free WiFi but must pay after that.
Head to the domestic terminal to pick up your rental car keys from your designated supplier's rental kiosk. If you made arrangements to pick up your rental car in town, taxis and public buses are available for transport to Pape'ete.
Driving a car hire in Pape'ete
You're on island time in Tahiti. Take it slow and enjoy the ride! We recommend taking a road trip around the entire island; it's just 120km long and a fantastic day trip out.
Driving to and from the airport
Fa'a'ā International Airport is located just 9 kilometres west of Pape'ete's waterfront. From the airport, head southwest and take a left at the roundabout. Follow the road along the coast until you reach Ave du Prince Hīnoi, the main street which runs right into Pape'ete.
Road rules and tips for driving your rental car in Pape'ete
● Motorists in French Polynesia drive on the right.
● The speed limit in urban areas is 40km/hr and up to 80km/hr on open roads.
● You don't need an international driving permit to drive in French Polynesia; your license from home is acceptable.
Parking your rental car - at the airport, in the city
Short-term parking rates at the Fa'a'a International Airport begin at 220 CFP per hour, while long-term rates begin at 300 CFP per hour. If you're planning to stay a while, long-term parking is cheaper in the longer run.
It can be difficult to find parking in the main centre of Pape'ete but if you do happen to find the few scattered around downtown, they cost around 100 CFP per hour. You can pay for it at nearby stores which say Parc Chec. Pop your ticket on the dash inside the car.