Just north of the Pyrenees Mountains is the capital city of the Occitanie region, Toulouse. Grab a Toulouse airport rental car for the chance to tour this southern French metropolis.
Toulouse is known as La Ville Rose or the Pink City thanks to the terracotta architecture throughout the city. Cross over the Garonne River to explore beautiful Toulouse home to one of the largest universities in the country. Spend your days visiting perfectly-preserved churches and fine art museums. Hang out in Place du Capitole, the main square for a coffee and some people watching.
When it's time to leave Toulouse, think about extending your holiday to other nearby cities, such as Bordeaux, Montpellier or cruise up to Paris in your French rental car.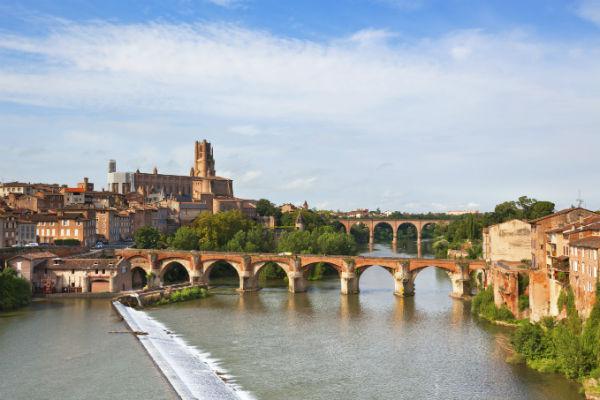 Hiring a cheap rental car in Toulouse
Choose Airport Rentals to find the right rental car for your trip to Toulouse by using our optimal comparison site. Select from top rated national and international rental car companies on one handy page, and refine your search by preference filters to help narrow down your choices. Choose a compact car or a luxury SUV, and opt for manual or automatic transmission. The options are wide and varied.
Finalise your secure booking and receive instant confirmation, plus enjoy handy extras and 24/7 customer service access.
Toulouse Blagnac Airport (TLS)
Touch down at Toulouse Blagnac Airport, just 8 kilometres northwest of Toulouse. Each year, over 7 million travellers pass through this transport facility, which offers a welcoming range of services. Passengers can choose between a large variety of shops, cafes and restaurants, and access free WiFi by creating an account on the Airport network.
Rental car counters are located in the arrivals hall. If you are grabbing your car hire from downtown Toulouse, take the airport shuttle service to the city for €8 one-way, use the Line T2 train, or hail a taxi.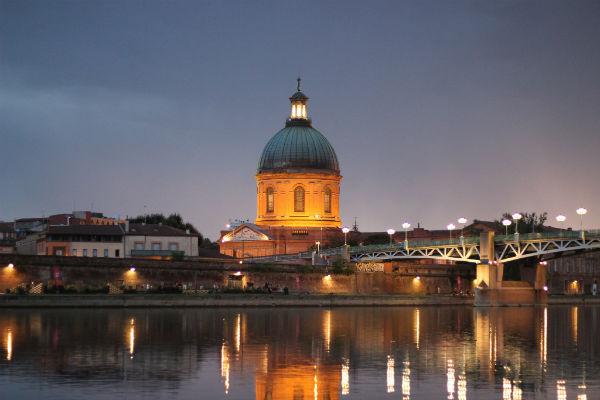 Image: Walter Gustavo
Guide to driving in Toulouse
Use our guide on driving tips, directions and parking for Toulouse.
Driving from the airport to downtown Toulouse
Expect around a 20-minute drive from the airport to Toulouse in normal traffic conditions. For the fastest route: exit the airport and merge onto A621 towards Toulouse and continue onward via Avenue d'Elche. Turn right on Boulevard de Suisse, left on Chemin du Sang de Serp and the second exit at the roundabout on Avenue Jean Dagnaux. Take this along the river and cross over the bridge, turning right on Avenue Honore Serres. At the roundabout, take the 3rd exit onto Boulevard de Strasbourg to find yourself in the city centre.
Driving tips for your hired car in Toulouse
Toulouse is one of the easier French cities to drive in. Traffic is not usually a problem, but it's best to use a GPS to get to your destinations quickly.
More French driving tips
• Drive on the right side of the road, overtake on the left side.
• All passengers must wear seatbelts.
• Give way to traffic coming from the right.
• Stick to the speed limit to avoid fines.
• Keep cash in the car for tollways.
• Use a GPS system and bring a road map just in case.
Where to park at the Airport and in downtown Toulouse
At Toulouse Airport, use the drop-off or pick-up areas for up to 10 minutes of free parking, otherwise choose from five parking lots. Three short-term lots are within a quick walk to the terminal at a rate of around €6 per hour. For multi-day parking, use the Ecoparks which charge around €12 per day and include a complimentary shuttle.
Parking in Toulouse is easy. Choose from multiple underground parking lots, including one at Place du Capitole, or park near a train station in the outskirts of the city for free and take the train line to town.
Continue your European journey, heading south to Spain or other neighboring countries using our helpful driving distance guide.