Famed as the hometown of Santa Claus, Rovaniemi is the capital of Lapland in northern Finland. Not only is this the perfect place to spend Christmas, it's also an ideal spot to begin a road trip around the country.
The year-round Santa Claus Village is naturally the major attraction for the young and young-at-heart, and the Arktikum Museum is a must-see science centre focused on the Arctic Circle and Lapland Region. For those itching for a polar bear sighting, make your way to the Ranua Wildlife Park.
See all of Lapland's incredible attractions with a cheap car rental in Rovaniemi.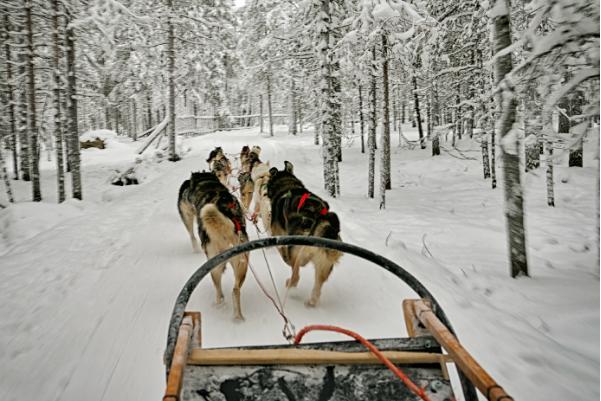 Get the best deal on car hire in Rovaniemi with AirportRentals.com
Find the best deal on car rental in Rovaniemi by comparing vehicles on offer from leading hire companies at Rovaniemi Airport using Airport Rentals.
All you need to do is enter your travel dates, and the site will generate a list of rental cars available in Rovaniemi during that time. They'll be listed from cheapest to most expensive, and you can narrow down your search by vehicle size, brand, transmission, or availability by using the filter options on the left.
Book securely online as soon as you've made your decision without paying any additional fees, and find the answers to any queries with our 24/7 phone and email assistance.
Introducing Rovaniemi Airport
Rovaniemi Airport is one of the main gateways to Lapland, helping roughly half a million passengers fly in and out each year. The majority of these flights are seasonal or chartered, although there are regular flights to and from Helsinki throughout the seasons.
The terminal has all the amenities you need for a comfortable stay, from shops and restaurants to a play area for kids, an art space, and a post office to send your Christmas wishlist to Santa.
You'll find the car rental desks inside the terminal when you land. However, note that some companies only staff the desks when they have bookings, so be sure to make a reservation ahead of your arrival.
A quick guide to driving in Rovaniemi
When you arrive in Finland, you'll be driving on the right-hand side of the road. You'll notice that the traffic in Rovaniemi is light and uncongested. Should you plan to drive during winter, be prepared for icy conditions.
Driving from Rovaniemi Airport to town
The Rovaniemi Airport is 10 kilometres northeast of the city, and the trip shouldn't take much longer than 15 minutes under normal traffic conditions. As you leave the airport, you'll head directly south on Lentokentantie, and follow it as it becomes the 9442. Then, turn right onto Route 81, and finally left to join the E75, which heads south into the city.
Tips for driving your car hire in Rovaniemi
As with any new city, a good GPS unit will help you find your way around and take the stress out of navigation. Summer driving is a breeze, and while your winter car rental should come with sturdy winter tyres, it's advisable to read up on a few tips on cold-weather driving if you're unaccustomed to snow and ice on the roads.
Parking at Rovaniemi Airport
Take your pick of parking spots in front of the terminal. P1 and P2 are normal car parks, while P3 offers heated spaces. Your stay is free if you leave before 20 minutes is up, but you'll need to pay before you leave to exit via the barrier gate system for anything longer than that.
Parking in Rovaniemi
There's plenty of on-street parking available in the city centre, which is metered and takes coins.