A small town in the Lapland region of Finland, Ivalo is a remote place of beauty and wilderness. It's in the far north of the country, making it a good spot to begin any road trip through Scandinavia.
Unlike many destinations around the world, Ivalo is particularly popular in winter and over the Christmas period, as it's a top attraction for skiers, snowboarders, and sledge riding. Plus, due to its northern location, Ivalo is a favourite for those chasing a glimpse of the majestic Northern Lights.
Pick up a car rental in Ivalo to explore this remote gem and kick start your Finland road trip.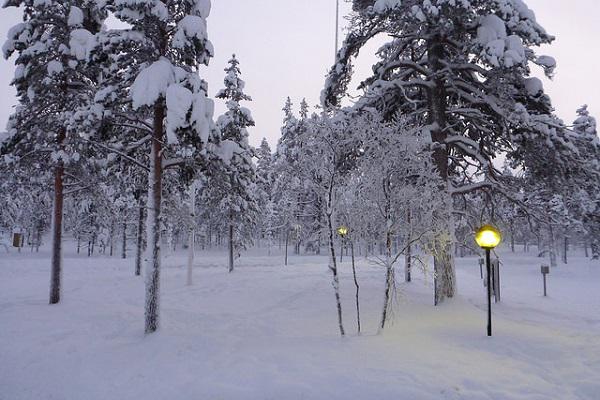 Image: Martin Criminale
Booking a cheap car hire in Ivalo with AirportRentals.com
Use Airport Rentals to get the best car hire deal in Ivalo.
Simply enter your travel dates and hit 'search' to generate a list of all available vehicles from the leading car rental companies at Ivalo Airport. You'll be able to scroll through these cars and find your best match, or you can filter the results by transmission type, vehicle size, and availability if you've got something you're after in particular.
Shout out with any questions by phone or email 24/7, or make your booking online securely without paying any extra fees once you've made your choice.
Introducing Ivalo Airport
The Ivalo Airport is a small terminal that carries fewer than 200,000 passengers each year. Many of its flights are seasonal, although there are a handful that operate year-round, such as routes to Helsinki and Kittila.
You'll find basic facilities while waiting at the terminal, such as a few shops and restaurants. The airport also includes a number of cosy options such as rocking chairs and a fireplace for your stay, and you'll have access to free WiFi throughout.
Car rental desks can be found inside the terminal in the check-in area. Note that some of the companies are only open when they have a reservation, so be sure to book ahead.
A quick guide to driving your car hire in Ivalo
Ivalo is a small town, so you won't have any issues with traffic or congestion when you arrive. Throughout summer it's a cinch to get around, although winter brings with it snow and ice, so you'll need to drive cautiously on the roads and check forecasts before making long trips.
Driving from Ivalo Airport to town
The Ivalo Airport is 10 kilometres south of town, so it shouldn't take you much more than 15 minutes to drive between the two under normal conditions. Simply follow Lentokentantie out of the terminal, then take a left onto the E75 and follow it north all the way into town.
Tips for driving a rental car in Ivalo
Once in Finland, you'll be driving on the right-hand side of the road. Note that even though it's a small place, a GPS will come in handy, especially if you're thinking of taking a road trip in your car rental out of town. If you've never driven in wintry conditions before, read up on advice for cold-weather driving before you begin.
Parking at Ivalo Airport
There are plenty of parking spaces in front of the terminal at Ivalo Airport, although there are only a limited number of heated stalls. You can pay by card inside at the information desk or via the EasyPark app, but note that cash is not accepted.
Parking in Ivalo
Prepare for a break from big-city driving and enjoy the range of car parks available in Ivalo. If you can't find something on the street, park at the central supermarket or with your accommodation provider.