Helsinki is the creative and captivating capital of Finland, known as much for its gorgeous seaside location as it is for its thriving city life. Thanks to its southern location in the country, it's the perfect starting point for any road trip through Finland, or Scandinavia as a whole.
One of the city's absolute must-sees is the Suomenlinna, a sprawling fortress that covers a number of islands and dates back to the 18th century. The year-round market square is another top spot, and is especially magical to visit during Christmas.
Start your unforgettable road trip in Finland with a cheap car rental in Helsinki.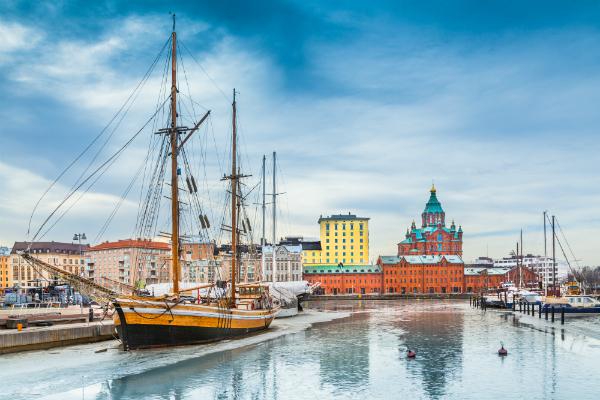 Get the best deal on Helsinki car hire with AirportRentals.com
Many of the world's biggest car rental brands operate in Helsinki Airport, and they all have different vehicle options and deals. So how can you find the best one for you?
Airport Rentals takes out all the legwork, allowing you to use the search function to compare vehicles available during your time in Helsinki. All you need to do is enter your travel dates to generate a list of vehicles from leading rental brands.
From there, you can filter your results to find something specific (such as a certain vehicle size or transmission type), and then go ahead and book securely online for no extra cost. Also, feel free to get in touch via the 24/7 phone or email option should you need any assistance at all.
Introducing Helsinki Airport
Helsinki-Vantaa Airport is the busiest in the country, with roughly 90 per cent of Finland's air traffic passing through the terminal. More than 17 million people go to and from the airport every year, travelling to places such as Oulu, Pori, and Rovaniemi.
Helsinki Airport offers all the modern amenities and facilities you could want. There are shops, restaurants, bars, cafes, charging points for electronic devices, free WiFi, ATMs, currency exchange booths, a barber shop, sleep pods, and more.
You'll find a bank of car rental desks in the corridor between terminals 1 and 2.
A quick guide to driving in Helsinki
Driving in Helsinki - and in Finland in general - is a breeze. You'll be driving on the right-hand side of the road, and you can expect streets and motorways to be well-maintained and signposted. Drivers here stick to the rules, and it's rare to find the kind of traffic and congestion you do in other major cities.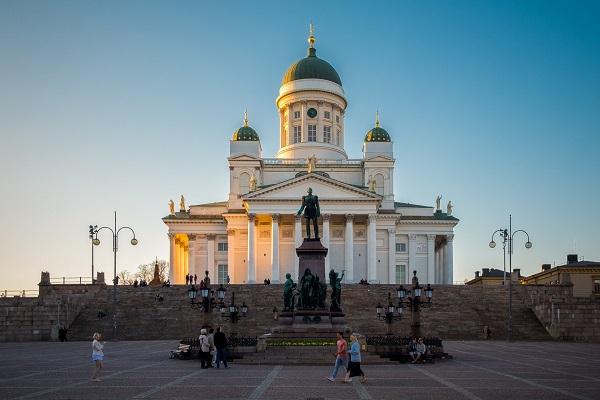 Image: Giuseppe Milo
Driving from Helsinki Airport to the city
Helsinki Airport is 20 kilometres north of the city, so the drive should take you just over 30 minutes under normal traffic conditions. The easiest route is to join the 135 heading south as you leave the airport, then turn left onto the E18 and follow it onto Route 45. Turn right onto Sturenkatu as you approach the city, then follow it until you can turn left onto Mannerheimintie to go straight into the CBD.
Tips for driving your car hire in Helsinki
Pick up a GPS when you grab your car rental so you can find your way around all the attractions, and don't forget to always have your headlights on, as this is required by law (even in the daytime). The CBD can be quite crowded - especially during rush hour - so you may be better off parking and exploring the city centre by foot.
Parking at Helsinki Airport
There are numerous car parks available at Helsinki Airport, and you can book a spot online before you arrive. The Finavia AirPortBus offers free transportation between the parking areas and the terminals, leaving every 15 minutes and stopping outside terminals 1 and 2.
Parking in Helsinki
You have plenty of options for parking in Helsinki, including on-street and private garage. City parking is separated into three zones and is more expensive the closer to town you get. You can also use the Park and Ride facilities, where you park out of the city for free and continue into town on public transport.
Helsinki Airport Terminal Maps
Helsinki Airport is the main international airport of Helsinki and the whole of Finland. The airport services over 16 million passengers annually and is divided into two terminals.