For a trip unlike any other, plan a holiday to exotic Egypt and explore its capital city with a Cairo rental car.
Step off the plane and into a fascinating world where Pharaohs once ruled and famed pyramids hold ancient mysteries. Home to over 20 million people and the oldest Wonder of the Ancient World, Cairo is a sprawling megalopolis with thousands of years of history. It sits on the famous banks of the Nile River and is the international hub for the nation. A trip to the Pyramids of Giza is a must-do as well as the Egyptian Museum and the Azhar Mosque. Listen to the muezzin's' call to prayer as you wander dusty streets filled with antique shops and aromatic hookah smoke. Take in the views from above in the Cairo Tower and visit Tahrir Square in the heart of the city.
After you've fully experienced all Cairo has to offer, we suggest setting off in your rental car along the Nile River for more exploration. Cruise towards the Mediterranean to Alexandria, go scuba diving in Sharm el-Sheikh or drive east to Israel for a dip in the Dead Sea.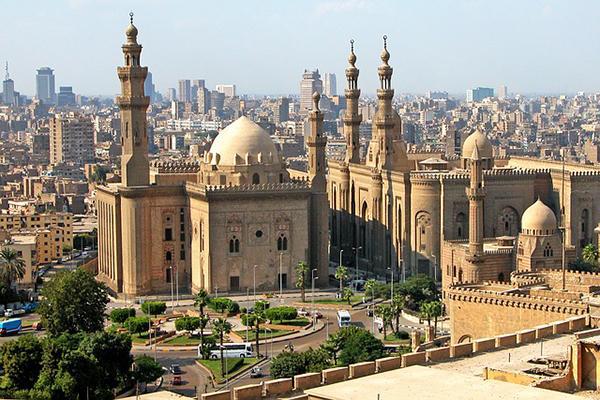 Hiring a Cairo rental car
Secure your Cairo airport car hire with Airport Rentals for a hassle-free booking experience. With a simple search of your travel dates, you can easily compare hundreds of vehicles from highly-trusted brands on one user-friendly page. Select your favourite rental car brand (Avis, Europcar and Sixt and more are all on offer), and choose an ideal car style, transmission type and other preferences to narrow your search options.
Once you've found the ideal car, finalise your booking on our secure site with just a few strokes on the keyboard.
Cairo International Airport (CAI)
Each year, over 14 million travellers pass through Cairo International Airport, making it the busiest in Egypt and the second busiest in Africa. The international hub has four terminals offering many dining and shopping options. There is also an on-site hotel, medical services, pay-per-use lounges and complimentary WiFi. Car hire offices are located in the arrivals hall of all terminals.
For those picking up car hire at one of the downtown Cairo depots, hop on a shuttle bus to the city or take a metered taxi.
Guide to driving a rental car in Cairo
Driving from Cairo International Airport to Cairo city centre
The drive from the airport to Cairo takes around 30 minutes in normal traffic conditions. Exit the Cairo International Airport heading west on Airport Road and continue straight onto El-Orouba until merging onto 6th of October Bridge to Giza. Follow this as it winds around the heart of the city, exiting at Tahrir Square just before the Nile River.
Driving tips for your Cairo rental car
Traffic in Cairo can be intimidating. Know where you are going by using a smartphone app or GPS and drive confidently while keeping an eye out for unruly drivers.
Egypt car hire driving tips
● Drive on the right-hand side of the road, overtake on the left.
● Always buckle up.
● Typical speed limits are as follows: 100 kilometres per hour on motorways, 90 km/h on rural roads and 50 km/h in built-up areas.
● Buses always have the right of way.
● Keep an eye out for carts and pedestrians near the roads.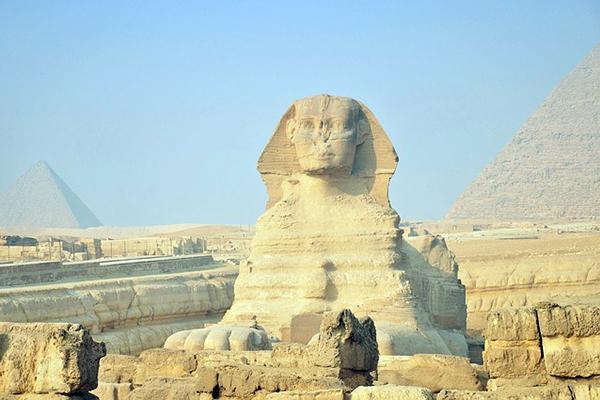 Parking options at Cairo International Airport and downtown Cairo
Find both short and long-term parking next to Terminal 1 at Cairo International Airport. The rate is E£ 5 per hour. Air-conditioned trams are available to connect passengers from the parking lot to the terminals.
Parking in Cairo is known to be chaotic, with double-parked cars being the norm. To avoid this and potential dents on your rental car, use a designated parking lot when possible. Many locals will offer to guide you into a parking spot, expecting a tip in the end. Allocate extra time when planning to park in the city or to avoid the frustration, use a rideshare app or take a taxi.
Explore further
Planning a road trip through Egypt? Be prepared with the essentials, and know what to do in the unlikely event of a breakdown.