High in the foothills of the Andes Mountains is the city of Quito. Secure a cheap rental car from the airport and explore Ecuador on your own schedule.
Mountain peaks surround Ecuador's capital city that sits 2,850 metres above sea level. Quito is truly a unique city with an ancient Incan history and colonial-style architecture. A favourite highlight includes Ciudad Mitad del Mundo, where visitors can stand in both the north and southern hemispheres, straddling the equator. You must also explore Quito's beautiful 16th century churches, and the Plaza de la Independencia, the grand plaza located in the heart of the city. For the best views of Quito, take the Teleferico, a gondola ride up to Pichincha Volcano.
Thinking about visiting other cities in Ecuador? Drop off your rental car in a number of places such as Cuenca and Guayaquil.
Hiring a cheap Quito rental car with Airport Rentals
Save time and money when you book a cheap rental car for your Ecuador holiday with Airport Rentals. Our simple comparison site is the best way to find deals for Quito Airport. Type in your travel details, click 'search' and sit back as numerous rental car deals across multiple brands are presented to you on one handy page.
Our handy filters will allow you to narrow your selection by car type, transmission type and rental brand. You can choose to cruise the mountain roads in a 4WD or opt for a compact car to save on petrol. Complete your booking on our secure site, never worry about hidden fees and access our customer service team at any hour of the day. Airport Rentals is your one-stop shop for all your car hire needs.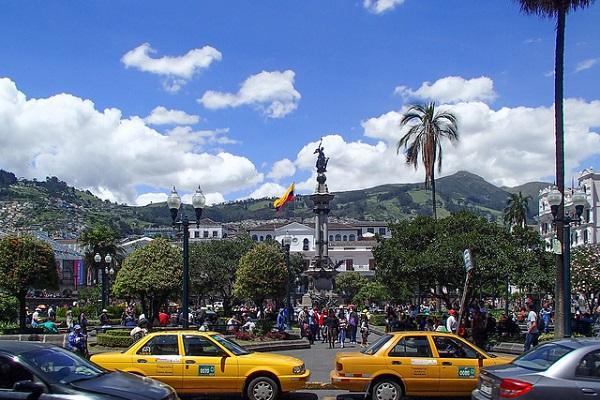 Image: John Haxby
Mariscal Sucre International Airport (UIO)
Each year over 5 million passengers travel through Mariscal Sucre International Airport, Ecuador's busiest airport. Travellers are met with a wide selection of cafes and restaurants, duty-free shops and souvenir stores. You can enjoy free WiFi and charging points as you make your way through the terminal. Head to the Arrivals Hall to locate your rental car company and pick up your car hire.
Picking up a car hire from a downtown Quito depot? You can take the Aero Service bus directly to the city, opt for a public bus or hail a taxi.
Guide to driving a rental car in Quito
Use our guide for driving tips, directions and parking information in Quito.
Driving from the Mariscal Sucre International Airport to downtown Quito
Due to the mountainous terrain, the drive from Mariscal Sucre International Airport to the city takes up to an hour, depending on traffic conditions. Head southeast on Conector Alpachaca, and take the first exit onto Carr 35/Panamericana at the roundabout. Next, turn left onto Ruta Vita and follow this as it winds towards the city. Take the Avenida de las Palmeras Carapungo exit onto Simon Bolivar, then turn right to merge onto 28C, which will bring you into the city limits.
Driving tips for your Quito rental car
Expect the usual rush hour traffic congestion in Quito and make sure to keep an eye out for pedestrians, animals and cyclists on the road.
Ecuador rental car driving tips
● Drive on the right-side of the road.
● Local drivers can be aggressive and use their horn often, stick to the road rules and drive cautiously.
● Avoid driving at night as the roads are poorly lit.
● Hire a 4WD vehicle if you're travelling during the rainy season (December to April).
● Make sure a road safety kit is provided with your rental.
● In case of a break down, read our tips on what to do in the situation.
Navigation Tip: Download Maps.Me app before starting your road trip. This mobile app allows you to download the entire country's road system and use offline maps.
Parking options at the Airport and downtown Quito
If you wish to park at Quito Airport, you have two main options. You can enjoy a free 15 minutes in the main parking lot, then pay USD$2 for the first hour and USD$7 for the day. Or, you can park at the Wyndham Quito Airport Hotel for USD$5 for up to 24 hours.
When parking in Quito, it's best to use a secured parking garage or lot. These are generally located at large shopping centers and near hotels. "Parking guides" wearing blue jackets are happy to point out on-street parking for you, but will expect a USD$.50 tip. The spaces typically have a two-hour time limit. As a general rule, you should never leave valuables in the car.