Planning a trip to the Galapagos Islands or a holiday on Ecuador's beautiful beaches? Start your vacation in Guayaquil. Book a cheap airport rental car to explore this port city's best spots.
Guayaquil is the gateway to both the Pacific beaches and the famous Galapagos Islands and a great little city to explore in its own right. Situated along Guayas River, the Simon Bolivar promenade is a beautiful spot to grab a bite to eat or have drinks on the waterfront. You can stroll the Malecon 2000 boardwalk and hop on La Perla, a ferris wheel giving the best views of the city. See the local native birds in Guayaquil's Historic Park and head up Santa Ana Hill for its colourful haciendas, superb views and artsy cafes.
Extend your Ecuador holiday by heading to Quito, Cuenca and more on your South American road trip adventure.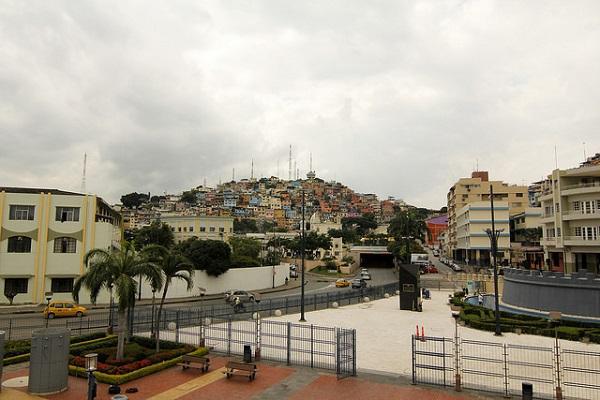 Image: descubriendoelmundo
Hiring a cheap Guayaquil rental car with Airport Rentals
Enjoy the open road in Ecuador when you hire a car rental with Airport Rentals. There's no need to waste time comparing deals on different websites. Use our optimal search engine to compare numerous vehicles across multiple brands available at Guayaquil Airport. Do you prefer fuel-efficient cars? Or booking with Avis? You can filter your preferences using our handy categories on the left-hand side of the page.
When you're ready to book, receive immediate confirmation, and don't hesitate to call up our 24/7 customer service team if you have questions.
Jose Joaquin de Olmedo International Airport (GYE)
Jose Joaquin de Olmedo International Airport is the second busiest airport in Ecuador, processing over 7 million passengers each year. This international hub is a small, modern facility with 24-hour eateries, free WiFi, VIP lounges, duty-free shops, a pharmacy and even a massage parlour. Head to the Arrivals Hall on the ground floor to locate your car rental agency.
If you're collecting a car hire from downtown Guayaquil, pre-arrange an airport shuttle with your accommodation provider or take a licensed taxi.
Guide to driving a rental car in Guayaquil
Use our guide for driving tips, directions and parking information in Guayaquil.
Driving from the Jose Joaquin de Olmedo International Airport to downtown Guayaquil
Jose Joaquin de Olmedo International Airport is conveniently located within the city limits of Guayaquil. Depending on where you are staying, the drive should take around 20 minutes in normal traffic conditions.
Driving tips for your Guayaquil rental car
Fair warning: the road signs are not well marked in Guayaquil. Make sure to book a GPS with your car hire and keep a road map handy in your vehicle. When in doubt, ask a local or an accommodation provider for guidance.
● Drive on the right-hand side of the road.
● Local drivers can be aggressive and use their horn often, stick to the road rules and drive cautiously.
● Avoid driving at night as the roads are poorly lit.
● 4WD vehicles are the better choice if you're traveling during rainy season (December to April)
● Make sure a road safety kit is provided with your rental.
● In case of a break down, read our tips on what to do in the situation.
Navigation Tip: Download Maps.Me app onto your phone before starting your road trip. This app allows you to download the entire country's road system and use offline maps.
Parking options at the Airport and downtown Guayaquil
Guayaquil Airport offers parking directly next to the terminal. The rate is USD$1.20 per hour and the first 15 minutes are free. If you need to park for more than 12 hours, the rate is USD$14.40 per day.
When parking in Guayaquil it's best to use secure garages and parking lots. These can be found near tourist attractions, plazas and along the waterfront. The rate is typically around USD$1 to USD$2 per hour with discounted rates for longer periods of time.