Punta Cana is a resort town where you'll feel like you've stepped straight into a tropical island postcard. It's all about beaches, palm trees, and relaxation, and should you ever want to leave, it's a great place to start a road trip around the Dominican Republic.
One of the top spots is the Bavaro, an area of idyllic beachside where the Atlantic Ocean meets the Caribbean Sea. You can head out for a day trip to Catalina Island for swimming and snorkelling, or stay on land and visit some of the awesome attractions such as Altos de Chavon, the Bavaro Adventure Park, or the Seaquarium.
A cheap car rental in Punta Cana can help you see it all on your own island-style schedule.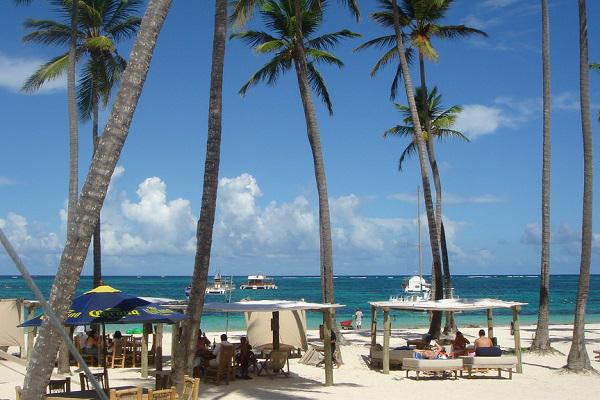 Image: Daniel
Getting the best deal on Punta Cana car hire with AirportRentals.com
Airport Rentals is a car hire comparison site that makes it easy to compare vehicles from leading companies. All you need to do is enter your travel dates and hit 'search' to generate a list of rental cars available during your time in Punta Cana.
You can order the list by lowest price and simply pick the cheapest vehicle, or you can use the filter option to search by car type, transmission, size, or availability. If you have any questions at all, you can also use the 24/7 phone and email assistance to sort it out right away.
Once you've found the perfect rental car for your trip, you can book securely online straight away - all without paying anything extra for the service.
Introducing Punta Cana Airport
The Punta Cana Airport is a gorgeous facility built in traditional Dominican Republic style, complete with palm fronds on the roofs and open-air buildings. It's the busiest terminal in the country, servicing more than 6 million passengers each year. All of these flights are international, with routes heading to and from locations around the world such as Madrid, Chicago, and Manchester.
You'll find basic amenities in the airport, including a number of eateries, a bar, and a duty free store. There is also free WiFi available in the terminal.
The car rental desks at Punta Cana Airport can be found within the terminal just a short walk from where you'll pick up your vehicle.
A quick guide to driving in Punta Cana
Driving in the Dominican Republic can be a bit of an experience. The cities, including Punta Cana, are often quite congested with traffic, and the local drivers tend to ignore many of the road rules (such as speed limits and stop signs). That said, it's certainly not impossible and many visitors manage it without any hassles.
Driving from the Punta Cana Airport to the city
The airport is just over 7 kilometres from Punta Cana, so you can expect the trip to take 20-30 minutes in good traffic (allow for much more time as it's often busy). When you leave the terminal, you'll take Carr Aeropuerto, then turn right at the roundabout onto Carretera Higuey-Miches. Then simply take a left onto Route 106, which goes straight into town.
Tips for driving your car hire in Punta Cana
The first thing to do when you arrive in Punta Cana is to pick up a GPS unit to help you find your way around, and keep in mind you'll be driving on the right-hand side of the road. If you can mentally prepare yourself for the craziness that is driving in the Dominican Republic, you'll be much better prepared for it. Be wary of all other drivers, and look out for motorbikes and scooters as they are everywhere. Drive cautiously, and aim to avoid the centre of town to keep away from the worst of the traffic.
Parking at Punta Cana Airport
Punta Cana Airport offers numerous parking stalls for short- and long-term stays, as well as a pick-up and drop-off area in front of the terminal.
Parking in Punta Cana
Thanks to so much traffic and congestion in the city, finding a car park on the street can be quite tough. You are often best to book your accommodation somewhere that includes a stall with your room rate.