Aarhus is the second largest city in Denmark. Surrounded by nature, this Scandinavian city has ocean on one side of it and thick forest on the other. It's located in the geographical centre of the country, making it the perfect place to pick up a car rental and explore.
The city's attractions are a mix of old and new. The Old Town and its period houses are one of the most popular sights, as is the Moesgaard Museum. The Marselisborg Deer Park is a fun spot for animal and nature lovers, and the Viking Museum is one of the coolest museums you'll ever see.
Discover this historic and fun city when you rent cheap a car in Aarhus with Airport Rentals.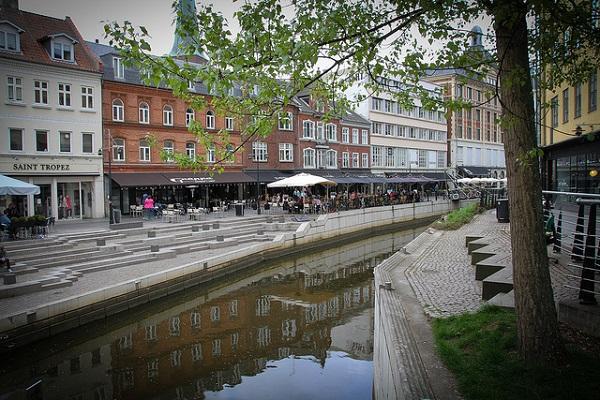 Image: Sten Dueland
The best deals on car hire in Aarhus with AirportRentals.com
Airport Rentals helps you compare deals on all available vehicles at Aarhus Airport in one go. All you need to do is enter your travel dates and the search function will generate a list of vehicles from leading rental companies in Aarhus.
Are you looking for a larger vehicle, one with automatic transmission, or something else? Use the filter function to narrow down your results and quickly find what you're after. Should you have any questions along the way, feel free to use the 24/7 online assistance to answer your queries.
Once you've found the best vehicle for your Denmark trip, you can book you car hire securely online at no extra cost.
Introducing Aarhus Airport
Aarhus Airport is a small terminal to the north-east of Aarhus city. It helps roughly half a million passengers travel internationally and around the country each year. One of the most popular routes is from Aarhus to Denmark's capital, Copenhagen.
It's a small airport, but it does have all your usual basic facilities and amenities such as bars, shops, restaurants, a conference room, and free WiFi for a limited time period.
You'll find the car rental desks inside the terminal in the arrivals area when you land.
A quick guide to driving your car hire in Aarhus
As far as cities go, Aarhus is neither terribly big nor terribly busy with roughly 300,000 inhabitants. This means that you shouldn't have too many issues with traffic on the roads outside of rush hour. Keep in mind that when you drive in Denmark, you'll be on the right-hand side of the road.
Driving from the airport to Aarhus CBD
The Aarhus Airport is just over 40 kilometres from town, so you'll need at least 40 minutes to make the trip. When you leave the airport, turn left onto Aarhus Ny Lufthavnsvej, then follow it and take a right turn onto Route 15. This route will take you most of the way to town, so you'll just need to turn off to the left onto Route 180 to access Route 505 into the city.
Tips for driving your car hire in Aarhus
● Avoid driving at rush hour if you're concerned about congestion.
● You must always have your headlights on low - even during the day.
● You can expect a fair number of cyclists on the roads, so be extra wary when turning.
Parking at Aarhus Airport
There are 1,300 parking stalls at Aarhus Airport, making it easy to find a spot.
Parking in Aarhus
Parking in Aarhus city is paid by the hour on the streets, or you can opt for a parkade, which can often be the easier option. Try Q-Park Magasin Aarhus, Dokk1 Parkering, or Q-Park Aarhus City for a convenient and central parking lot.