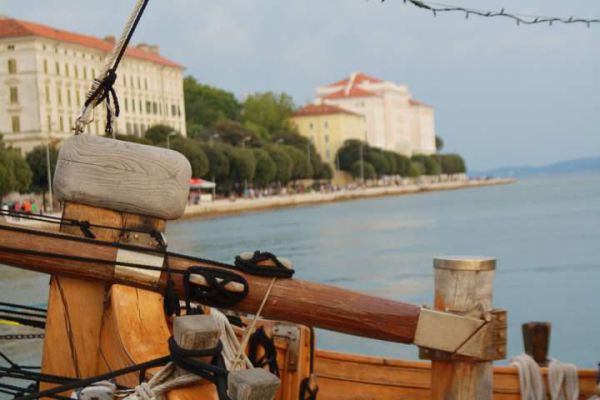 Image: Pixabay
Located on the Dalmatian coast of Croatia, Zadar is a lovely city known for its Roman and Venetian ruins of Old Town. Rent a car hire at Zadar Airport to explore everything this peninsular city has to offer.
Unlike the bustling tourist cities of Dubrovnik and Split, Zadar is a sleepier town offering its visitors the opportunity to take long walks along the coast, sip lattes at cosy cafes, or visit one of its many churches or museums.
Drive along the Dalmatian Coast to other popular Croatian destinations like, Rijeka to the north, or Sibenik to the south.
Renting a car hire in Zadar with Airport Rentals
Find a cheap rental car at Zadar Airport using AirportRentals.com. We work with hundreds of rental suppliers in order to offer cheap rentals, daily deals and a wide range of vehicle types including economy, hybrids, and luxury vehicles, to name a few.
Simply type in your travel dates to generate a list of available vehicles from Zadar Airport. Options are presented in a clear and concise format, with details like car type, cost in your country's currency, transmission type and free benefits, all easily comparable across multiple brands.
After finalising your selection, proceed to the extra items page in case your travel plans require a handy add-on like a GPS or booster seat. Receive instant confirmation from our secure site upon booking.
There are no hidden fees and most rentals come with free cancellation at anytime. Rated No.1 on TrustPilot, Airport Rentals is the best choice for all your car rental needs.
Zadar Airport (ZAD)
Zadar Airport is located about 8 kilometers from the centre of Zadar in the municipality of Zemunik Donji. It provides an important connection with other cities in Croatia including Pula and Zagreb, and is a hub for leisure flights from cities in Europe and the UK including Brussels, Bristol, and London. While small, Zadar Airport is modern and provides a number of passenger services including a duty free store, snack bar and restaurant.
To collect your rental, head outside the main terminal doors to the rental agencies located just beyond the bus parking. An agent will deliver you and your luggage to your car located in the nearby parking lot.
Guide to driving your car hire in Zadar
Read ahead for driving tips and parking information in Zadar.
Directions from Zadar Airport
One can access downtown Zadar from Zadar Airport in approximately 21 minutes by staying on Route 502.
Tips for driving your car hire in Zadar
We recommend using a GPS and having a paper map on hand in case of signal failure.
● Drive on the right side of the road, overtake on the left.
● Driver and passengers must wear seatbelts at all times.
● Carry cash for toll roads.
● If driving on coastal road A1, be prepared for wind gusts of 90-100km/hr. Roads close when wind speed reaches 140 km/hr.
● Drive with caution and allow others to pass.
Parking in Zadar and at Zadar Airport
There is parking space for over 550 cars at Zadar Airport and payment by cash, credit or debit, can be made at the toll booths located at each entrance/exit.
Parking in Zadar is divided into zones I through IV with specific times and cost. Parking can be found along the walls of the Old Town, on the street, and in parking lots.