Temuco is a city of rich culture and history located in central Chile. Rent a car to experience the city and then head either north or south on the Pan American highway to discover more of this incredible country.
Visit the Regional Museum of Araucania to learn about the history and influence of the indigenous Mapuche people. Stop by the popular Mercado Municipal and Ferio Pinto markets, where you will find stalls selling a wide range of products, fruits and vegetables.
When you're ready to leave Temuco behind, hop in your rental car and make your way to other popular destinations along this route. Head south to visit the Lake District cities of Puerto Montt and Osorno. Or, drive north to visit Los Angeles, and Concepcion.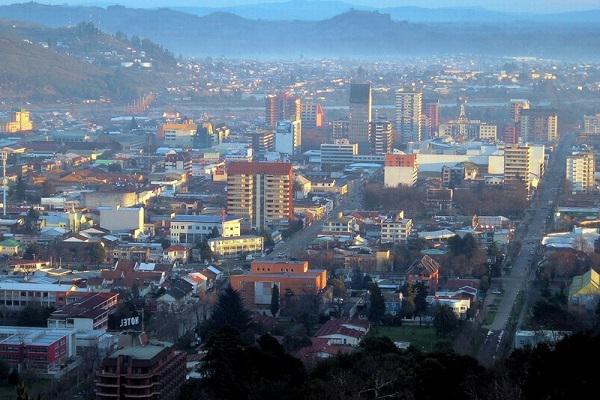 Image: Claude Cobar
Renting a car from the La Araucanía International Airport
Organise your cheap rental car for collection at Temuco Airport in just a few clicks using Airport Rentals. Simply type in your travel details to easily compare a wide selection of cars across multiple brands in one place. Use preference filters to search vehicle specifications such as automatic and manual transmission, vehicle size, make and model, and more.
Refine your selection until you find the ideal vehicle at a great price and then make a reservation for your preferred car hire in a few short minutes, receiving instant confirmation.
Should you need any assistance, don't hesitate to contact our friendly customer service team, available 24/7.
La Araucanía International Airport, also known as Temuco Airport, began operating in 2014 to replace the Maquehue Aerodrome. The new and modern airport is located in the commune of Freire, 21 kilometres southwest of Temuco.
The airport offers a few dining options and a small selection of retail outlets offering souvenirs, handicrafts, handmade chocolates, cosmetics and Chilean gourmet products. Enjoy access to complimentary WiFi, available in the departure lounge.
Find your rental provider in the arrivals hall for finalisation of booking details and vehicle pick up.
Driving your car hire in Temuco
Driving in Temuco is straightforward, with navigable, grid-patterned streets. The city centre is located southeast of the main avenue, Avenida Caupolieán, which is the main artery for vehicles heading north or south.
Getting from La Araucanía International Airport to Temuco
Drive time from Temuco Airport to the city center is approximately 30 minutes. Exit the airport and head south until you reach Ruta 5 (Pan-American highway). Continue along this road and follow the signs to central Temuco.
Driving tips for Chile car hire
● Drive on the right-hand side of the road.
● Stay safe and avoid fines by obeying all local road rules - especially speed limits, as fixed speed cameras are found throughout Chile's road networks.
● Be wary of local drivers who often change lanes without signaling.
● Keep your distance from other cars when driving on gravel roads to avoid rocks damaging your windscreen.
Parking at La Araucanía International Airport and Temuco
Park your car at one of the 300 paved car spaces available at the Temuco Airport. Short-term parking costs 1000 Chilean pesos per half hour with a daily maximum of 12,000 pesos. To park long-term, the monthly rate is 100,000 Chilean pesos.
Park your vehicle securely during your stay in Temuco by using one of the many paid parking garages. Most are are located close to the tourist spots and are open 24 hours.