Dive into the wilderness of British Columbia with a car hire from Terrace Airport. The largest city in the region, Terrace is a hub of outdoor recreation and traditional home of the Kitselas people. Summer or winter, it offers all kinds of ways to enjoy the surrounding landscapes - and there are many things to do in the city too. Stroll the small and compact downtown, enjoy an evening in one of the many pubs or learn more about the native history of this special part of Canada.
With a Terrace Airport car hire, you can hit the remote highways to explore northwestern BC - just be prepared for a lengthy road trip! On the nearby coast is Prince Rupert, and a day's journey in the other direction will get you to Prince George. Vancouver and Edmonton are the closest big cities, at 2 or 3 days' drive from Terrace, and you could even cross the border into Alaska to visit Juneau and other towns there.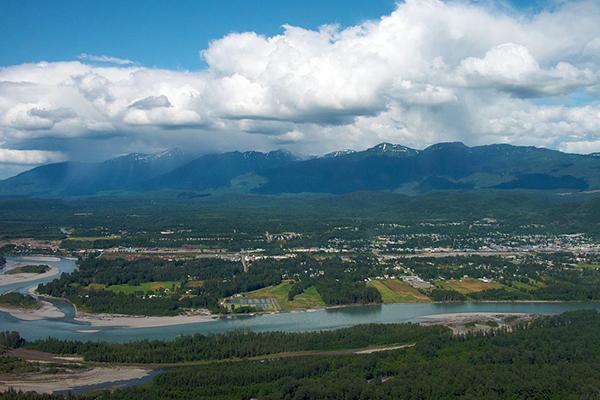 Image: Sam Beebe (Terrace), CC BY 2.0, via Wikimedia Commons
Booking your Terrace Airport rental car
It's easy to find the perfect rental car for an epic road trip from Terrace when you use Airport Rentals' simple search engine. Just enter the dates you'll be travelling and receive a list of vehicles available from a range of suppliers. Seeing them all together in one place makes comparing and choosing the right one a breeze - and our filters allow you to narrow the results down to pinpoint one that suits all requirements.
The team at Airport Rentals is always working hard to negotiate low prices and great deals from as many rental companies as possible. Once you've found what you need, you can book it in on our secure site with just a few steps - and if you have any questions throughout the search and booking process, there are knowledgeable car hire consultants available over the phone 24/7.
Terrace Airport (YXT)
The official name of the airport near Terrace is Northwest Regional Airport, and it serves the surrounding area as well as the city. Several Canadian airlines operate flights between there and Vancouver Airport as well as some other small regional airports. In the terminal, passengers can use free WiFi and enjoy food and drink at the Flight Deck restaurant. There are also counters for several rental companies onsite.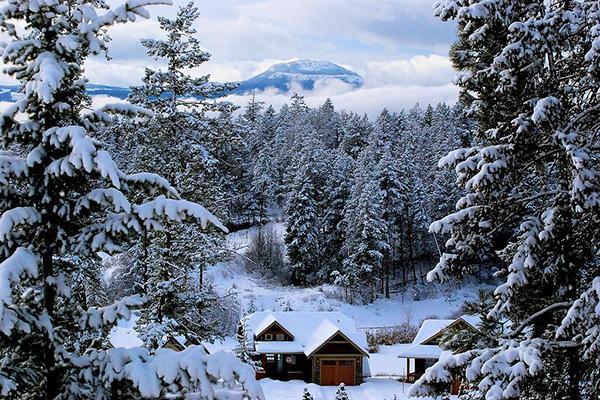 Image: Jack Borno, CC BY-SA 3.0, via Wikimedia Commons
Guide to driving in Terrace
Driving from Terrace Airport to Terrace city centre
The journey from the terminal to the town centre is around nine kilometres. Head out on Max Neubacher Way and turn left onto the Stewart-Cassiar Highway, which goes by several other names including BC-37. This will take you to an intersection with BC-16/Trans-Canada Highway, which you should get on, heading west across the river and into Terrace. Turn right on Eby Street and you will find yourself in the city centre.
Driving tips for your Terrace car hire
Terrace is laid out in a grid pattern on relatively flat land, so it's not hard to navigate. While you are in town, make sure to stock up on food, water and petrol, as instances of civilisation in the region are few and far between.
Canada driving tips
● In Canada, drive on the right-hand side of the road.
● Keep a close eye out for wildlife on the road, particularly at dusk or dawn. Big creatures like Moose can cause a lot of damage, so drive slowly and cautiously. If you encounter an unusually low speed limit, this may be why.
● Winter is very cold and snowy in Northwestern BC. Read our winter driving tips.
● Distances in Canada are measured in kilometres, and speeds in kilometres per hour. The highest speed limit, allowed on some multi-lane highways, is 120 kph.
● Four-way stops (crossroads with four stop signs) are often difficult for foreign drivers. You must come to a complete stop, then proceed in the same order in which vehicles arrived at the intersection.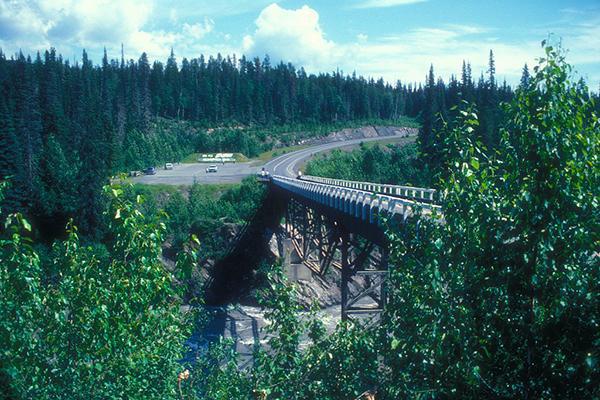 Image: By JERRYE AND ROY KLOTZ MD (Own work), CC BY-SA 3.0, via Wikimedia Commons
Parking options at Terrace Airport and around town
The two parking lots at Terrace Airport accept coins and cards. In the short term lot, you will pay CAD$1 for the first two hours and CAD$0.50 per half hour after that up to a daily maximum of CAD$12. In the long term lot, you will pay CAD$6 daily and CAD$30 weekly.
In downtown Terrace, there is plenty of on street parking - just pay attention to time limit signs. Businesses also have parking available for customers.