Smithers is a small town in beautiful British Columbia next to the Bulkley River and the main hub of the Bulkley Valley. Its unique scenic location and the inhabitants' devotion to the outdoors and environment have created a culture of respect for the land. This is largely thanks to the area's smorgasbord of outdoor activities and adventures such as snowmobiling, hiking, skiing, mountain biking, quad biking, and more. In fact, the town's unofficial mascot is 'Alpine Al', which stems from a statue of a man blowing an alpine horn on Main Street. You'll have a chance to see and do as much as possible when you pick up your Smithers Airport car rental on arrival.
The entire western Canadian province of British Columbia is also something of a large outdoor playground, so if you're looking to see more of it, there are a number of areas you can visit with your rental car from Smithers. Take a scenic drive past the Seven Sisters Provincial Park to Terrace, which is roughly 2.5 hours away. Or, you can continue on to the stunning coastline to visit Prince Rupert (a 4-hour drive) and see its grizzly bears (in a sanctuary) and humpback whales.
Booking a car hire in Smithers with AirportRentals.com
Cut the hassle out of finding a rental car in Smithers by using Airport Rentals to search and compare all available vehicles from leading suppliers in one go. All you need to do is enter your Smithers travel dates and hit 'search cars' to get started.
The results page is automatically listed with the most affordable rentals at the top so you can quickly select the best deal. Or, scroll down to view each car and its major features and benefits. If you're looking for a specific size or transmission, use the filter options to narrow down your results. You can also create a shortlist and save a quote for later.
When you're ready to confirm your booking, you can finalise your vehicle reservation with Airport Rentals at no extra cost. You'll also gain access to our online reservation management system, as well as 24/7 customer support and free additional benefits.
Introducing Smithers Airport
The Smithers Regional Airport (YYD) is a small terminal just outside the city. Flights to and from Smithers Airport only include a handful of destinations: Vancouver, Prince George, Terrace, and Dease Lake.
During your time at the airport, you will have access to free WiFi, as well as a small cafe. You will find the car hire desks inside the terminal so you can pick your keys up as soon as you land.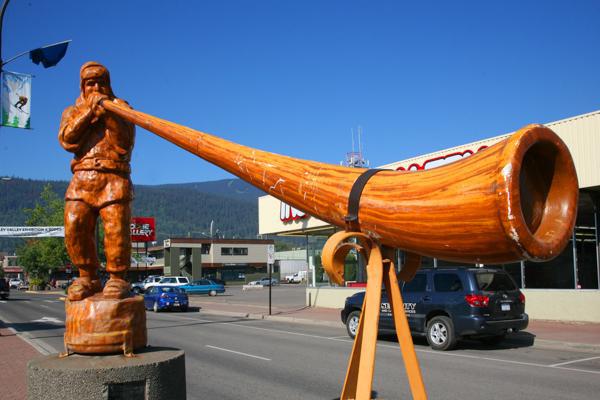 Image: Jitze Couperus(Own work), CC-BY-2.0, via Flickr
Driving guide to Smithers
Driving from Smithers Airport to town
Smithers Airport is 5.5 kilometres north of the town centre, so it will only take 5-6 minutes to make this drive. When you leave the terminal, simply turn left onto the Yellowhead Highway and follow the road as it takes you into the heart of Smithers.
Tips for driving a car hire in Smithers
Before you arrive, read our tips on driving your rental car in Smithers to prepare for the local roads and conditions.
● You will drive on the right-hand side of the road in Canada.
● Expect wintry conditions on the roads from October to April, and read our winter driving tips if you are visiting during this time.
● Note that if the traffic light is flashing green, it means a pedestrian is waiting to cross, so the light may turn red - prepare to stop if necessary (this is different from the meaning of a flashing green light in Ontario).
● The maximum highway speed limit in BC is 120km/h, but always read the signs and be wary of driving conditions. Take extra care on the mountain roads.
● If you leave the township, be mindful that there may be wildlife such as bears and caribou on or next to the roads. Do not stop but do slow down and drive carefully.
Parking at Smithers Airport
There are several one-hour complimentary parking stalls directly in front of the terminal. If you wish to stay longer, rates are CAD$1 per hour up to four hours, then CAD$5 per day. You will pay with cash or credit at the parking kiosk in the lot.
Parking in Smithers
The city of Smithers offers on-street parking stalls and paid parking lots. One of the main parking lots in downtown can be found on Second Avenue between King and Main Streets.