Sault Ste Marie is a lakeside city in Ontario and one of the oldest settlements in North America, with evidence of habitation going back over 2,000 years. The drawcard has always been the St. Mary River and its rapids, as this spot is the meeting place of Lake Superior and Lake Huron. Today, the traffic passing by Sault Ste Marie has made it the world's busiest canal by tonnage, and naturally, a thriving, diverse city has flourished on the banks of the river. With your Sault Ste Marie Airport car rental, you'll have a chance to explore it all.
With a car hire at your disposal, there are a number of nearby places you can easily visit on a road trip. It's roughly 3.5 hours east by car to reach Sudbury, an up-and-coming tourism hub that offers many scientific attractions. You can also easily cross the bridge into the United States to explore more of the Great Lakes region.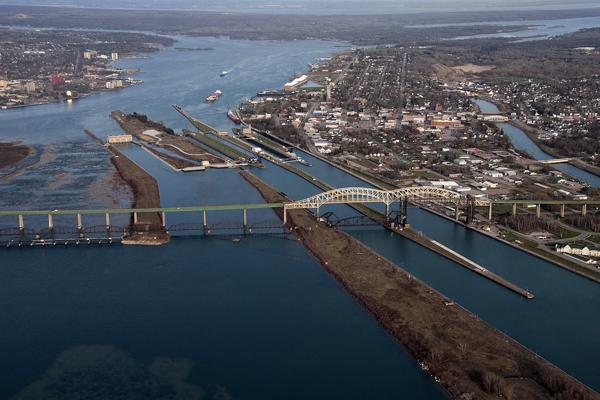 Booking a car hire in Sault Ste Marie with AirportRentals.com
Several of the world's leading car brands offer rental desks at the Sault Ste Marie Airport, so while this competition usually means great deals for renters, it can also take time to talk to all of them for quotes. To save yourself the legwork and skip straight to the savings, use Airport Rentals to compare these leading brands and their vehicles with a single search.
Simply enter your Sault Ste Marie arrival and departure dates and hit 'search cars'. If you're looking for a one-way rental, you'll need to uncheck the 'return to same location' box and enter your destination. The results automatically list with the most affordable cars at the top of the page, and each option clearly outlines its features and benefits. You can also make a shortlist, save a quote for later, or filter your results down by car style or transmission type to help you make your final decision.
Once you've found that perfect rental car for your trip, you can finalise your booking with Airport Rentals at no extra cost. Get access to free benefits, 24/7 customer support and our online reservation management system.
Introducing Sault Ste Marie Airport
Sault Ste Marie Airport (YAM) is a small terminal on the small peninsula just outside of the city. It sees roughly 200,000 passengers through its doors every year, flying to and from the handful of destinations on offer including Toronto, Sudbury, and Thunder Bay. Sunwing Airlines also offers seasonal flights to Montego Bay in Jamaica.
Within the terminal, you'll find a small cafe with food and beverage options, as well as vending machines, a business centre, and a waiting area. You will find the car hire desks inside the terminal so you can pick up your vehicle as soon as you arrive.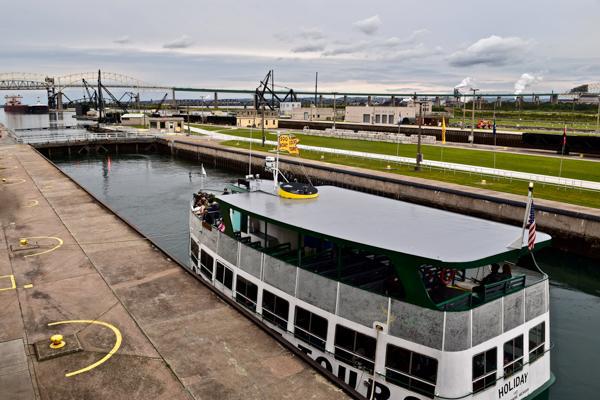 Image: Harleyamber (Own work), CC-BY-2.0, via Wikimedia Commons
Your guide to driving in Sault Ste Marie
Driving from Sault Ste Marie Airport into town
The airport is just over 18 kilometres from town, so it will take roughly 20-25 minutes to make this drive. Leaving the terminal, turn left onto Airport Road, then turn right onto Base Line. Follow this road as it heads towards the town, then turn right again onto Wallace Terrace and follow it straight into Sault Ste Marie.
Tips for driving a car hire in Sault Ste Marie
Get ready to drive in Sault Ste Marie by reading our tips and reminders of the road rules in Ontario.
● You will drive on the right-hand side of the road in Canada.
● You are allowed to turn right on a red light in Ontario unless a sign indicates otherwise.
● Snow and ice accumulate on the roads in winter in Sault Ste Marie, so read our winter driving tips to prepare for the cooler temperatures.
● The maximum speed limit in Ontario is 100km/h, which is on highways. Most cities and towns have speed limits of 50km/h.
● You must stop for yellow school buses when their red lights are flashing.
Parking at Sault Ste Marie Airport
There are long- and short-term parking spaces at the airport. The short-term spots can be found directly in front of the terminal and cost CAD$2 per hour and CAD$22 per day. The long-term spots are directly behind the short-term area and also cost CAD$2 per hour, but are cheaper at CAD$11 per day.
Parking in Sault Ste Marie
There are parking lots and on-street stalls available in Sault Ste Marie. There are multiple free two-hour parking spaces in the downtown area, and for paid spaces, you can purchase a day-pass for CAD$5.10.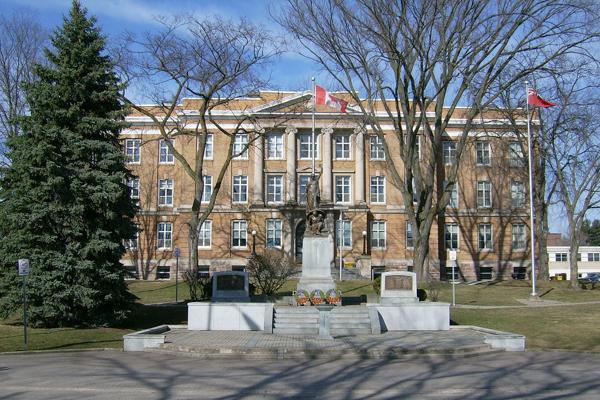 Image: Fungus Guy(Own work), CC-BY-SA-3.0, via Wikimedia Commons