Peace River is a small town in northwestern Alberta, sitting on the banks of a river of the same name. The entire region is known as Mighty Peace Country, and Peace River is one of the main hubs for business and trade in the middle of it. In winter, snow sports are popular thanks to the Misery Mountain Ski Centre just across the river from the township, and in summer, it's all about outdoor recreation with golfing, hiking, and water-based activities on the river. You'll have the opportunity to zip around town and explore the surrounding area when you pick up a Peace River Airport car rental upon arrival.
With a rental car in Peace River, you can also take road trips all over Alberta, or even into British Columbia. The large city of Grand Prairie is just over two hours away, where you'll encounter everything from dinosaur fossils to art galleries. If you've never seen the Northern Lights, they're common this far north in the fall, spring and winter, and you can drive three hours up to High Level for an even better chance at this cosmic experience.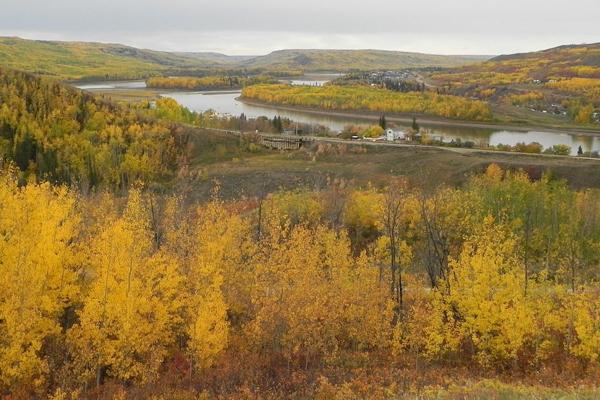 Image: Mhalifu (Own work), CC-BY-SA-3.0, via Wikimedia Commons
Booking a car hire in Peace River with AirportRentals.com
You have several rental companies to choose from at Peace River Airport, but it can be a hassle to research all the options to make a decision. Cut out the hard work - and still get the best deal - by using the car hire comparison tool on Airport Rentals.
Simply enter your Peace River travel dates to generate an up-to-date list of available vehicles from leading brands at the airport. Regardless of brand, this list is automatically ordered with the most affordable at the top, so you can easily book the best deal. You'll also be able to scroll through the vehicles to see the features and benefits of each one. Looking for something specific? Use the filters to narrow your search for cars of a certain size, style, or transmission type.
Finalise your car hire booking in Peace River in just a few clicks. This secure platform gives you free benefits, 24/7 customer support, and access to an online reservation management system.
Introducing Peace River Airport
The Peace River Regional Airport (YPE) is the main transport hub for the area. The only flight operator currently at the airport is Northern Air, which offers regular services to Edmonton and Calgary, as well as charter services. The airport is open Monday through Friday from 9 am to 5 pm, and offers basic facilities including a small cafe, bathrooms, and a waiting area. The car rental desks are inside the terminal so you can pick up the keys to your rental upon arrival.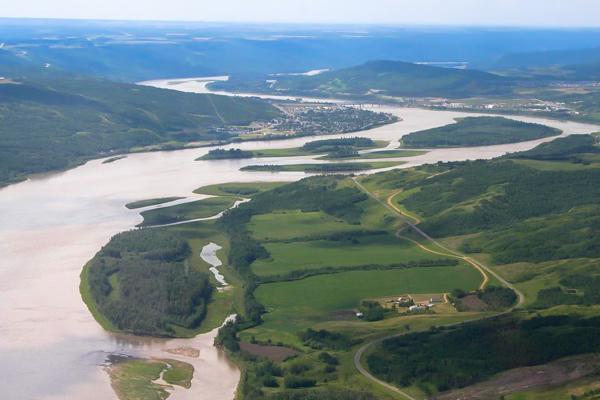 Image: Mhalifu (Own work), CC-BY-SA-3.0, via Wikimedia Commons
Guide to driving in Peace River
Driving your car hire from Peace River Airport to town
The Peace River Airport is 11 kilometres from the township, with the drive expected to take 12 minutes. Simply leave the terminal and turn right onto the AB-2, then follow this road as it crosses the river and takes you directly into town.
Tips for driving your car hire in Peace River
If you're new to the area, it may help to read these simple tips for driving in Peace River before picking up your rental:
● In Alberta, a flashing green light means the opposing traffic is on a red light, so you can go through or turn in either direction.
● Be wary of wildlife on or near roads outside of town, especially at dusk and dawn. Never feed or approach animals.
● On single lane highways, you can only pass other vehicles when there is a staggered yellow line in the centre of the road. You cannot pass on either single or double yellow lines.
● Winters in Peace River bring snow and ice, so read our winter driving tips if you arrive during the colder months.
Parking your car hire at Peace River Airport
There are parking stalls outside the terminal at the airport. Spaces are CAD$3 per day or CAD$20 per week, and you can pay at the station inside the terminal. You'll need to know your stall number, and you can pay with credit or exact change.
Parking in Peace River
There is plenty of on-street parking available around Peace River, as well as a number of parking lots.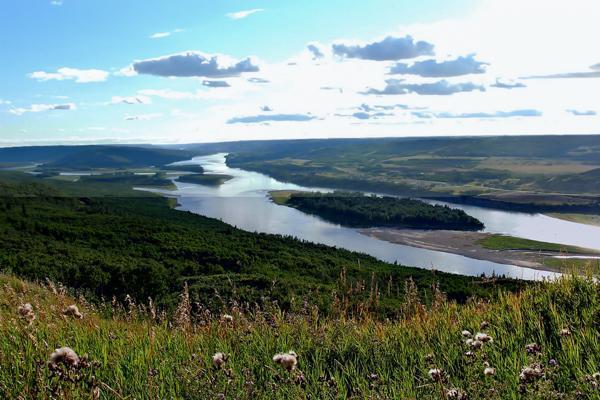 Image: Mhalifu (Own work), CC-BY-SA-3.0, via Wikimedia Commons