Happy Valley-Goose Bay is a relatively new hub, incorporated as a town only in the 70s. It is built on a wide sandy plateau next to the Goose River and is currently the largest military air base in the northeast of North America. As the Canadian Forces Goose Bay base grew, a small town of families, construction workers, and suppliers sprung up in the nearby Happy Valley, creating a tight-knit community in Newfoundland and Labrador that offers a gateway to the north.
Happy Valley-Goose Bay is quite isolated and remote. While it is a major base for those travelling by sea or air, it can be quite a drive for anyone coming or going by road. That said, there is one town in the region that you can drive to. Labrador City is roughly 7 hours west by car and is a mining town close to the border with Quebec.
Image: Paul Gierszewski (Own work), CC-BY-SA-4.0, via Wikimedia Commons
Booking a car hire in Goose Bay with AirportRentals.com
Even though Goose Bay Airport is small, there are still multiple car rental agencies offering vehicle hire in the terminal. To save yourself the time of checking for vehicle availability and prices with each one, use Airport Rentals to run a single search and pull together information from all of them.
To begin, enter your Happy Valley-Goose Bay travel dates and hit 'search cars'. This generates a current list of vehicles available from all leading brands in town, and lists them in order with the most affordable at the top of the page. You can easily view each vehicle's features and any perks that come with it, or you can filter your options by size or transmission type to narrow down your results.
Once you've found the best car rental in Goose Bay for your needs, book with Airport Rentals at no extra cost and you'll gain access to our online reservation management system, and 24/7 customer support.
Introducing Goose Bay Airport
The Goose Bay Airport is actually the CFB (Canadian Forces Base) Goose Bay (YYR). Even though its main purpose is to serve the military unit on site, it is also used as a civilian terminal for visitors and those living in town. As many as 95,000 passengers pass through the airport each year, heading to and from destinations such as Halifax, St. Johns, and Deer Lake.
Inside the terminal, you'll find a number of basic amenities and facilities. There is a coffee shop and a gift shop, and you will find car rental desks ready to receive you for when you step off the plane. Note that the airport is open 24/7 as it also serves as an emergency base.
Image: Shawn (Modified), CC-BY-SA-2.0, via Wikimedia Commons
Your guide to driving a rental car in Happy Valley-Goose Bay
Driving from Goose Bay Airport to Happy Valley
It's just over nine kilometres from the airport terminal into the township, a drive that will take roughly 15 minutes. As you leave the terminal, follow Dow Street as it turns into Kittyhawk Road and passes through the base. Turn right onto B Street and follow it to join the Trans-Labrador Highway by turning left. Follow this route to its end, then turn right onto Hamilton River Road to drive into town.
Tips for driving a car hire in Happy Valley-Goose Bay
Read our tips on driving in Goose Bay to prepare for picking up your rental car when you arrive:
● If you are heading out of town, know that there are no services along the road, and it is often rugged driving. Take physical maps and plenty of spare water and food.
● Remember to slow down when passing other vehicles on gravel roads to avoid striking them with loose stones.
● Winter brings snow and ice on the roads, so read our winter driving tips to prepare.
● Wildlife is common on roads outside the city. Drive carefully and never approach or feed the animals.
● There is no cellphone service on the highway out of town. Strongly consider renting a satellite phone if you wish to make this drive.
● Some car hire companies prohibit driving on gravel roads and the Trans-Labrador Highway, so check with your agency about your travel plans first.
Parking in Happy Valley
There is plentiful on-street parking in Happy Valley, and any places you visit will likely have ample on-site parking as well.
Parking at Goose Bay Airport
You can park for free at Goose Bay Airport for short-term stays. If you are looking to stay long term, you will need to purchase a permit from the security office in the terminal. You can expect to pay roughly CAD$3.39 per day and CAD$20.34 per week (tax included).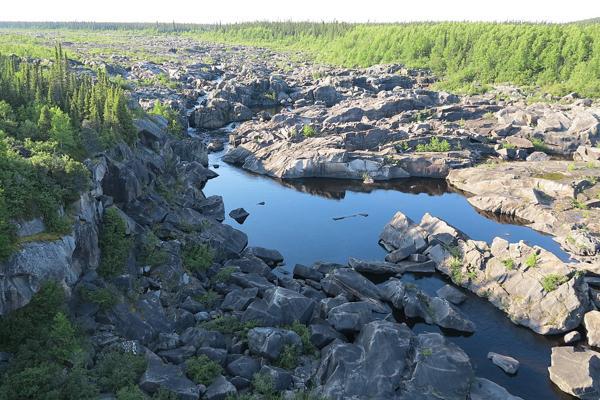 Image: Dsdwn (Own work), CC-BY-SA-4.0, via Wikimedia Commons